Lawpath Product Update (May 2021)
May 2021 has seen us launch our Bring Your Own Business tool, Webinar Hub and update some key documents. Read more here.
Reading Time:
3
minutes
Throughout May 2021, we brought in some exciting new features that will revolutionise the way our customers use the Lawpath platform. We also made some important changes to documents which have been impacted by a recent change in Federal law. Finally, we're launching our Webinar Hub, where users will be able to watch webinars throughout June covering an array of topics at times that suit them. Read our product update from May to read about these updates and see what else is new.
Bring Your Own Business
In May 2021, we're excited to announce the launch of Bring Your Own Business. This feature aims to streamline the process through which our customers use Lawpath for their legals, by allowing you to integrate your business's details. You will be able to view important details such as your business numbers (ACN and ABN), shareholder breakdown and registration status. This release will further integrate your business's administration requirements with the Lawpath platform.
Document Management
Our comprehensive contract management system is the legal vault for all your document and business information. Bring Your Own Business will be your one stop shop for managing your company. This will allow you to view a real time company dashboard and access a contract management system tailored to the needs of your business.
Company Dashboard
Accessing all your company details can be hard, especially when you need to access them at a moment's notice. Our new Company Dashboard is a simple and clear way to see your company's details in real time. This dashboard includes:
Your legal company name, ACN and also ABN
GST and also PAYG status
Soon, you'll also be able to see officeholder names, shareholder names and the percentage breakdown of share ownerships in the dashboard.
Accessing your company dashboard
Bring Your Own Business is free and available for all Lawpath users, but for a limited time only. Here's how to access your personalised company dashboard:
1. Login to your Lawpath account
Login to your Lawpath account at my.lawpath.com. If you don't have an account, you can register one for free here: https://lawpath.com.au/register.
2. Click on the "Add Existing Business" heading under the "Business" tab in the sidebar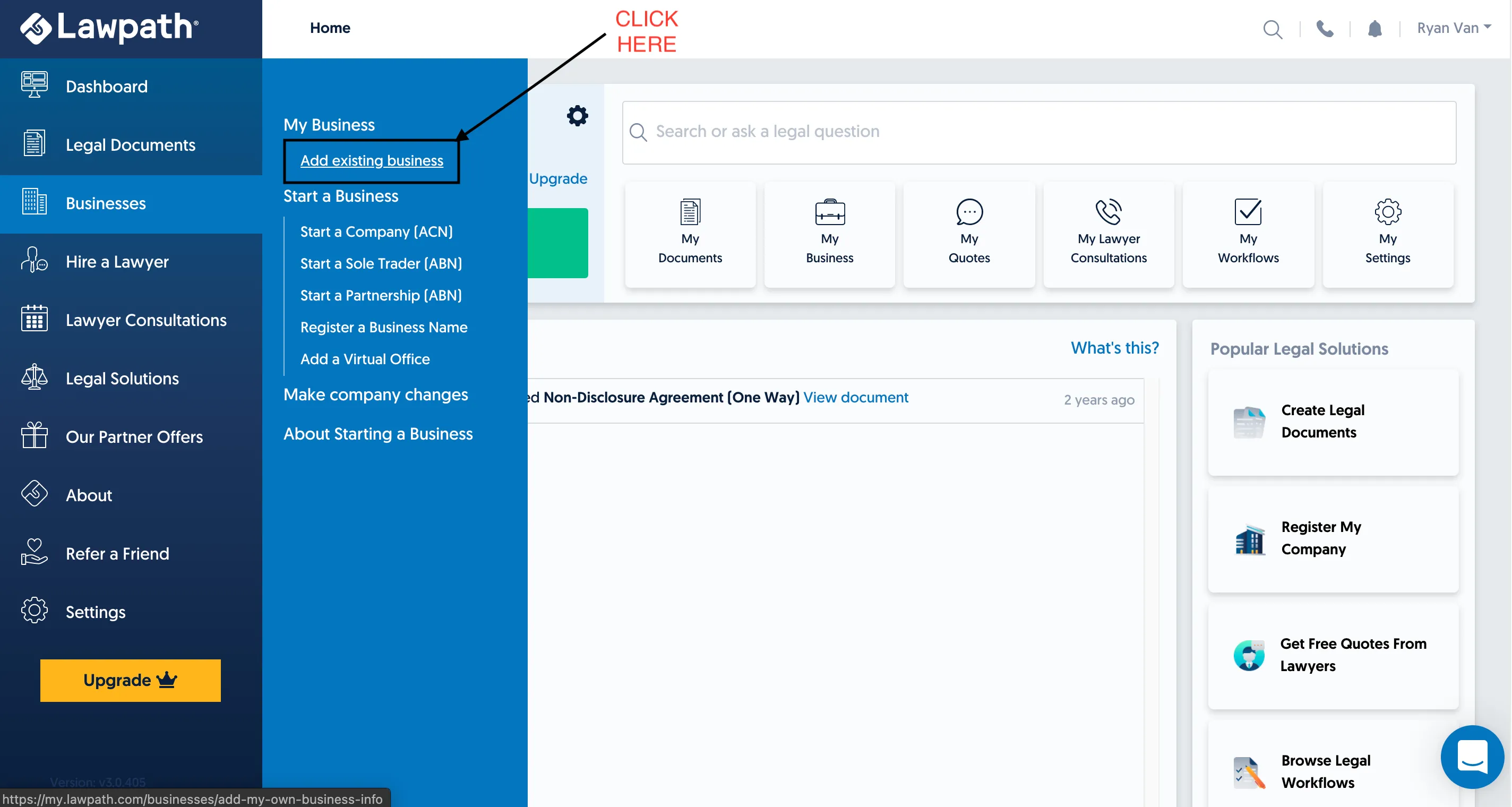 3. Click on the "Add My Business" button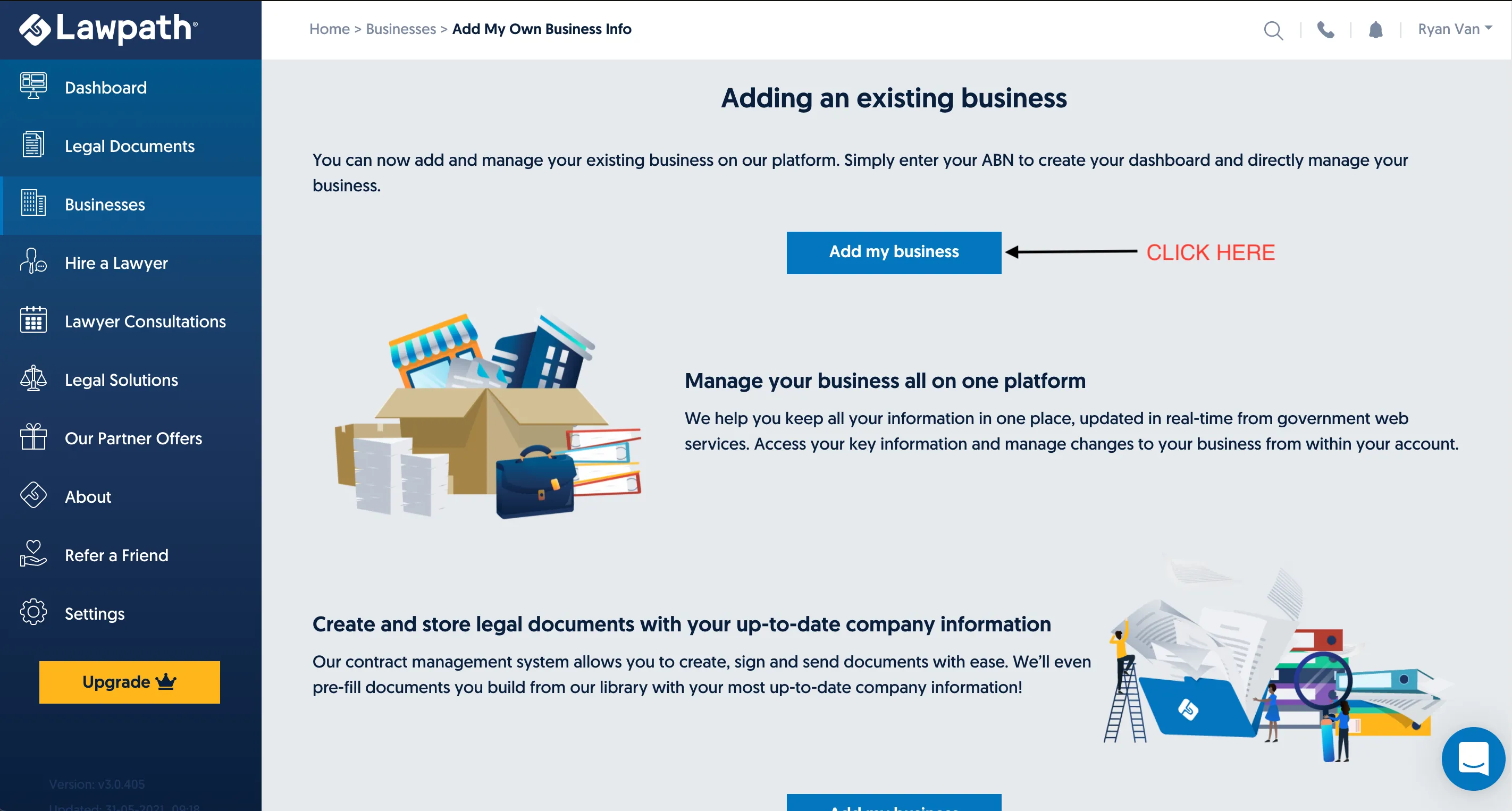 4. Enter your ABN into the required field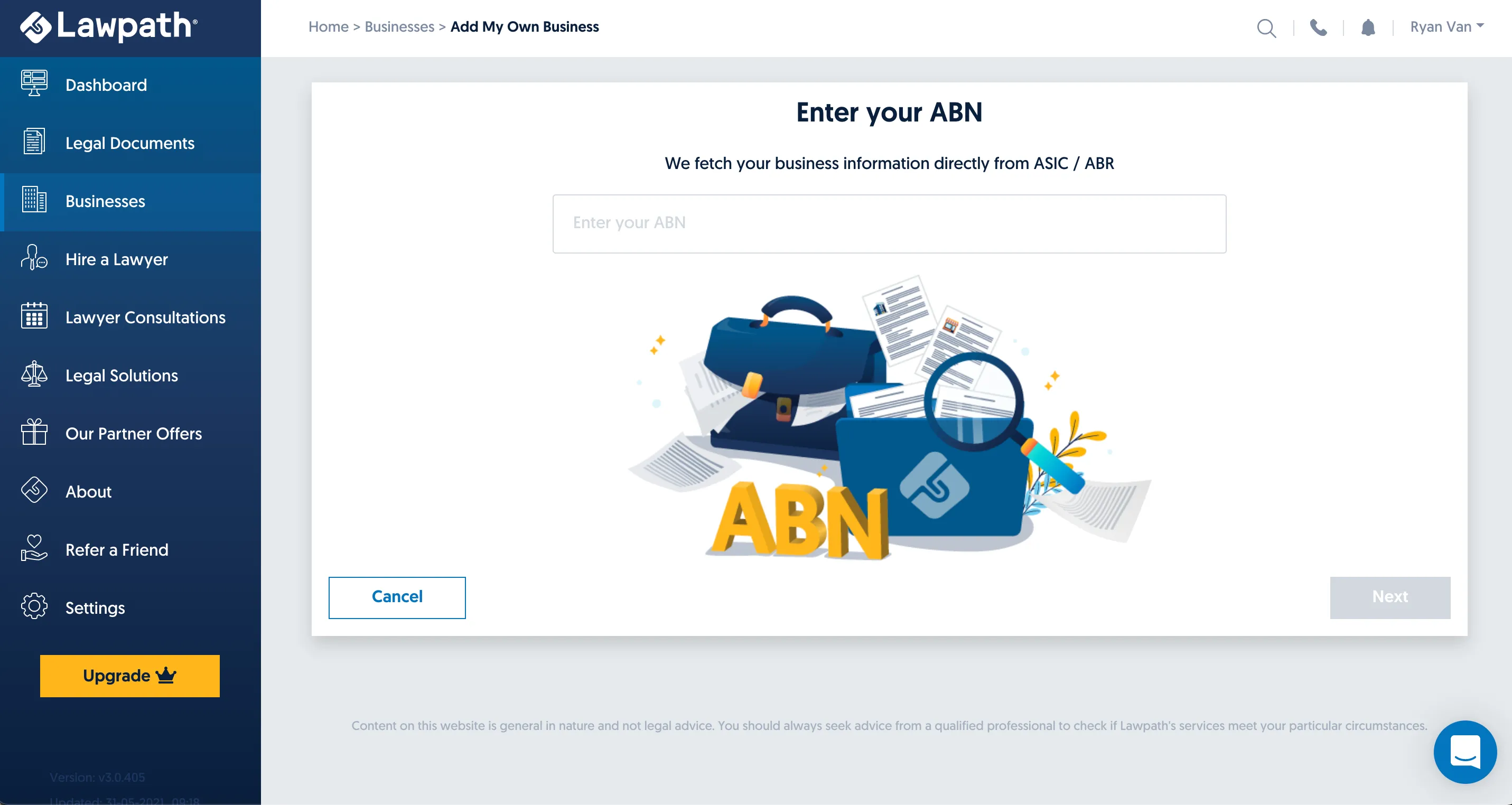 5. Double check your details & tick the compliance box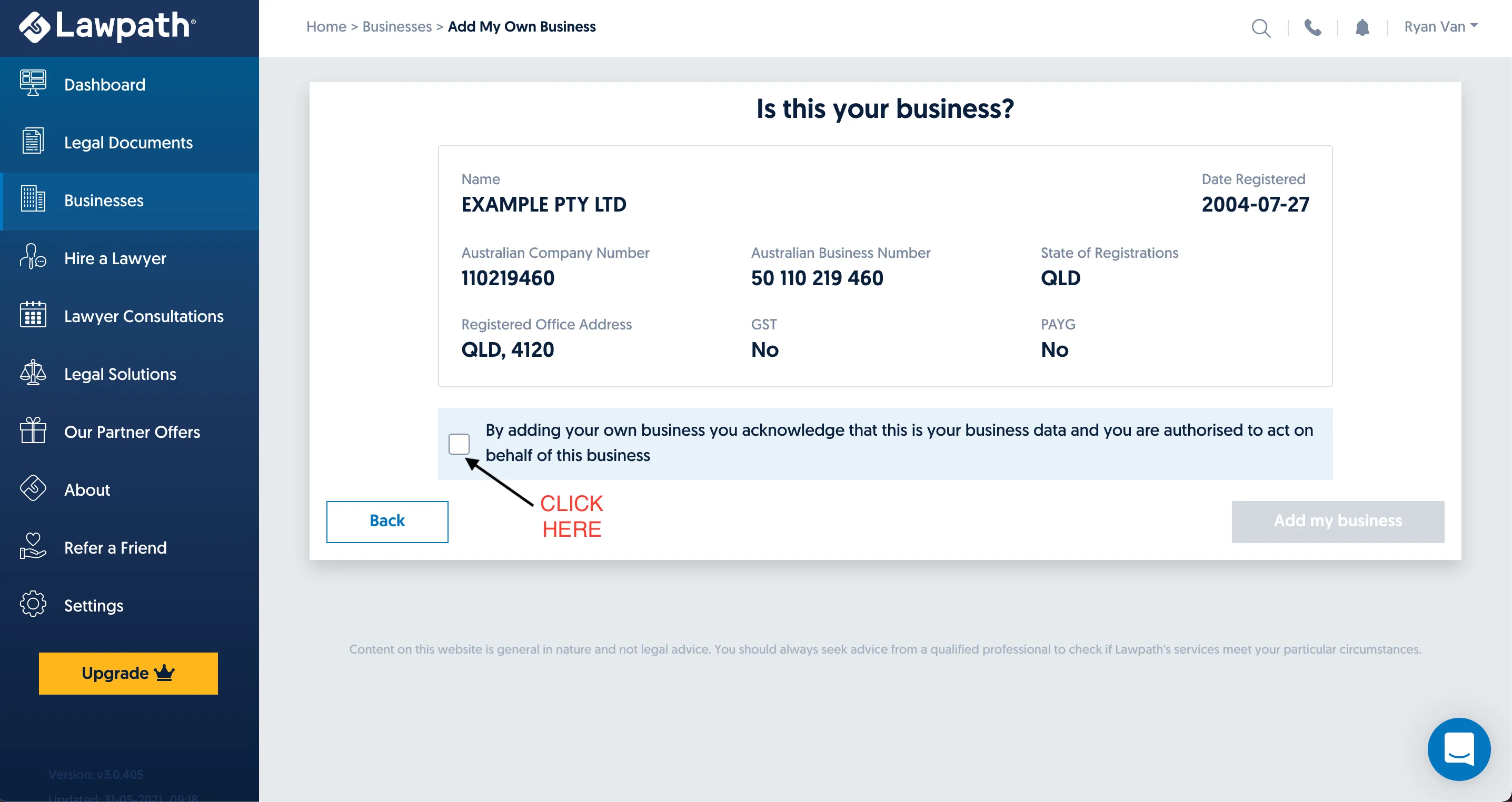 6. Done! Your personalised company dashboard should will appear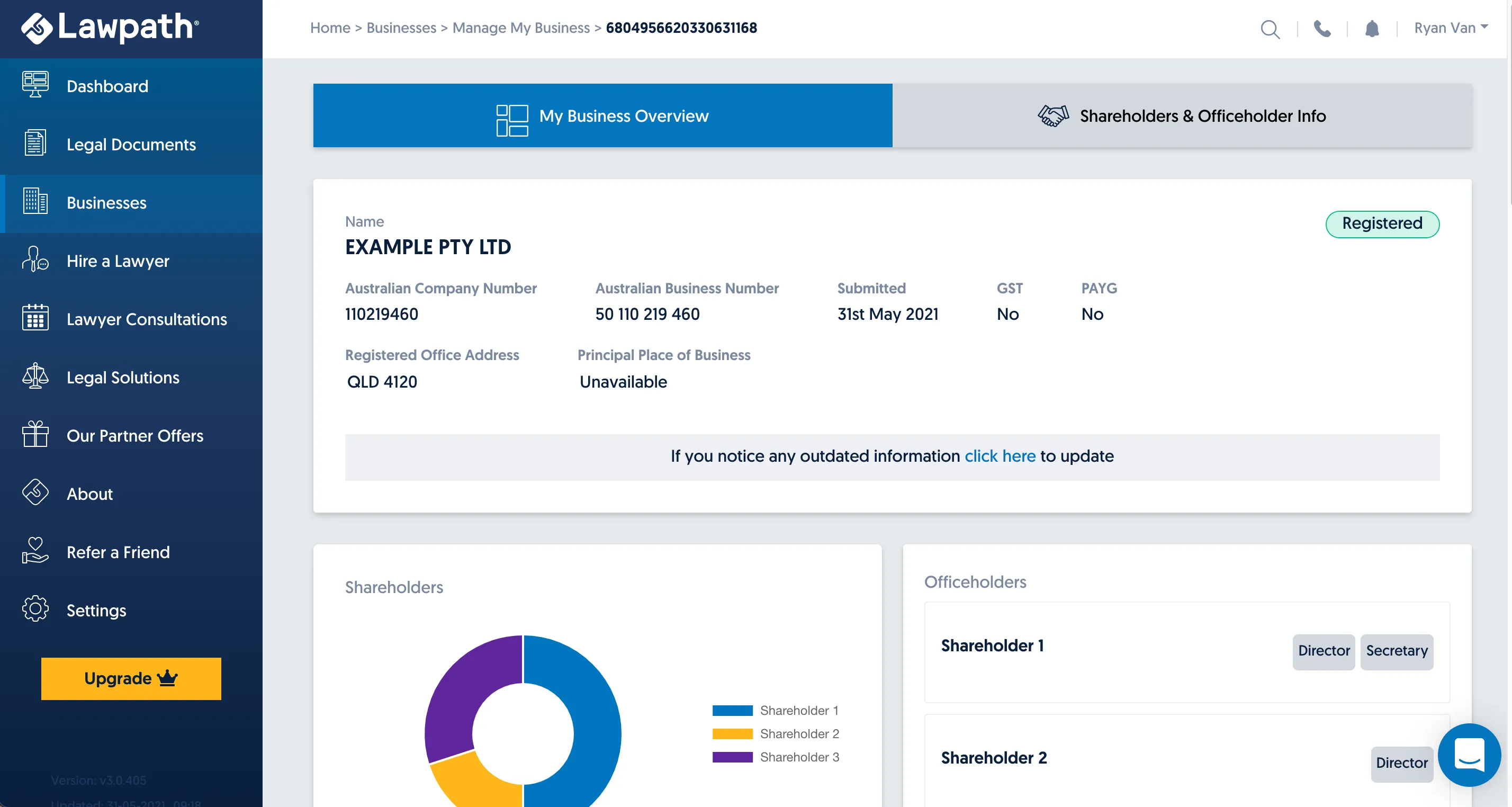 Other document updates
Laws change frequently and we're constantly updating our documents to ensure they comply with current laws. We've subsequently adjusted some of our employment agreements to suit legislative changes made by the Australian government up to May 2021. The documents we've updated are:
Employment Agreement (Casual) – in accordance with changes to casual employment under the Fair Work Act 2009 (Cth)
Letter of Casual Conversion to Part-Time or Full-Time Employment
Letter Notifying Casual employee that Employer Will Not Make an Offer of Conversion
Fixed Term Employment Agreement
Shareholder Agreement – now includes Drag and Tag Clauses, Fair Market Value, Pre- emptive rights, First right of refusal
End of JobKeeper Notification Letter (Non legacy)
You can find these and our other documents here.
Webinar Hub
In addition to our demos, we're also now launching a recurring series of webinars which will commence in June. These webinars will cover the Lawpath platform generally, the Victorian Government's Small Business Digital Adaptation Program and how to prepare your business for the End of Financial Year. You can see available times and register your attendance by following this link.
Author
Ryan Van
Ryan is the Digital Marketing Coordinator at Lawpath and works across the Marketing team. He is currently in his 3rd year of a Commerce degree at UNSW as a Marketing major. Ryan's interests lie in the use of technology in innovation to enable greater positive impact.