What our customers say
Read about how different businesses have used our platform to get their legals sorted.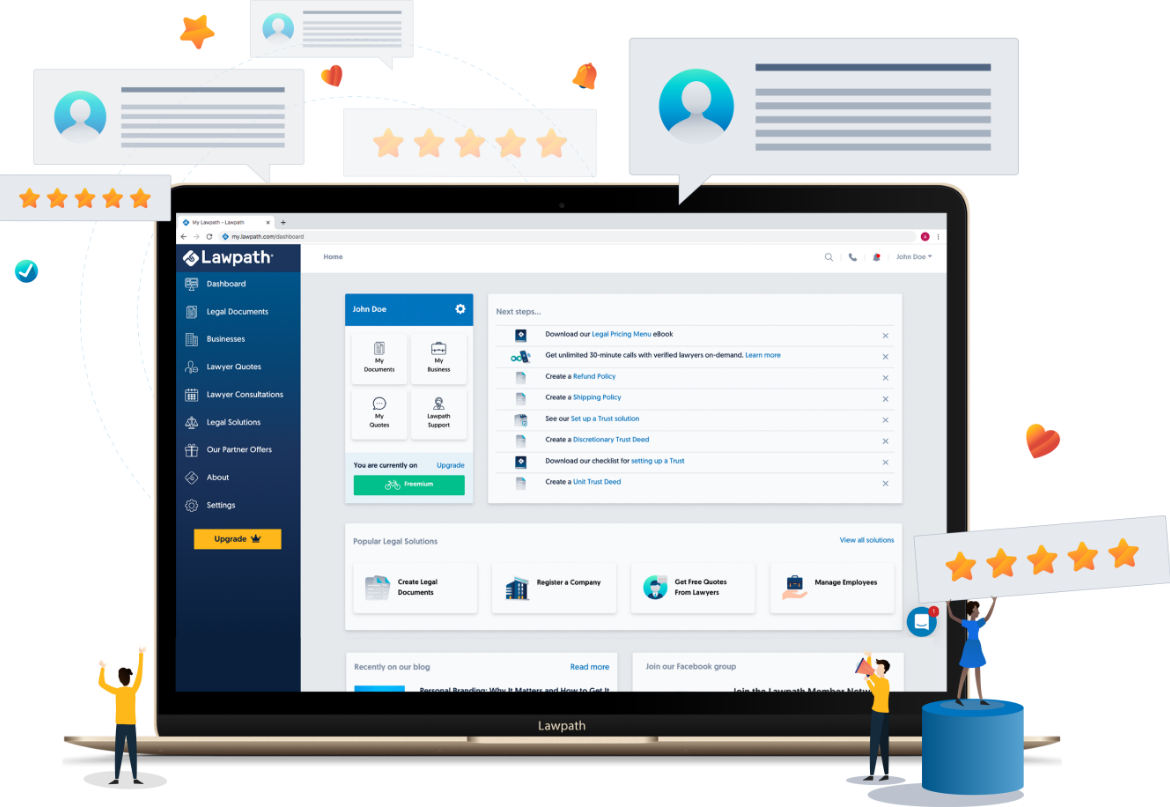 Our average rating is
4.6

(12068 Reviews)
Our latest reviews
226-250 of 2622 Reviews (9446 Ratings-Only Reviews)
Bare minimum
The quality of text content was bare minimum. The user interface was easy to understand and use.
Excellent service
Ryan was prompt, thorough & highly professional in reviewing, clarifying, discussing and redrafting a critical indemnity waiver for my business. I recommend his expertise and services highly.
Quick and on point
Really happy with the advice damin provided and the promptness of the call. As a busy business owner it's great to know i can get quick, on point advice without interrupting the flow of my day.
Freemium trial
What a great service, i was able to formulate a document very easily
Efficient and professional
Ryan was a pleasure to work with, prompt and professional.
Exactly what i asked for
Amanda did a great job guiding me through the purchase of a business, reviewing drafts and preparing documents. Her advice that accompanied the contract review made it very easy to explain to the other party why certain changes were being made, which made the process a lot easier.
Complaints policy template
Easy to use template that gives the information i need for my small business.
Hassle free creation of a loan document
We needed to create a loan contract to document the short term loan of money to a friend. This was so much easier than i had thought and now i feel much more secure lending the money.
Quick and simple
Great option for starting out, to have piece of mind before i can afford to engage a legal service
Excellent
Very easy to create, will be using this every time
Very responsive
My lawyer has been excellent throughout the trademark process. They explained everything as we went along and they were very responsive to all of my additional questions. I highly recommend their service
Franchise document review
They delivered what was required my lawyer was easy to deal with with a pleasant phone manner. They pointed out most things that i had already interpreted correctly but was good to get an experts opinion, they did also point out a few things that i didn't comprehend ..All in all was good, i decided not proceed further with the franchise purchase.
Easy template for employer
Useful tool but does not seem to download once you have followed the completion path so i would be cautious about paying until you can be sure it will download
Fast responder and top quality lawyer
I was sent ryan's details by a colleague and i've not come across a lawyer who gives me the time of day that ryan does since. He's very friendly and very good at what he does. Sharp lawyer and can be intimidating when we needed him to be when dealing with a difficult vendor. He's been great for our business and i'll keep using him. No hesitation in recommendations.
I wanted a secured laon div7 agreement but template only allowed unsecured
Excellent tool for quick work
I have been writing content for 14 hours today to get my website ready in time for my launch in 4 days. This service saved me time and will allow me to sleep tonight knowing my payment gateway will be in order before the launch event.
Why not disclose the document will have a lawpath watermark in the upfront. I can't actually use this...
Easy easy easy
I loved this process i will be back for more legal documents!
Helpful and understanding
Ryan was great at reviewing my documents and suggesting more appropriate wording
Great guidance
Making the task of developing essential documents simplified
Easy, carefully guided process
I found it easy to create my website terms and conditions document following the easy, carefully guided process on the lawpath website!
Can't fault him. Brilliant win in termination case
Not having had a lot of great experiences with lawyers with overcharging and underdelivering, ryan was a breath of fresh air and i really felt he had my back. Ryan kept me up to date on timing even when things got a bit delayed, kept me in the loop and gave me some of the best legal advice i've ever had. I had a dispute with a former employer where i was wrongly terminated, and ryan went pretty hard in his correspondence but always remained fair. Even though the other side had a bigger firm and played some dirty tricks, we came out on top with a settlement i was very happy with. Great operator.
Diligent, pragmatic, cost-effective.
Ryan is the ideal balance of skill, knowledge and pragmatism, bringing the services and execution of multiple firms under one roof in a cost effective package. Ryan assisted our organisation with matters spanning; employment contracts, lease negotiations, trademarking, digital marketing strategy, due diligence and more. Ryan understands commercial implications just as well as legal. He has a strong grasp of how to utilise technology to bring efficiency to both the process of consulting and the execution of strategy. An excellent experience working with him. Could not recommend highly enough.
I could not change the state of the manufacturer, as they are not in australia
Very objective and professional
Damin is one of those lawyers that can look through the murk and find the specks of hope. Recommended in a heartbeat