What our customers say
Read about how different businesses have used our platform to get their legals sorted.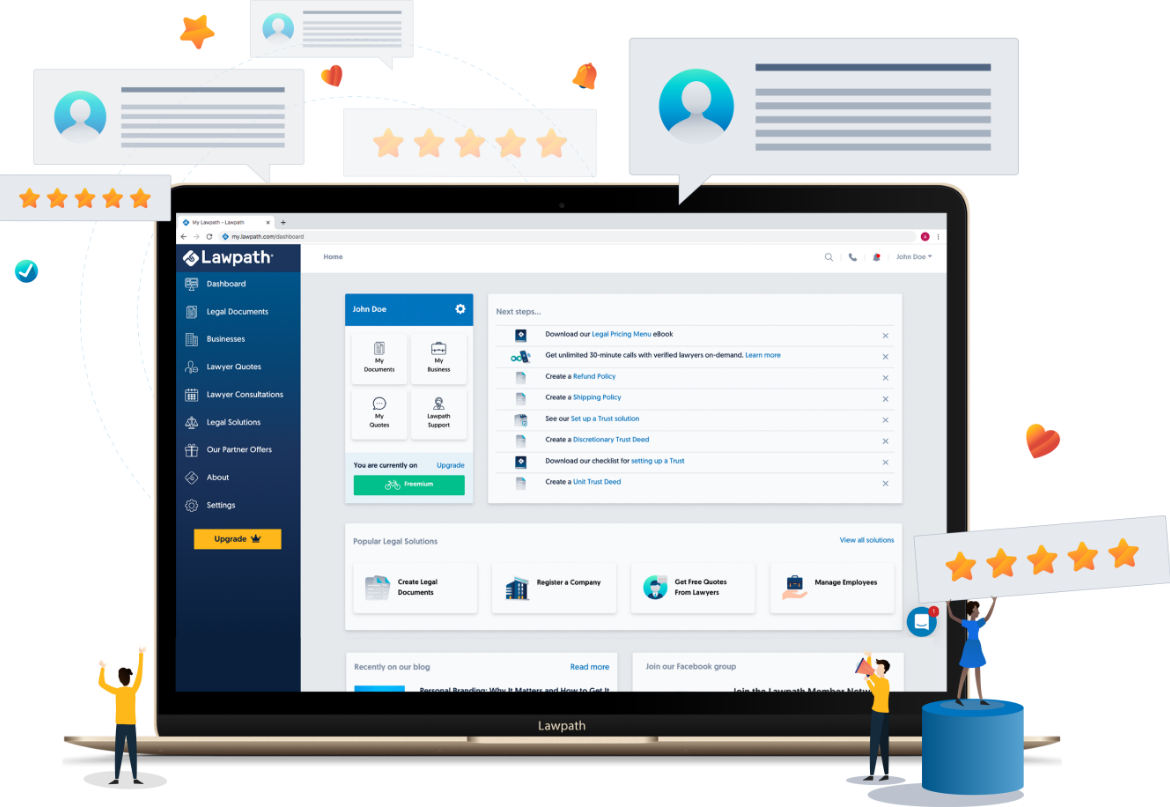 Our average rating is
4.6

(14722 Reviews)
Our latest reviews
251-275 of 2919 Reviews (11803 Ratings-Only Reviews)
Rayan did a good job of rewriting a documet for my. Put my business in a stronger position
Template document
I used the complimentary template document and it was a great help
Not able to be made relevant
Exact dates were required o be entered for the anti competition document. Obviously this needs to be able to state "up to x year following cessation of contract/employment" rather than a date. This made my document irrelevant and unusable.
Easy to create
I found it extremely easy to create the policy that i needed to create for my business.
Simple and easy
So simple to use! Made the terrifying experience of writing a privacy document so easy to navigate through
Hr issues
Damin information was extremely valuable - especially for a small struggling nfp charity that does not have a hr department. He was personable and informative.Thank you
Very informative
Great concise advice given on my commercial legal transcripts. Amar also went above and beyond to advice on other area's (still relevant to the query) that helped support my understanding.
Easy to use
Very happy with the set up and ease of following the document through to fruition.
What a relief.
Youstina's advice and suggestions were fantastic. She explained things in a way that i understood and was very clear on what we needed to do in our business. Certainly a more helpful session than i expected. Not sure why, but i was expecting a more formal 'lawyer speak' session that left me feeling inept. This was great.
Always provides more advice to cover myself
Amar provided very good advice and is always a pleasure to deal with. He's honest and thinks of solutions.
Easy document assistane!
Honestly once of the easiest and most helpful platform to create a legal document.
Explained the issue very nicely.
Had a very good conversation on the issue and got the advice in a very simple words that i can understand (not on legal terms).
Worked very well.
The whole process was very straightforward. I expect that thee will be some edits made in due course, but this gives the basis fir a very detailed contract, thank you.
Worked very well.
The whole process was very straightforward. I expect that thee will be some edits made in due course, but this gives the basis fir a very detailed contract, thank you.
Excellent advice
Great review of the documents and advice on next steps
Easy and effective
A very simple document to create and use. Perfect for my company needs
Subscription agreement review
Video conference with damin was clear and to the point. He understood my brief and carried out the work as expected. He explained his reasoning and listened to our suggestions/questions. I would use damin again.
End result looks amateurish and incomplete. Will toss straight in bin and not use this service again. If someone from lawpath wants to get in touch with me to try to change my mind, i am open to persuasion.
Privacy policy
Thank you - thorough enough to be useful and simple enough to be clear.
It was ok.
I am doing this for a friend. I don't have all the information. I'd rather download a partial document.
So quick, easy and legit!
I constructed a model release form as a photographer in mere minutes with this fantastic site.
Easy to use, fast and simple
I was able to create a privacy policy super quick. It was easy to follow and understand.
Not too bad
An essential app to use if your not good at writing up your terms and conditions. Nice work!
Quick and efficient
Havent seen doc yet, but the process of generating the doc is easy.
Easy & efficient
A super fast process that still checks all the right boxes for what i need.