What our customers say
Read about how different businesses have used our platform to get their legals sorted.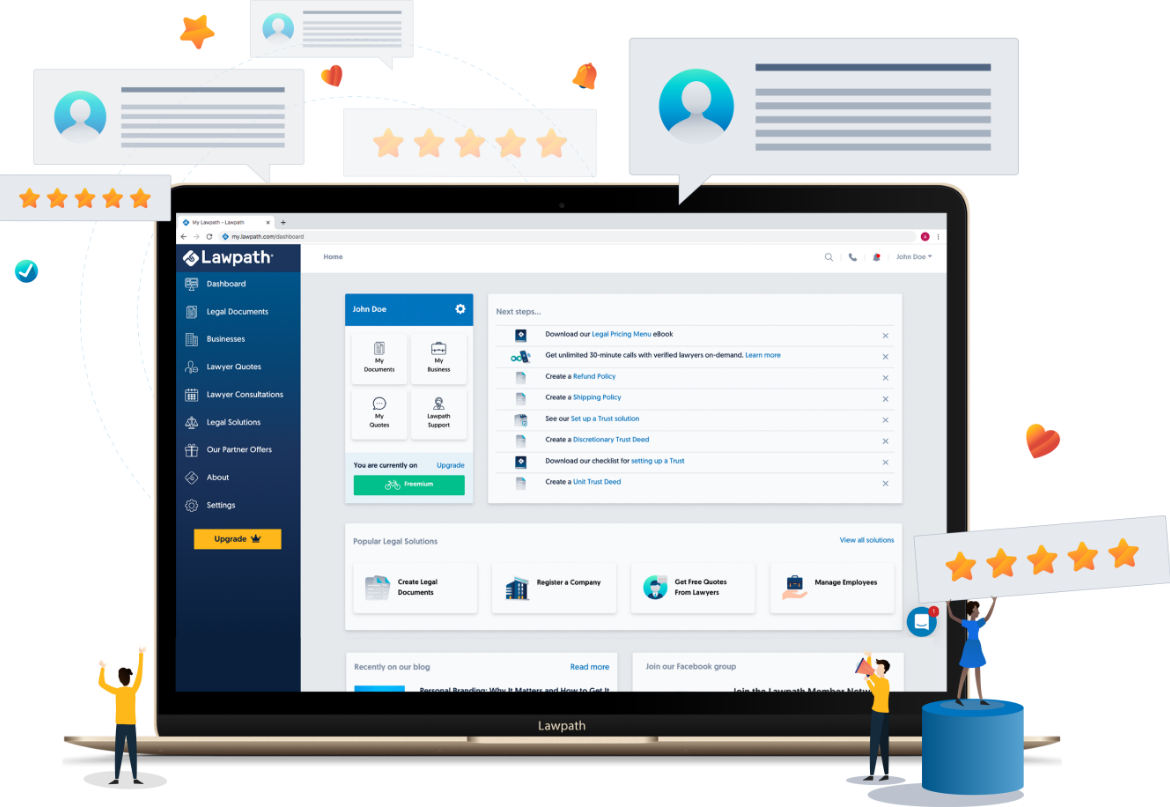 Our average rating is
4.6

(13255 Reviews)
Our latest reviews
2751-2775 of 2768 Reviews (10487 Ratings-Only Reviews)
My last experience was very good. I used lawpath to obtain assistance with setting up trading terms and conditions for use on our webstore and also creating a privacy policy. The service was quick, professional and reasonably priced.
I'm just starting out with you guys really, but the experience i had a few months ago was very positive. I'm looking forward to some low cost effective and trustworthy documentation to support my business in 2018.
Been great, easy to use. Looking forward to when you put more documents up. Also i think you should consider niching your service or white labelling it to me so i can. Thinking items like physiopath.Com - tailored legal and advisory solutions to the physiotherapy industry. As just one example.
I am frustrated trying to access the word versions of the documents which i have paid for and the service is to focused on individual contracts rather than business agreements. I would also like to see more information technology agreements including services, subscriptions (e.G. Saas, paas, iaas), reseller agreements, consultancy agreements.
Always available, friendly and supportive. Backed up by a great product, thanks. Peter hamilton
When filling in form fields there needs to be more context. For example - the question in the full time employment agreement: how often will the employee be entitled to a remuneration review? E.G '3 months', '6 months', '12 months' isn't quite enough information. If i had how that was being used in the actual text i could make it fit when i want to go outside the norms. Also - the management of my documents is a little too basic.
I've had a wonderful experience with lawpath so far and am so grateful to have discovered this business. From the assistance with my own business registration to every other big and little question i've asked, every request has been resolved in a professional and efficient manner. Lawpath's proactive service, such as monitor business activity and overall prompt replies are to be commended. I have already referred you to several friends and will continue to do so.
Great service, highly recommend
So easy to do, and the staff were so helpful. Thank you
Excellent service! 5 stars
Some difficulties at the beginning. Names and roles were confused and that make it difficult to correct once the information was uploaded in asic. I take us days and several calls and attempts to solve this situation. Besides that, all good.
Dominic was there on chat to answer the few small questions i had. That was really useful.
Great service, and people are always friendly, accurate and available. One improvement suggestion though - a log on button on the home screen would be good rather than having to click 'sign using for free' to get to the page that has a link to log on.
I just needed a company to act as trustee and it was a quick and simple process to get it incorporated.
I am very happy with the documents available on your website and the possibility of customize them in a very easy and intuitive way.