What our customers say
Read about how different businesses have used our platform to get their legals sorted.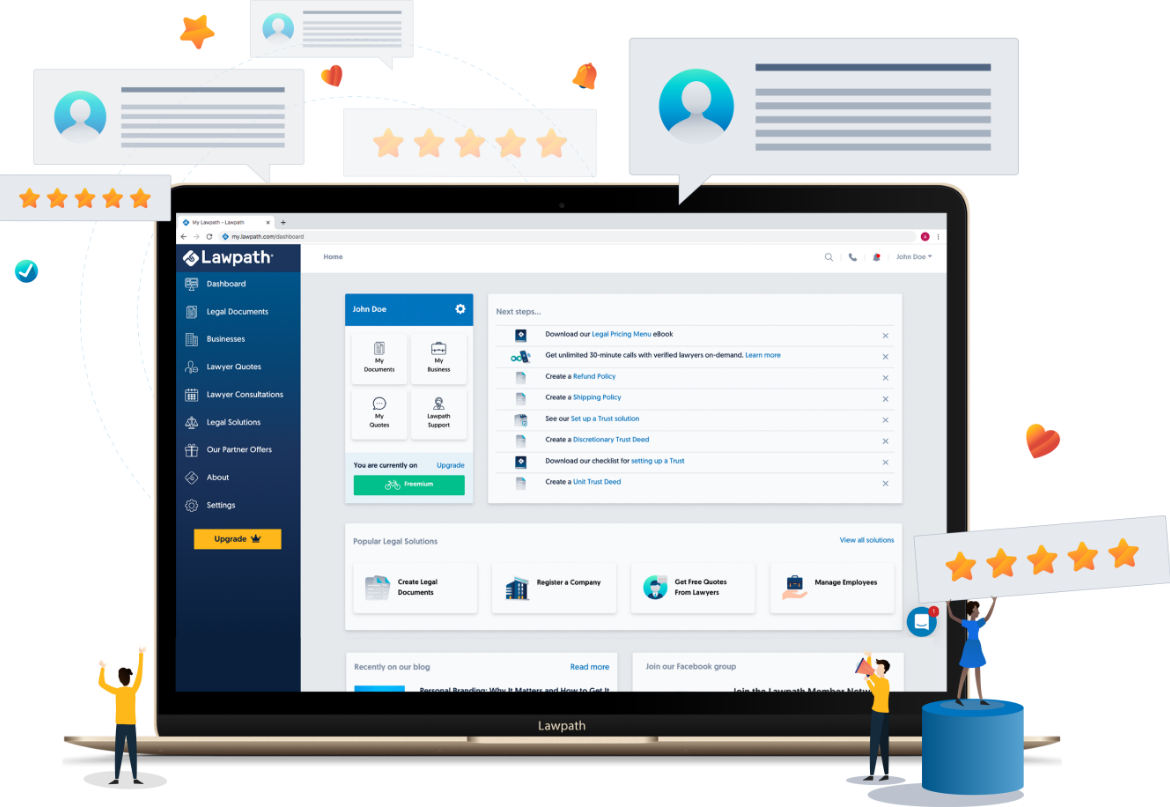 Our average rating is
4.6

(13961 Reviews)
Our latest reviews
2801-2825 of 2847 Reviews (11114 Ratings-Only Reviews)
I have referred 3 of my clients so far
Thank you lawpath, you have changed my perspective on how to obtain legal documentation. I have for the past 15 years assumed that i need to go to a lawyer and open my wallet and wait weeks before i could get an agreement. You have changed all this and made law so much more accessible and prompt which suits a business person like me as like most business people i am time deficient. Thank you so much
Only used it once so far for an employment contract but it was effective and efficient
So far so good. Would love the option to put our logo on the document.
Have used lawpath for the document templates. So far, so good.
It has just seemed very easy so far - but i havent had my document reviewed yet.
As my work load is very busy, lawpath helped us immensely.
Very good. I like that there was tele communication and professional advise with the template software
I think it is a great service - but considering i have already provided a legal older version document that i had previously had prepared i cannot justify the costs - as this will only be a few amendments to this one. Service is great - costs are too high and could understand if i had not supplied the document, but all it is is regurgitated to suit each business. Especially as you can purchase anything online.
Great customer care when i've had issues
Easy to use, exactly what i needed for small business. Team very responsive.
Appears to be a good product for start ups and extra options look good
I imagined that i would use the product a lot more however i do find it very helpful whether it is for me or others where i think such documents could help. Overall satisfied however i wished i used it a lot more.
Very disappointed that i was emailed an annual discount offer, but despite multiple e-mails back have never received a response
Lawpath is very easy to use and makes my life easier-thank you!
My experience had an excellent outcome with 3 firms bidding. No hard selling by any of them and they were all highly qualified with lots of experience. The firm i chose were efficient, expedient, and provided exactly what i required within the time frame i required at the cost quoted. What more can you ask for?
Good. I just need more simple documents. The next time i need something you don't have i will send the note to you.
Most of the documents you provide would cost a fortune for a lawyer to draft and the irony is that they will download a draft from a platform like yours put minor work into it and charge a huge bill. I am grateful that a company like yours puts real competition back into the legal game.
I have already made 2 referrals to your service. I am approaching the point where it is time to sign up for the paid service again as my business is growing.
Great platform. Would recommend it to anyone in a similar role to me. I would like to start converting more of my quotes. I'm grateful for the help and feedback matt has provided.
Really great, loving the platform. I'm finding it really quick and effective, plus i think the way you have integrated intercom adds a great personal element to the platform. Really well done! Steph