What our customers say
Read about how different businesses have used our platform to get their legals sorted.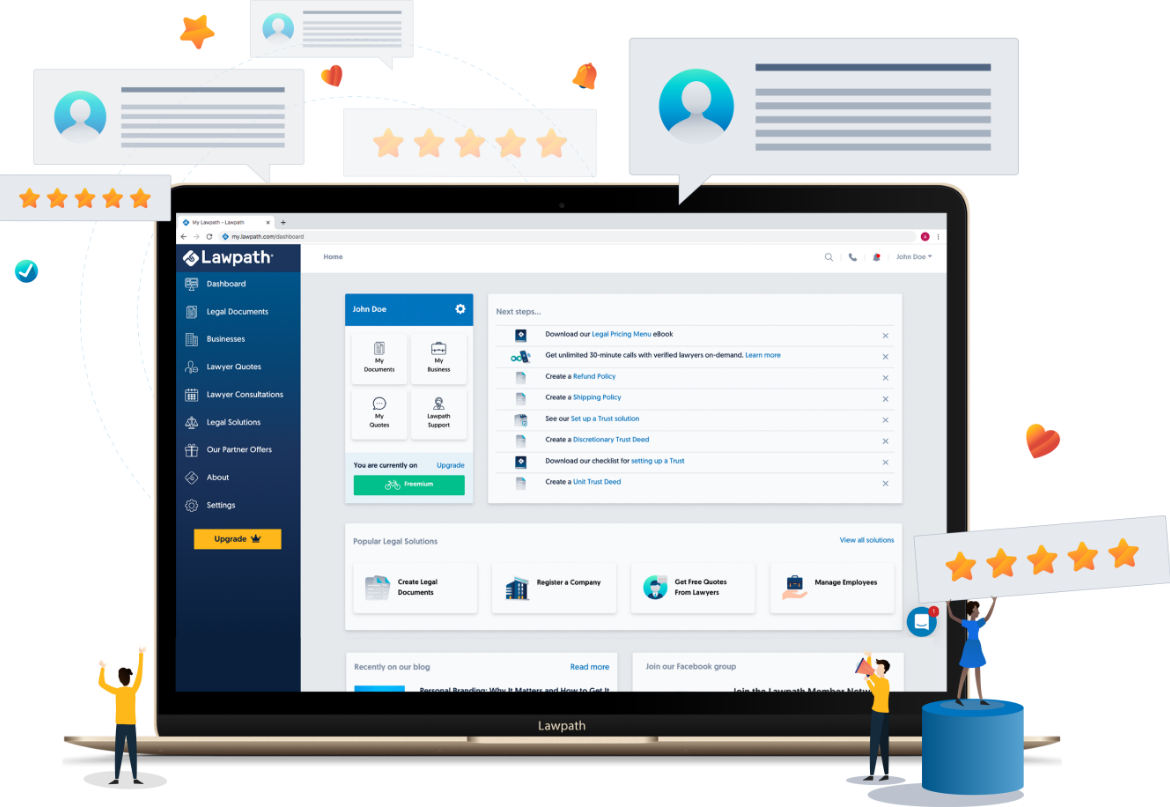 Our average rating is
4.6

(14808 Reviews)
Our latest reviews
2876-2900 of 2931 Reviews (11877 Ratings-Only Reviews)
Good service and documents. Probably for the month to month price i would have expected the docx files to be available
Used once to get a form contract for purchase and sale of a car. When looking for a general power of attorney, there wasn't one.
I like the self-service for legal documents!
Experience was very simple, we were able to create cofounder agreement in a matter of minutes. Only issue we had was the processing time, i had to actually just click the download documents to get the agreement docs and print it locally
Great client contact and live chat. Document received was of a high standard and met our needs perfectly. Thank you lawpath.
Quotes were prompt and inline with expectations. Jared pereira from pivot was also great; understood the problem we were trying to solve and had experience solving similar problems.
Easy to use and excellent range of documents
Lawpath is fantastic. I use it for all of our staff contracts, supplier agreements, and all of our in house policy and procedure documents. I have also used a solicitor to have a separate agreement drawn up and have found lawpath to be just as good, if not better, than the agreement i received from the solicitor. Also the price is much, much nicer than the solicitor's fees. ;o)
I have referred 3 of my clients so far
Thank you lawpath, you have changed my perspective on how to obtain legal documentation. I have for the past 15 years assumed that i need to go to a lawyer and open my wallet and wait weeks before i could get an agreement. You have changed all this and made law so much more accessible and prompt which suits a business person like me as like most business people i am time deficient. Thank you so much
Only used it once so far for an employment contract but it was effective and efficient
So far so good. Would love the option to put our logo on the document.
Have used lawpath for the document templates. So far, so good.
It has just seemed very easy so far - but i havent had my document reviewed yet.
As my work load is very busy, lawpath helped us immensely.
Very good. I like that there was tele communication and professional advise with the template software
I think it is a great service - but considering i have already provided a legal older version document that i had previously had prepared i cannot justify the costs - as this will only be a few amendments to this one. Service is great - costs are too high and could understand if i had not supplied the document, but all it is is regurgitated to suit each business. Especially as you can purchase anything online.
Great customer care when i've had issues
Easy to use, exactly what i needed for small business. Team very responsive.
Appears to be a good product for start ups and extra options look good
I imagined that i would use the product a lot more however i do find it very helpful whether it is for me or others where i think such documents could help. Overall satisfied however i wished i used it a lot more.
Very disappointed that i was emailed an annual discount offer, but despite multiple e-mails back have never received a response