What our customers say
Read about how different businesses have used our platform to get their legals sorted.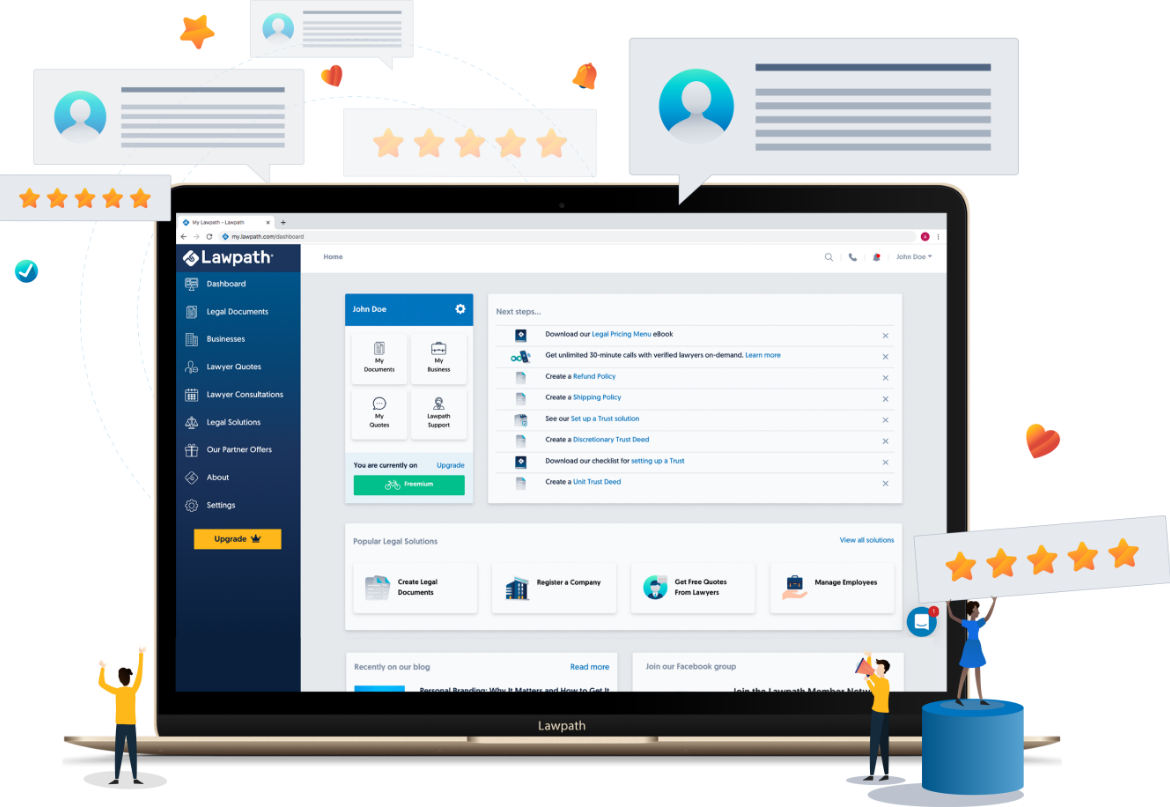 Our average rating is
4.6

(8944 Reviews)
Our latest reviews
76-100 of 2235 Reviews (6709 Ratings-Only Reviews)
Generous with his time and advice
Shareholder agreement with a twist. Steve did his magic again.
Great to use
Lawpath is a great platform to use as a start-up small business as they have all the forms you don't think of when writing policies for your business, employees, and workplace. Recommend to anyone looking for forms in a easy to view and manage way.
Easy as 1, 2, 3.
The document was quick and easy to create and met my needs.
Quick and punchy - the test will be legal review
Impressed by responsive process to "fill the gaps". Let's see what the attorney thinks of my drafting skills!
Professional,highly experienced and honest advice
We dealt with damien on commercial law with our staff issue. We found him very professional, supportive, experienced and would like to help attitudes. Getting a very honest advice and very accomodating.
Quick and easy. Fantastic!
Very good product. Easy to understand and quick to create.
Great chat
Damin was excellent, clear and helped make sense of this document. Many thanks
Consulting call
I got my first consulting call with damin murdock, he was very helpful and provided very useful tips.
It takes the legal out of legal document
It was so easy to fill document with the required information. You did not have to think like a solicitor. Only one draw back the site needs to be more mobile phone friendly.
Wonderful experience and easy to use.
This was such an easy process that guides and helps along the way
Excellent!
Karla is quick, thorough and ensured i understood my options to get the best legal support from her. She was nice to deal with, patient and very professional.
Above and beyond
As a new hospitality business, co-operation with a great lawyer was crucial for us. Karla helps us with all aspects from preparing our lease offer, negotiation with the landlord to all other necessary documents. Always ready to give us the right advice with a great professional attitude.
Easy to use
The commercial lease document was easy to create and perfect for us for business purposes.
Great work in reading between the lines
Damin spent a good time reviewing the contract. Damin paid attention to detail to the wordings of the contract and has highlighted some really good facts that require amendment. I would definitely recommend damin to others!
The document was easy to create. Required very minimal modification for the purpose required.
There is good flexibility but more would also be appreciated.
Very simple to use. Seems to cover everything we need to start our marketplace.
Good process but could not edit
No ability to place additional terms into the agreement without a $79 per month fee.
Great
Easy to search and use thanks for 1 free document.
Great mentoring
Damin you addressed my question and provided me with a workable solution thank you.
Easy and straightforward
What a great interface to get a legal document together with minimum fuss.
Gary was a pleasure to deal with, he was promptly able to craft up a document that fully covered all our needs.
Very helpful
Paul was very helpful, easy to speak to and provided genuine advice. We definitely hope to work with him again on future matters
A smooth operation
Damin made the job very easy and he was great guidance to our legal requirements.
So easy
This document was really easy to understand and fill in