What our customers say
Read about how different businesses have used our platform to get their legals sorted.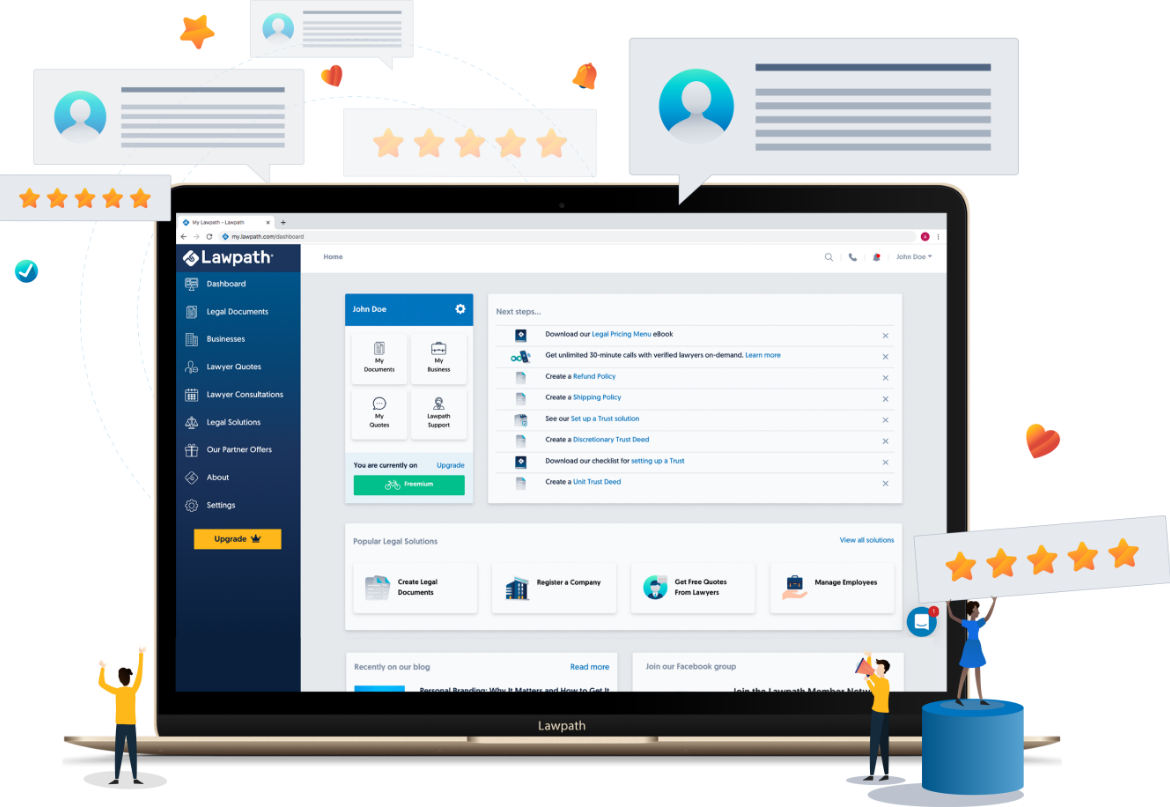 Our average rating is
4.6

(12183 Reviews)
Our latest reviews
76-100 of 2638 Reviews (9545 Ratings-Only Reviews)
Awesome
The way online preparation of legal documents handled by lawpath is very professional.
Very helpful
Damin was very helpful and answered my question fully.
Software agreement
The initial phase to prepare the draft agreement was easy to follow an a very well thought out process.
Efficient help within 30 mins
Amar efficiently ran through the brief and supporting documentation and was able to provide really useful information within the 30 minute phone call. My query was fully answered.
So easy to use!
This service is quick, easy and trustworthy. I was able to create my privacy policy for my online store in minutes.
Easy to understand for beginner
First time needing this document and the prompting made it super user friendly
Informative
We got straight into my session and got quite a substantial amount ticked off in the 30 minute session.
Access to legal templates at your fingertips!
Wow! I needed a quick nda template and i was amazed to find that a service like this even existed.
Shipping policy
So quick and easy, will definately use in the future.
Asy walk through process
I found this very usable and would definite;y recommend
Easy to use, fast and looks great.
Great service so far i have only used the 1 free doc, however, i'm sure i will be back to use others.
Easy to use
Simple and easy to use. The document is professional and comprehensive.
Professional & great advice
Amar was able to highlight the basic legal structure missing from the manual i had sent for review. Where i thought i was thorough...I was on the wrong track and amar was able to direct me (away from policies and procedures) to the area of contracts...And using the resources available to find the contracts best suited to my business. Many thanks with your patience and diligence, amar. Much appreciate your expertise and direction.
Excellent first experience
Damin was able to present complex ideas in a highly accessible manner. Thank you
Fantastic experience. Exceptional service.
With no previous "lawpath" experience i was unsure what to expect in the way of advice and recommendations, but within minutes of my first consultation call it was obvious that our subscription to the platform was absolutely the correct choice. Damin called me punctually and had obviously prepared well for my consult. He was fully aware of my concerns and questions (as described to lawpath when booking the consult), immediately confirmed these with me and already had information and "acts" to hand both to quote from and refer me to for advice. What impressed me particularly though was damin's direct, no-nonsense and real-world way of giving advice and recommendations. Most of us are not used to dealing with legal matters and are easily confused and/or intimidated by having to. Damin made understanding our position, choices and likely outcomes surprisingly easy and i highly recommend his services.
Convenient but intimidating
Lawpath offers a great service, no doubt about that. But the stigma attached to legal issues has me thinking "is this legitimate?" i worried a bit while going through my first process... Maybe it will get easier with time?
Pretty easy process
Pretty easy process to create an influencer agreement but there could be more suggestions of what to include in the editable areas.
Pretty easy process
Pretty easy process to create an influencer agreement but there could be more suggestions of what to include in the editable areas.
Amazing tool!
So helpful and easy. Cannot believe how great this tool was
That was seriously amazing
Lawpath enabled me to create appropriate policies with ease
Pretty easy to complete
Did the job however some more flexibility would be good.
Awesome
Loved it, easy to use, if requiring more document definitely will sign up
Easy and flexible documents, but some limitations and no real explanation of what different clauses meant.
Hire agreement for excavator
Great process, fast and easy and covered off on all areas required.
Easy documents in plain english
Large variety of documents, policies and procedures available to fingertips.