What our customers say
Read about how different businesses have used our platform to get their legals sorted.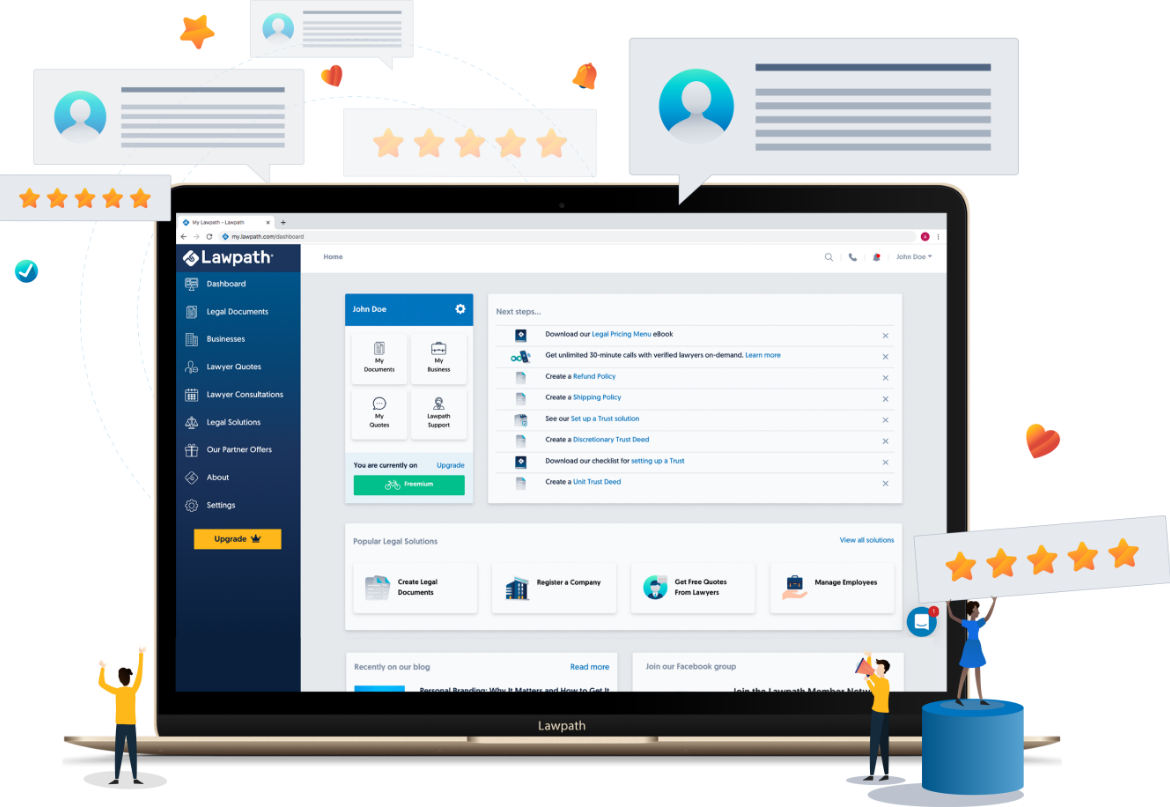 Our average rating is
4.6

(12068 Reviews)
Our latest reviews
101-125 of 2622 Reviews (9446 Ratings-Only Reviews)
Great advice
He was very clear with his answers and advice and was generous enough to look at some other parts of the contract
Easy to use
A great option for those with limited legal experience
Very easy and straight forward process
I was looking for a sample of a legal business agreement and i found it at my.Lawpath.Com. Overall it was very easy to select the right document from a list, then to follow the instructions and fill in the specific information in order to customize the document to my specific needs. The whole process was very easy and straight forward.
Easy documents
The document was easy to complete and covered all the areas that we were requiring for our commercial lease.
Great information and guidance
Youstina has provided all the related information regarding my enquiry and has helped with profesional guidance on the next steps of our business.
Privacy policy
I needed a basic privacy policy for my website and the developer recommended law path. I had the document prepared in a matter of minutes checked and up on the site within an hour. Amazing site and service!!
Simple & easy
Good basis for a simple will. Doesn't provide the opportunity to specify further.
Easy!
So quick and easy. Will need more documents soon. Love that you get 1st one free
Great experience
I now feel very confident that i am offering the right salary to my employee and covered contractually
Too many catches
I just needed one document example... Was hesitant to give any details for the document to your website for security reasons (where does this information get held by whom?) so 'pre-fill' was annoying. I don't mind a watermark on the sample (you did create the proforma) but please reduce the sales pitching.
Great to work with
Amar was very thorough and easy to speak with and addressed all requirements promptly. Thanks for your good work.
Great experience!
Amar went above and beyond to ensure our requests were completed to a high standard!
Easy simple practical advice
Amar provided practical advice that was easy to implement.
Very helpful!
Amar cast some helpful light on my question and directed me to the relevant acts of legislation which i'm now able to reference and be guided by.
Ndis service template
Great process apart from not being able to edit the document after reading it without having to pay.
Free and easy first step
Helpful hints under the spaces to fill for my purposes made the generation of the document easy
Highly recommended
Damin covered everything i needed, in a straight forward, practical way. Removed all of the obstacles i had, so i can now focus on solutions. Very pleased with the entire experience!
Efficient and great to work with
Was a great experience working with claire. Claire did not overcomplicate the issue at hand and was very efficient, practical and helpful. Would definitely like to work with claire again in the future.
Fantastic - super quick, easy and really free!
As recommended choice in their will kit reviews as being the best diy will kit as didn't dissappoint.
Convenient and thorough
Needed a professional sponsorship document and in a hurry, this site literally solved an internal pain point in 45 minutes. Highly recommended.
Made it easy
Just worked through my free document - website terms and conditions - very easy to complete the required questions, tips were helpful and loved the autofill. Many thanks
Privacy policy
Very easy to set up this policy and appears to cover everything required.
Easy to do - not able to print
Preparing my will was extremely easy, but when i download or send through to an email, the document is blank.
Quick and easy consultancy agreement
This was a very quick and easy way to get a comprehensive agreement in place.
Nice and easy
The simple question based process to develope a family trust was easy.