What our customers say
Read about how different businesses have used our platform to get their legals sorted.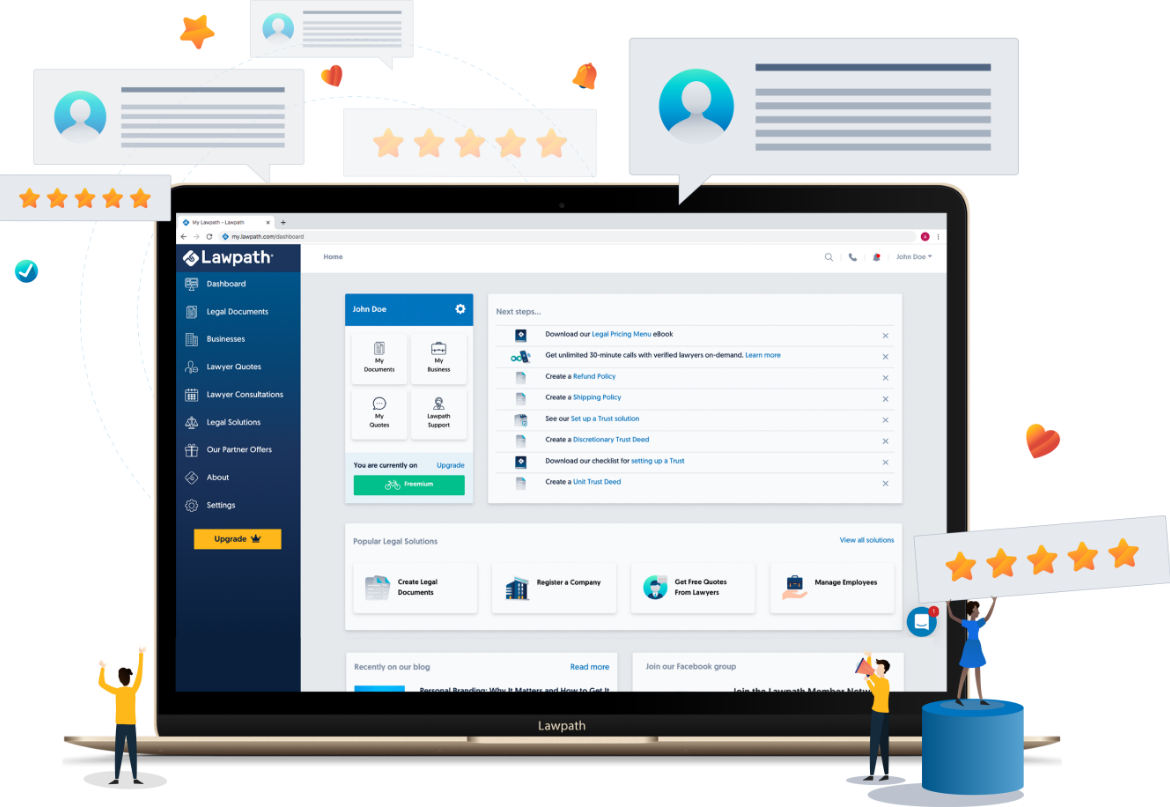 Our average rating is
4.6

(13976 Reviews)
Our latest reviews
101-125 of 2848 Reviews (11128 Ratings-Only Reviews)
Great experience
It was very nice to chat with youstina. Get my answer straight away.Thank you very much for your advice.
Absolutely impeccable
The title says it all! Clair was patient, kind, professional, haste and most importantly she has your best interest at heart. There's no doubt i will be engaging clair in the future as my business continues! Thank you claire
Great experience and excellent legal advice!
We had a consultation with damin on our shareholder agreement. Damin is super helpful and provided tons of good advice to us. Damin is very patient to break down the legal jargon, and takes the time to understand our needs, and provides tailored advice for our start-up. I would highly recommend damin to other entrepreneurs.
Simple and sleek
This is super easy to use! And informative to boot!
Easy to use and simple language
The template was easy to follow and complete. Would recommend for basic contractor agreement.
All good... But i didn't like the prescriptive nature of your process...
Easy to use
Very easy to use user experience. Quickly creating documents within minutes.
Family trust deed
Easy to use but the free template provides you with a lot of clauses. The ability to edit requires subscription of either $99 a month, or $336 for an annual subscription.
Exactly what i needed
The system walks you through step by step customisation of the legal document (of choice). I'll be back for sure!
I and the lawyer has a 35-minute productive exchange of legal view on my topic.
Great help amar
Was very good and through in his explaining the query and questions thx amar
Excellent service
Thanks david! Call was on time. Swiftly dealt with! Great advise and customer service!!! Thanks!!!!!
Great document
Great and easy document to use and create. Made making a will online a breeze.
Very easy to use
Easy to use, great for people who are looking to cut costs and expenses that arise from lawyer fees etc. Highly recommend.
Great expirience
Very professional in proving me with answers and easy to follow. Good people skills.
Quick and comprehensive
Damin answered my question quickly and comprehensively, following up with a useful summary email - great service.
We are really happy with all the assistance youstina has been providing us.We are feeling more confident with our business ventures with the knowledgable advise from youstina. Dm thanks you
Easy employment agreement
Easy to use employment agreement. Took 10 minutes only.
Nice and simple
Really enjoyed using this service for the first time.
Easy
Good suggestions and a great way to produce a basic agreement to commence a small startup partnership.
Tobie was fantastic to deal with and made the entire process very easy for me to be able to comeplete my needs. I will be advocating for funk and avis with my contacts and will be using them for my future business needs.
Review for damin
Brilliant work by damin - i have had one of these consultations previously and the lawyer was not much help. Damin blew away my expectations, was very helpful, resourceful and professional.
Quick start
Good basic policy. Only a few typos and grammar issues.
Loan document
It would be easier to edit document when completing
Too easy
Thank you so much, i am setting up a new small business and this service is an generous offer.