What our customers say
Read about how different businesses have used our platform to get their legals sorted.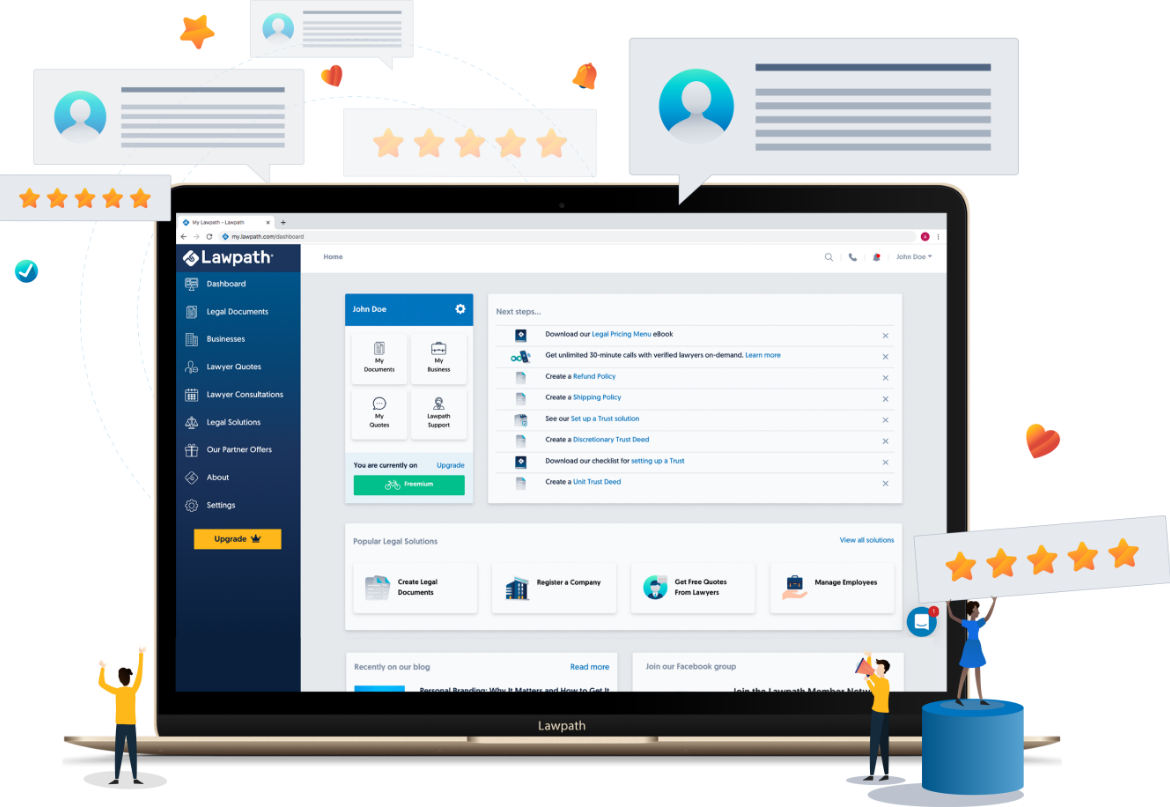 Our average rating is
4.6

(13976 Reviews)
Our latest reviews
126-150 of 2848 Reviews (11128 Ratings-Only Reviews)
Free but still have watermark
1 free document but still having watermark defeats the purpose
Great
Thank you! Very helpful to have that walk-through of what would be a difficult document to understand on my own.
Great title , but was not able to edit it.
Great idea , will think about joining the paid service . Thanks
Well detailed and easy to use!!
Thank you very much, i 100% recommend this will to anyone who would like to make one. Was done with ease and looks very professional.
Concise, helpful
The advice i received was concise and efficient and clear, thank you.
Great experience
Amar has been great in taking out the time to address my concerns and provided great advice. Communication was great. Amar went above and beyond to explain everything in simple terms. Amazing asset to the team. Would highly recommend to everyone.
Easy documentation creation
One of the best websites that lets you create document at fingertips .
Highly recommended
My lawyer completed the transaction succesfully. The whole process was very comprehensive. Highly recommended.
Commercial buisness
Very informative made me understand about the process..Easy to talk too..Helped a lot on what we wanted was always a step ahead ..Definitely would recommend him as he made it definitely easier for us to get our lease contract sorted. Always answers our calls when we need him and very fast to get back to us when emailed. Very friendly and helped wherever he can thanks tobie @ avis and funk
Very easy to use
Each step is explained withs tips/examples prrovided.
Thank you, big help
Thank you, this document is a huge help for my small business
Great service: expert & tailored advice.
Amar was so professional & insightful. He was able to offer tailored advice for my employer's unique business model, even factoring in our budget & provide a quick solution.
Easy to use
Required some legal knowledge of potential consequences
Review of binding financial agreement
I engaged nicole segal, from segal lawyers, to review a binding financial agreement to advise me on the pro's and con's of the agreement. Nicole was professional, quick to respond, very knowledgeable in all things family law related and very importantly very personable. I would recommend her without question.
Memo of
What a great system. Very easy to navigate through the available options.
Great communicaion and client focus
Ryan is awesome with his great communication and continuous focus towards clients needs. Legal matters can be daunting but ryan helped to answer all questions i had and explained to make those easier for me to understand. I would highly receommend ryan's service.
Couldn't edit my document after it was finalised not realising i had missed a crucial bit of information without signing up for a membership plan.
An easy template
I found the template of privacy policy very easy to use. However i am still in the process of setting my website and a few questions i don't really have definitely answers for them yet, which was a bit tricky.
Clear and concise advice
Damin quickly understood the nature of the issue we were seeking advice on. From there he was able to provide the key areas of consideration, not just on the strength of our case, but also on some tactical and strategic options for closing the matter out. In short, damin rapidly provided the information we needed make a decision and move forward.
Great service and advice
Damin always provides practical solutions to our employment law issues. I
Very useful!
Thanks, damin for your excellent advice on the intern agreement!
Went above and beyond
Amar helped me see that the contract i was thinking of signing in fact was highly risky and didn't provide me much recourse. He did this over a zoom call where he discussed in great detail every single paragraph even though it went well over the planned 1hr that was set aside. Thank you amar!
Website not working on my pc
This could be a great service in theory, but i am unable to log on or even set up an account on my pc. I have tried several browsers and get an error message each time. I managed to make an account on my mobile phone, but i would like to view my account on my pc due to the length of the documents. I have saved my first document - but i can't open in on my pc. Overall the website it clunky and cumbersome. Will be looking else for legal templates.
Very sound advice
Amar assisted with a difficult issue relating and provided very useful and considered advice, i am grateful for your assistance.
Very easy to use website for basic legal documents