What our customers say
Read about how different businesses have used our platform to get their legals sorted.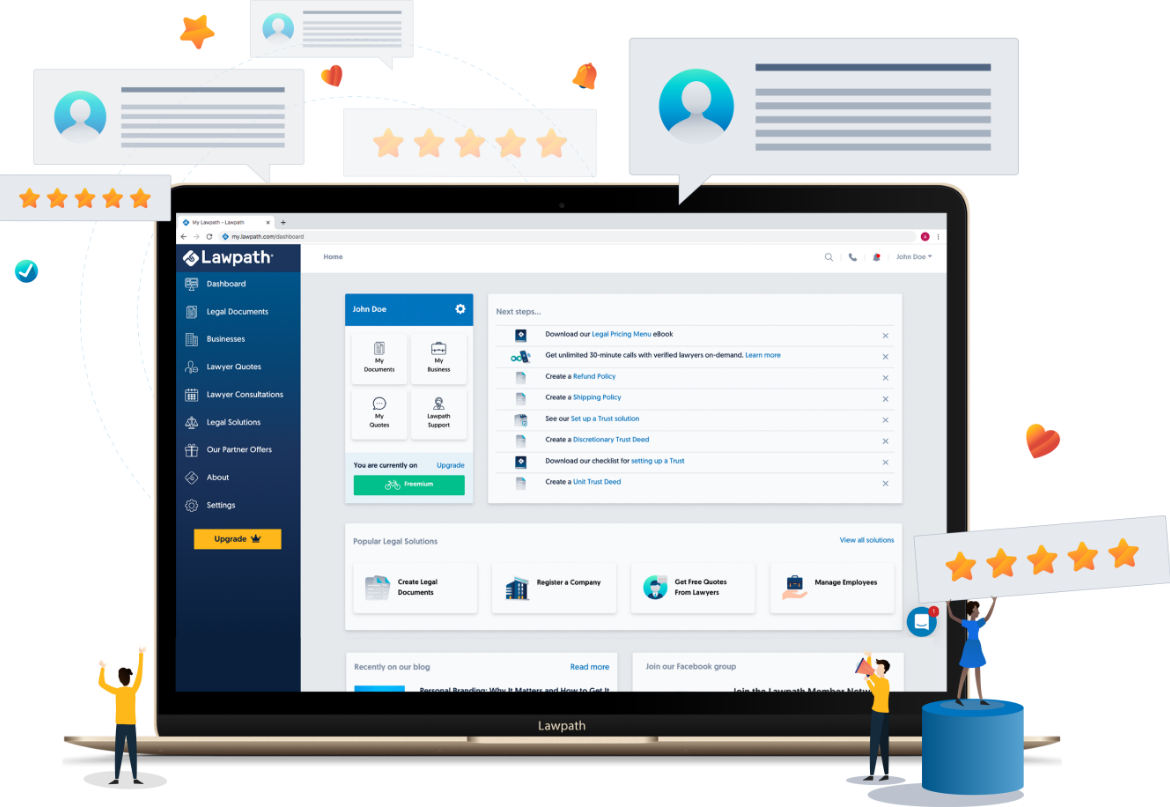 Our average rating is
4.6

(8944 Reviews)
Our latest reviews
151-175 of 2235 Reviews (6709 Ratings-Only Reviews)
Highly recommend philip from the open legal team, he was very helpful in explaining our legal requirements. Philip was always available to speak to, negotiated with the client on our behalf and went beyond our expectations. Will definitely use his services again for legal advice
Very professional
Jeremy completed the items quickly and was able to follow up with calls and emails to check everything was satisfactory. I can recommend him based on my experience
Above and beyond
Jeremy was a pleasure to work with, nothing was a problem and his output far exceeded my expectation
Great experience
The document was easy to create and perfect for my needs
Great experience! Goes above and beond!
It was fantastic working with ben. Not only was he completely professional, he was able to respond quickly and did a great job in understanding the matter and providing very relevant advice. He also followed up on the matter prior to and post settlement to make sure things were on track and we were hitting all the milestones for the very aggressive timeline which we worked with on this matter. I highly recommend ben and avis & funk team to anyone looking to work with a law firm with a great people touch!
Very happy thank you!
Kim and her team did a great job, thank you very much!
Smooth and easy process
Micheal was great at guiding us as a to what we needed and the information he needed to get the job done. He kept it simple for us and explained everything clearly. Thanks you
Smooth experience
As a basic document it was easy and quick to create.
Competition law code of conduct
Kim was asked to review our existing competition law code of conduct for compliance and not only did she do that but she added much more valuable content, which was an unexpected and pleasant surprise. This is the second time we have used kim to review policies and on both occasions we have been extremely happy with the results.
Fast and easy contracts
The contract was very easy to create. Save alot of money and time from engaging a solicitor for a legitimate contract.
Quick & easy
Gary is always reliable, he will continue be my go to person for any legal issues in the future.
Very comprehensive legal document
Easy to create and customise for my business requirements. Highly recommended.
Very nice
Just what i wanted. Saved me from the hurdle of having to write from the scratch
Ben was awesome
Highly recommend ben! First time using lawpath and i compared quite a few different avenues for the formation of a trust to buy an investment property and ben was not only price competitive but very responsive and insightful throughout. Don't bother looking further!
Deed of debt forgiveness
A great assistance in the preparation of an important document
Terrible
Would not allow me to edit two parties into agreement, only the one....
Very detailed and comprehensive.
Quick and easy way to generate a constitution. This document has nearly 20 thousand words and is very comprehensive. Thank you.
Highly recommended
Nick is able to communicate clearly and efficiently. Very knowledgeable and have your interest at heart. Work very quickly and accurately.
Great customer service
The sign up and document creation process is simple and makes me feel more confident launching my business knowing i'm protected.
Needs a lot of work
The document is not really suitable for online services. Needs a lot of work
Excellent user interface for legal documents
Great user interface design. So easy to use. Thanks.
Very quick and easy
Well written document that saves us time and money.
Ok, but..
Easy to create but let down with a non-editable document without paying extra.
Fantastic to work with, completed the job well above expectations and kept me up to date throughout the entire process. Can't wait to work with karla again in the future.
So easy
No thinking involved, super easy and super fast. Great for busy and evolving businesses needing any legal documents.