What our customers say
Read about how different businesses have used our platform to get their legals sorted.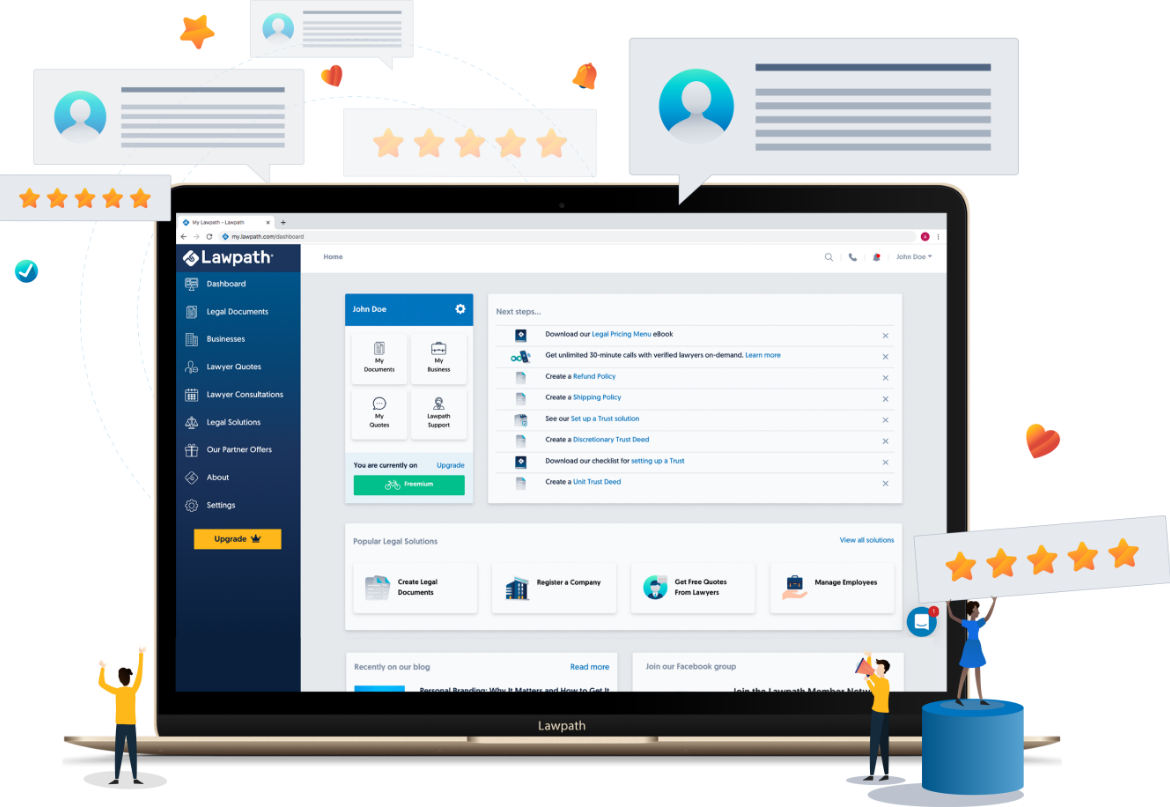 Our average rating is
4.6

(12183 Reviews)
Our latest reviews
151-175 of 2638 Reviews (9545 Ratings-Only Reviews)
Quick and efficient!
Super easy, quick and efficient to make a simple will.
Very good
From first free refund policy generated after felling questioner i belief the result was very professional and that insure the rest of advocate servicrs are professional.
Good review of my contract
Ryan was extremely quick to respond to my proposal. He reviewed my contract and was able to give me peace of mind. I will definitely go back to ryan for any legal matters. I felt he was not only professional and efficient, but he is also very clear when he explains things (he's able to go through things without the legal jargon).
Template inflexible
The template doesn't fit all scenarios, for example where there are multiple payment processors.
Binding financial agreement review
Claire successfully completed the review promptly and was very helpful. I would defenetly recommend her and would go with her again.
Wow, so easy!
We needed a simple contract for our first independent contractor. Lawpath was the fastest, cheapest, easiest way to do it!
Very efficient and knowledgeable.
Understood my scenarios and was able guide me through.
Happy with the service provided, it's hard to find a good lawyer at a good price so pleased with outcome
Easy to use
Very user friendly, and the free sample is really helpful.
Thorough, knowledge, great communicator
First phone call with lawpath. Damin provided advice and a perspective on an issue with a commercial lease in relation to landlord and tenant obligations. Found damien to be thorough, a quick thinker, and provided practical advice. In addition, damien helped to flesh out several practical solutions that did not involve further legal action.
Comprehensive agreements and processes
Very helpful site to create agreements and to understand the necessary requirements and processes.
Easy to use
Went beyond my expectations, this is easy to use, the prompts and explanations are brilliant, thanks
Fine
No prompt for benificieries i'm not even sure the will is usable
Waiver form
Good understanding what is required, decent turnaround, 2 rounds and done, would recommend
Gary is truly exceptional.
It was an absolute pleasure having worked with gary. I spoke to many lawyers and then shortlisted gary because he spoke well (so unlike a lawyer who speak to the point) and sounded very knowledgable on the subject. Coming to the deal which in this case was sale of major assets of business, he negotiated through the terms and conditions of the contract and made sure we got the best deal possible. It is also worth mentioning that i felt comfortable in knowing someone had my back as i could call gary within a short notice if needed and on a couple of occassions we had calls at odd hours (well into midnight) in order to get things happening quickly. Gary made sure he was always available for us. Hire gary and you will not regret. A master of his craft and a true gentleman.
Loan agreement document (free)
Free document but to change you need to subscribe.
Very easy document to complete
I am an accountant and completed a document for a client. Extremely user friendly. I liked how all the questions were promyed.
Amazingly easy!
So amazingly easy, privacy policy for my website created in less than 2 minutes. I will be saving this website for future use!
Pretty straight forward unlike some wills i've read
Very easy
Very simply, efficient experience - great for small business.
Damin was very quick to understand the situation and showed a lot of experience by being able to provide good advice.
Brilliant
I cannot believe how easy and user friendly this process was
Easy
Need plain english version for ndis participants to understand.
Small edits
Would be nice to go back and at least do one edit ie: typos
$29 per month for my 'free' privacy policy
Unbelievable, it was only available for free in pdf format. I'm sure before signing up i read that my free document could come in pdf or docx format!