What our customers say
Read about how different businesses have used our platform to get their legals sorted.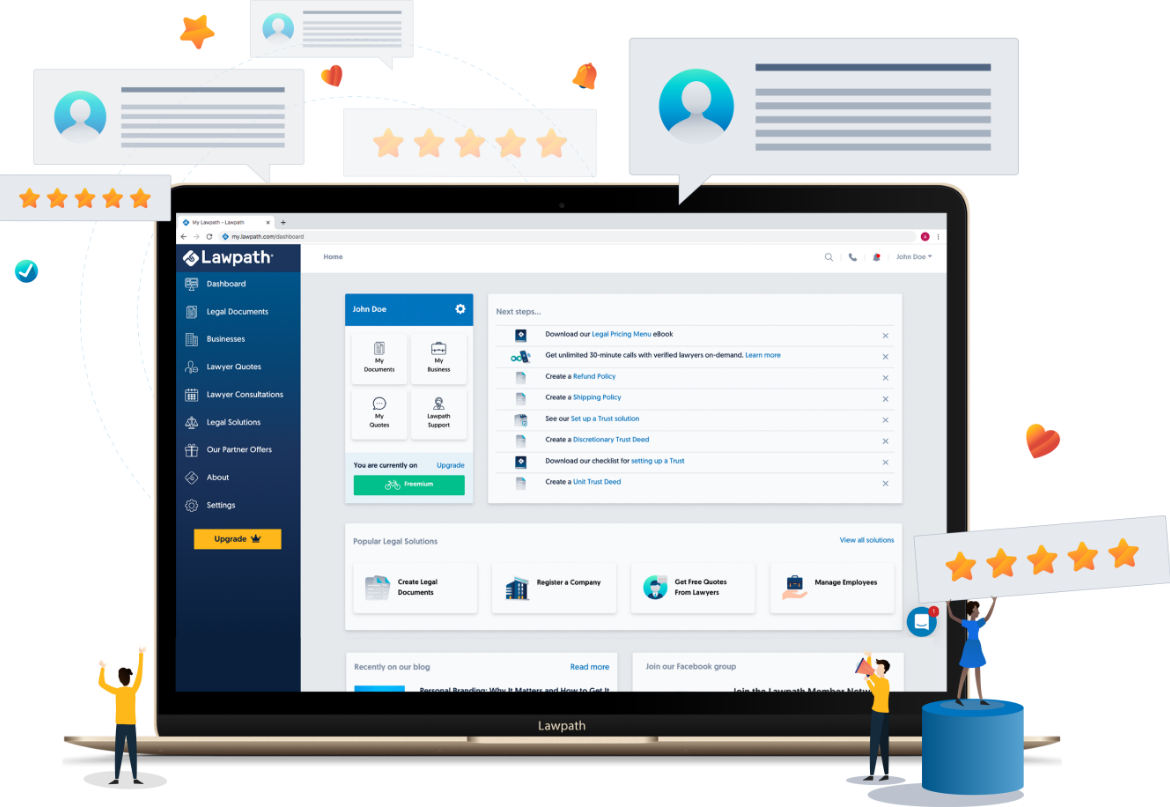 Our average rating is
4.6

(13998 Reviews)
Our latest reviews
151-175 of 2851 Reviews (11147 Ratings-Only Reviews)
Website not working on my pc
This could be a great service in theory, but i am unable to log on or even set up an account on my pc. I have tried several browsers and get an error message each time. I managed to make an account on my mobile phone, but i would like to view my account on my pc due to the length of the documents. I have saved my first document - but i can't open in on my pc. Overall the website it clunky and cumbersome. Will be looking else for legal templates.
Very sound advice
Amar assisted with a difficult issue relating and provided very useful and considered advice, i am grateful for your assistance.
Very easy to use website for basic legal documents
Simple and accessible initial contract format
Website is helpful and easy to navigate particularly important when seeking an australian context
Good experience
Amar was knowledgeable and very eager to help answered my questions thank you
Good experience on potential business structures
He explained things really well, offered options and alternative pathways and answered my questions as quickly as possible. An offered a solution pathway on if i needed help for further set up or whom else i needed to speak to. Thanks amar!
Eay to use
I find this website resourceful, with useful information
Eay to use
I find this website resourceful, with useful information
Support with statutory demand
My lawyer, doron was quick to respond and incredibly helpful in drafting a statutory demand notice.
First lawpath consulting engagement
I just completed my first engagement with lawpath, having signed up to the platform a few weeks ago. Damin murdock, the lawyer i worked with with extremely knowledgeable, proactive and professional in his approach. He explained the terminology and implications of clauses clearly and expertly. Very happy with the outcome of this engagement.
Fantastic site
Easy to navigate, easy to use!! Will be using again
Excellent
I appreciate this service so much. It was easy and also leaves me feeling very confident.
Amazing service
Fantastic quick document service that i know i can rely on
Very thorough
Thanks amar for our very helpful session, we managed to cover a lot in a short time and you answered all my questions.
Great service!
Amar provided a comprehensive responses to my query regarding transfer of financial assets, gift deeds and statutory declarations.
Privacy policy
So easy to use & extremely helpful. Took the stress away from having to set up my own.
Easy documents to complete documents
Easy to access and complete documents. Excellent and fast customer service when i made a mistake and needed assistance.
Answered all the questions we had and clarified a lot to help us move forward with our trademark decision
Youstina's advice was relevant and helpful and clarified what i needed to do next.
Very informative
Youstina was very knowledgeable and knew exactly what kind of documents i need for my business.
Great advice and didn't stop until it was done
Damin provided high quality advice and didn't finish until the scope was completed despite it taking almost twice as long as originally anticipated. I'm very appreciative and will definitely be retaining damin again in the future.
Thorough advice
I enjoyed ryan's no nonsense style. I will be using his services moving forward.
Thorough advice
I enjoyed ryan's no nonsense style. I will be using his services moving forward.
Easy legal documents
Great tool for creating legal documents if you have basic understanding of how these documents are put together.
Quick and efficent service
My lawyer provided everything i needed, according to my brief, in a fast and satisfactory manner. I recommend this lawyer.