What our customers say
Read about how different businesses have used our platform to get their legals sorted.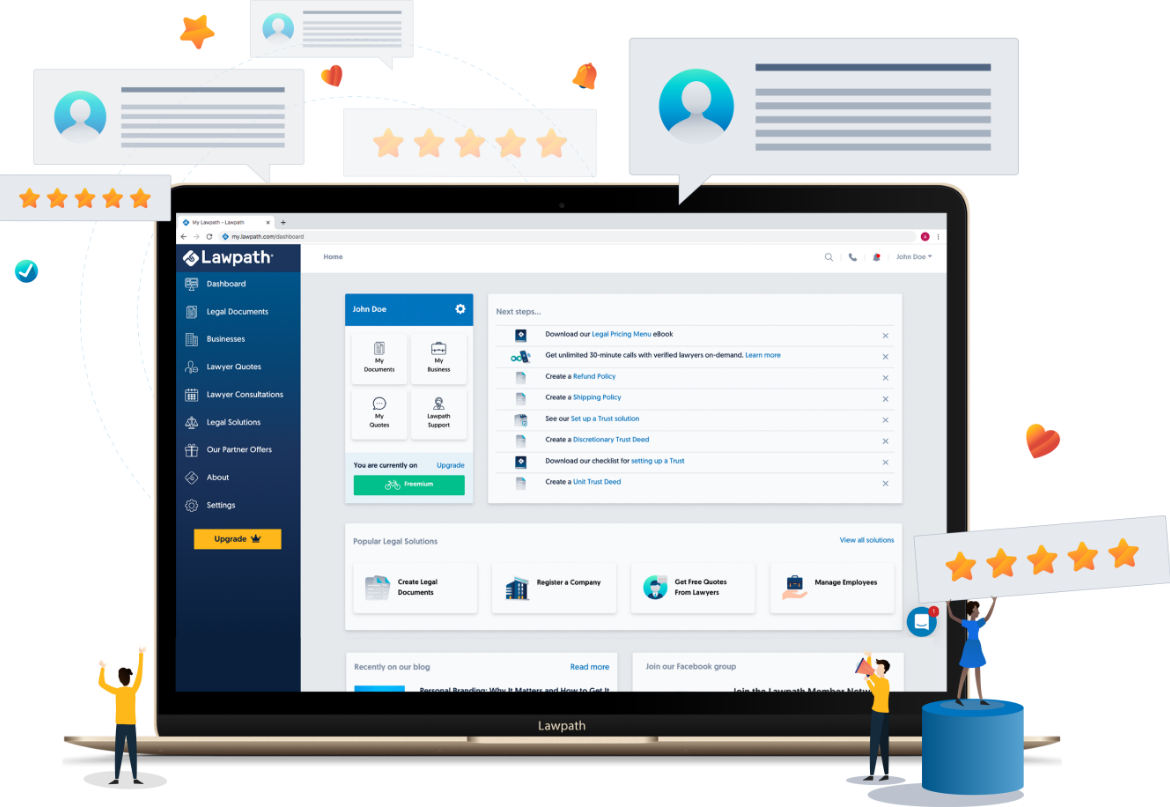 Our average rating is
4.6

(14722 Reviews)
Our latest reviews
2851-2875 of 2919 Reviews (11803 Ratings-Only Reviews)
Daniel was a great help in consultation with my query and had a quick turn around with the completion of the task. Very satisfied and highly recommended.
Daniel was superb. I was able to understand the various nuances of my situation as he went above and beyond to help. He was comprehensive, fast and friendly. I look forward to working with him again.
Daniel and his team provide and excellent and impeccable service, his response to our enquires and advice was very helpful he understood our needs, his professionalism lead us to achieve a satisfactory outcome.
Lawpath was great in connecting me to daniel. He got the challenge immediately and had come up with the answers and a simple contract in 3 days. Smart guy; no fuss. I'd recommend him.
I love what you offer so far.
So far so good for the basic employee related info i've used. T&c for a website got a bit complicated, but i probably need to get a lawyer involved anyway.
Really like the simplicity of the process
Still getting to know lawpath as a start up founder, but like your user experience and product management style - something i am learning about! Still exploring the docs function, but so far so good! Rod
It's been a while since i downloaded the document, but if my memory serves me correctly, it was - not suprisingly! - way too legally technically worded. Was looking for something that was a bit more friendly to read, but still covered off the legal requirements sufficiently.
Quick and accurate answer. Haven't needed further advise since then.
My experience with the lawpath website was valuable and provided the assistance i was looking for.
I have previous experience with preparing contract for commonwealth government department. With that experience and using the your on-line template, i was able to prepare a sub contracting contract for my son. At this stage that is all he requires to be done.
Good service and documents. Probably for the month to month price i would have expected the docx files to be available
Used once to get a form contract for purchase and sale of a car. When looking for a general power of attorney, there wasn't one.
I like the self-service for legal documents!
Experience was very simple, we were able to create cofounder agreement in a matter of minutes. Only issue we had was the processing time, i had to actually just click the download documents to get the agreement docs and print it locally
Great client contact and live chat. Document received was of a high standard and met our needs perfectly. Thank you lawpath.
Quotes were prompt and inline with expectations. Jared pereira from pivot was also great; understood the problem we were trying to solve and had experience solving similar problems.
Easy to use and excellent range of documents
Lawpath is fantastic. I use it for all of our staff contracts, supplier agreements, and all of our in house policy and procedure documents. I have also used a solicitor to have a separate agreement drawn up and have found lawpath to be just as good, if not better, than the agreement i received from the solicitor. Also the price is much, much nicer than the solicitor's fees. ;o)
I have referred 3 of my clients so far
Thank you lawpath, you have changed my perspective on how to obtain legal documentation. I have for the past 15 years assumed that i need to go to a lawyer and open my wallet and wait weeks before i could get an agreement. You have changed all this and made law so much more accessible and prompt which suits a business person like me as like most business people i am time deficient. Thank you so much
Only used it once so far for an employment contract but it was effective and efficient