What our customers say
Read about how different businesses have used our platform to get their legals sorted.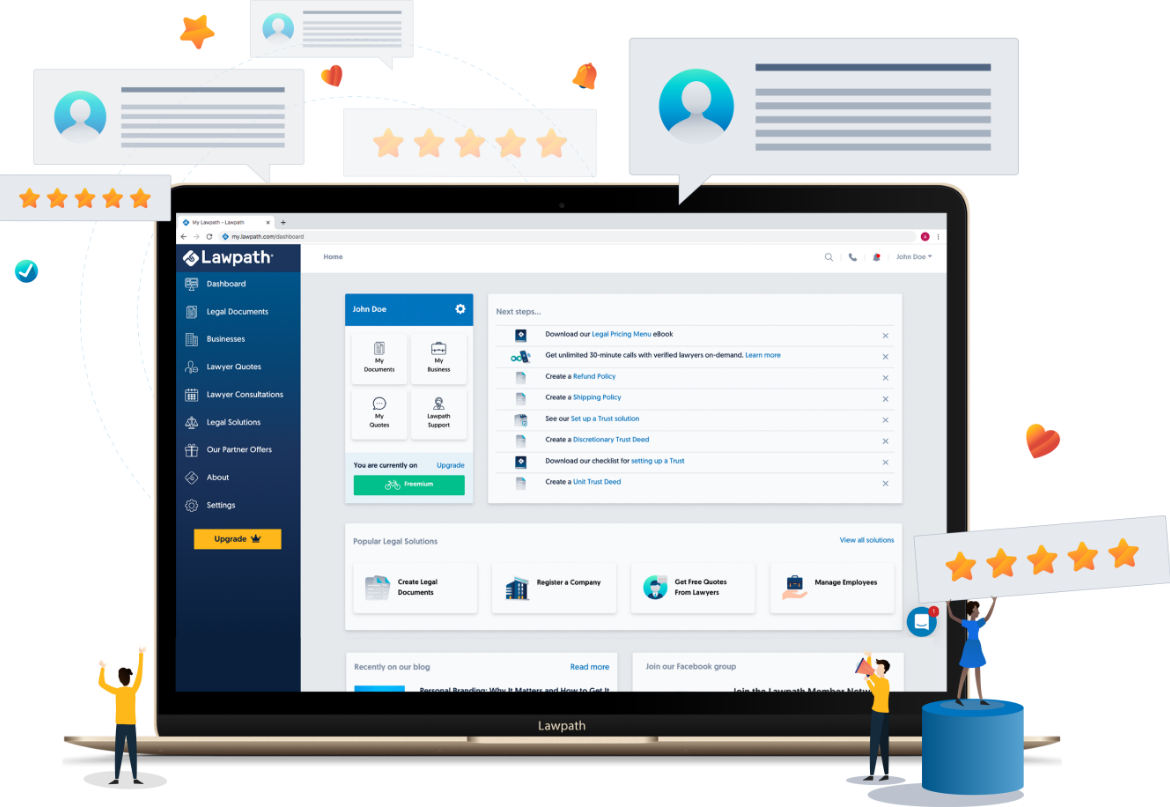 Our average rating is
4.6

(13357 Reviews)
Our latest reviews
1-25 of 2779 Reviews (10578 Ratings-Only Reviews)
Great insight and detailed advice
Confident, precise and formal advice. Great to talk to.
Discovery call
This call was informative and gave me sound guidance with where i should start regarding legal documents.
Waiver doc made easy
I just had to fill in a few details and was good to go. Thank you
Great experience & insight
Another great experience! Amar was able to provide lots of insight & applicable knowledge regarding our legal needs.
Tough job made easy
Needed to make basic will. Was able to complete what was required quickly and easily.
Ok experience
Punctual. Advice was ok but it was hard for him to grasp our particular situation or fully explain outcomes
Claire had a great balance of being very practical but at the same time being very confident and clear on legal requirements.
Efficient, effective use of our time
Most efficient and effective solicitor i have spoken with on the platform. Excellent experience! Thank you
Great communication and work
My lawyer completed the work on time and as per our brief. His communication was excellent and he was super helpful. Highly recommended!
Again excellent advice and service amar thank you
Great information for me.
The document was easy to understand and create. Thank you!
My first call and it was amazing
This was my first time trying the 30min call and amar was epic! He was so easy and very helpful. We covered everything i needed and now i feel very confident in the decisions i need to make.
Well spoken!
Highly informative and made sure we understood. Answered all of our questions and even some we hadn't thought of.
Great service
Amar was very receptive and completed the requirements of my brief quickly and to a high standard. I highly recommend him.
Exceptional service.
This is my second 5 star review for amar because he has provided professional tailored advice, insight & value during each consultation, as a result i have requested to have him assigned for all other follow up consultations through lawpath.
Very professional service
It was a great service from start to finish. Quick, easy, professional. 10/10
Thorough and informative
Amar singh managed to cover nearly all the items i had listed for discussion in detail and provide actionable next legal steps for my startup. The 30 minute time slot can be limiting and could be used more efficiently by devoting time at the beginning of the session to prioritise items for discussion. Thanks, this lawparh service is a valuable tool for planning annual business legal requirements.
Simple and straightforward
Very easy to use tool and great to get a free sample document. I'm not yet sure if i can do the customisation i need to do (at least on a free trial document). Seems like a great tool though!
Great to chat to
Claire put me at ease right away with the perfect balance of listening and advice. I was really putting off doing this because it's not my area and sort of boring but she breathed life back into the task and we're really happy now.
Excellent
Very happy with lawpath. I would recommend to friends.
Exquisite lawyer
Damin murdock is extremely professional. He resolved my issue in 45 minutes consultation. I would highly recommend him.
Easy to use
The website is easy to use. I cannot review my document fully as i cannot download it until i have completed this review.
To the point
Amar dove straight into the details i needed to hear, and followed up with an email to confirm the information and key points. A good experience all round.
Cannot fault
I can not fault my lawyer and the process. 100% satisfaction. Thank you
Great experience!
Clare explained everything in detailed. We missed the initial call, but clare called us back. Overall great experience.