What our customers say
Read about how different businesses have used our platform to get their legals sorted.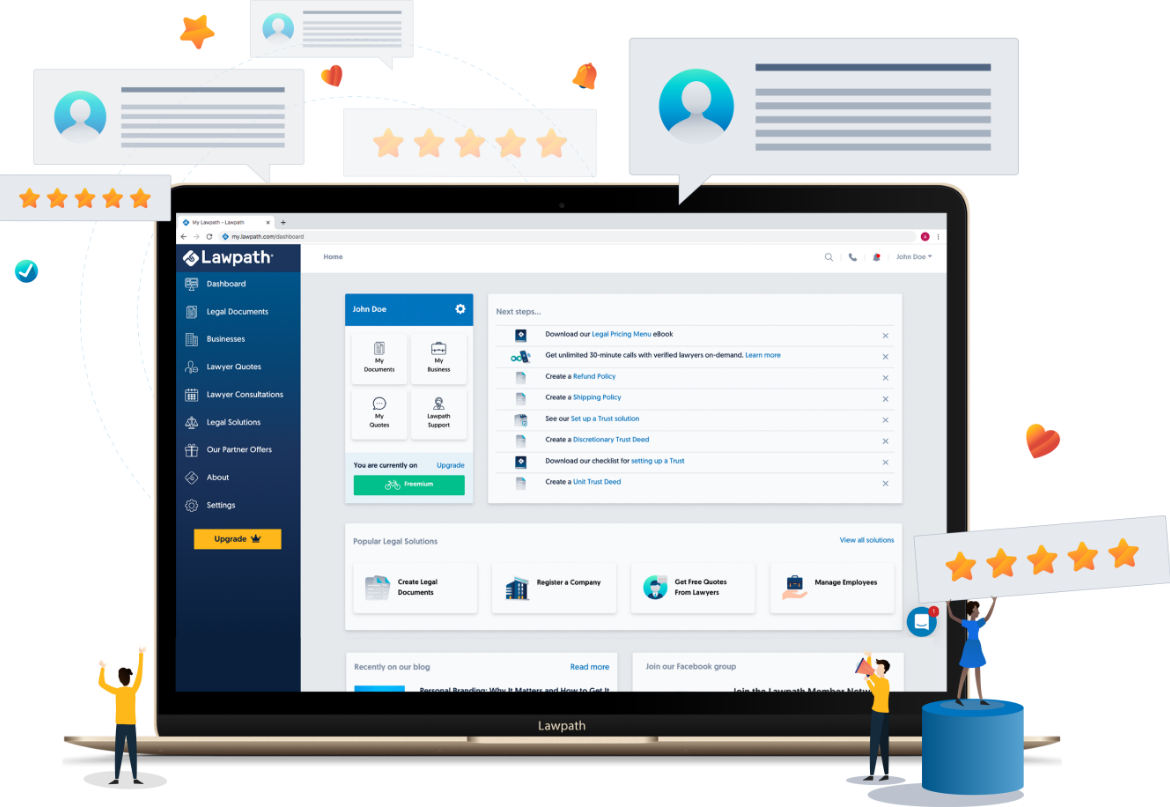 Our average rating is
4.6

(8204 Reviews)
Our latest reviews
1-25 of 1990 Reviews (6214 Ratings-Only Reviews)
Paul was very professional, knowledgeable and helpful!
Super helpful
Claire was a great help, always checked in and gave updates. Helped me alot with areas that i was unsure on. Would highly recommend to anyone.
Megan drafted a contract for me, nothing was too much trouble. She took the time to understand what it was our business needed and produced a document that fit the brief perfectly.
Very informative!
Succinct, to the point, helped clarified my queries around providing shares to a business partner very well.
Terms of use for app
We needed a review of our software terms of use and another contract. Jeremy did a very thorough job and understood our needs. He identified several issues we had not thought of and was very patient when things took longer than expected. He has given me peace of mind.
Great experience!
Really enjoyed our interaction with kim. She was easy to speak to, very thorough, objective and detailed in her advice on our prospective franchise business. Would engage kim again in future.
Goes the extra step
Alex has been a pleasure to deal with. Very easy to talk with and he goes the extra step in providing additional information which is greatly appreciated.
Pleasant and easy
Gary was very easy to work with and work was done in timely matter. Looking forward to working gary again.
Excellent service
Megan was fantastic, very informative and gave us so much advice. She spent extra time going through everything step by step.
Great experience
Phil was great from start to finish managing the review and signing of multiple government contracts.We highly recommend phil and will be using his services again in future.
Great experience!
Megan is very good. She provided very useful information to me and she is patient and knowledgeable. She answered my questions clearly and gave me clear guidance and instructions. I would be happy to work with her in the future.
Great service and outcome
Kim came highly recommended on the lawpath platform and every touchpoint with her and her team was great. Some of the subject matter was new to us and kim took the time to understand our needs and educate us in key areas also.The pricing was competitive and the turnaround time for the first draft and edits was excellent. I'd definitely recommend kim and her team.
Quick and easy to access
Work done was quickly turned around and met the brief
Excellent
Easy to produce the legal doc. It would be better if there are no watermarks on the pdf that is produced with the free account. Some freebies will bring back lots of customers back toyou.
Simple but not indepth
Because we have multiple websites (radio stations) we are not sure if we need 1 privacy policy which covers all stations as they are owned by radio media or if we need separate privacy policies.
Fantastic experience!
Extremely useful resources and easy to use user account portal. In addition highly professional and helpful staff team. This is my first experience with such a great service, i have already recommended two of my friends to lawpath, very highly recommended.
Online will
This was really easy to create online with good guidance.
Testing service for general documentation
Yet to run this past our inhouse legal beagle but looks a solid service which may assist us to speed up the drafting of documentation.
All done
I am doing this review because i can't go any further without it. The form was easy to fill in and will suffice for now.
Quick responses and overall amazing experience
Karla was amazing to work with. Always looks out for you over and above. Noting things even if you didn't know and the costs she provides is well worth it. I'd highly recommend karla
Terms and conditions template
Fantastic and really easy to use. Highly recommended
Amazing experience
Karla was extremely responsive, guiding and easy to work with. Outstanding service, customer always comes first for karla. Would recommend to anyone.
So straight forward and easy to work with !
I really enjoyed using this document. It cut a lot of wasting of time on simple and standard terms.
Fantastic experience
Phil is a professional individual, you takes the time to explain the process from start to finish and works hard to achieve the best possible outcome. I personally was happy with philips services and i definitely will recommend him to family and friends.
Great experience and thanks for the trial!
The document was straight forward, just ensure you have all required information on hand to complete the online form. Will use lawpath again.