What our customers say
Read about how different businesses have used our platform to get their legals sorted.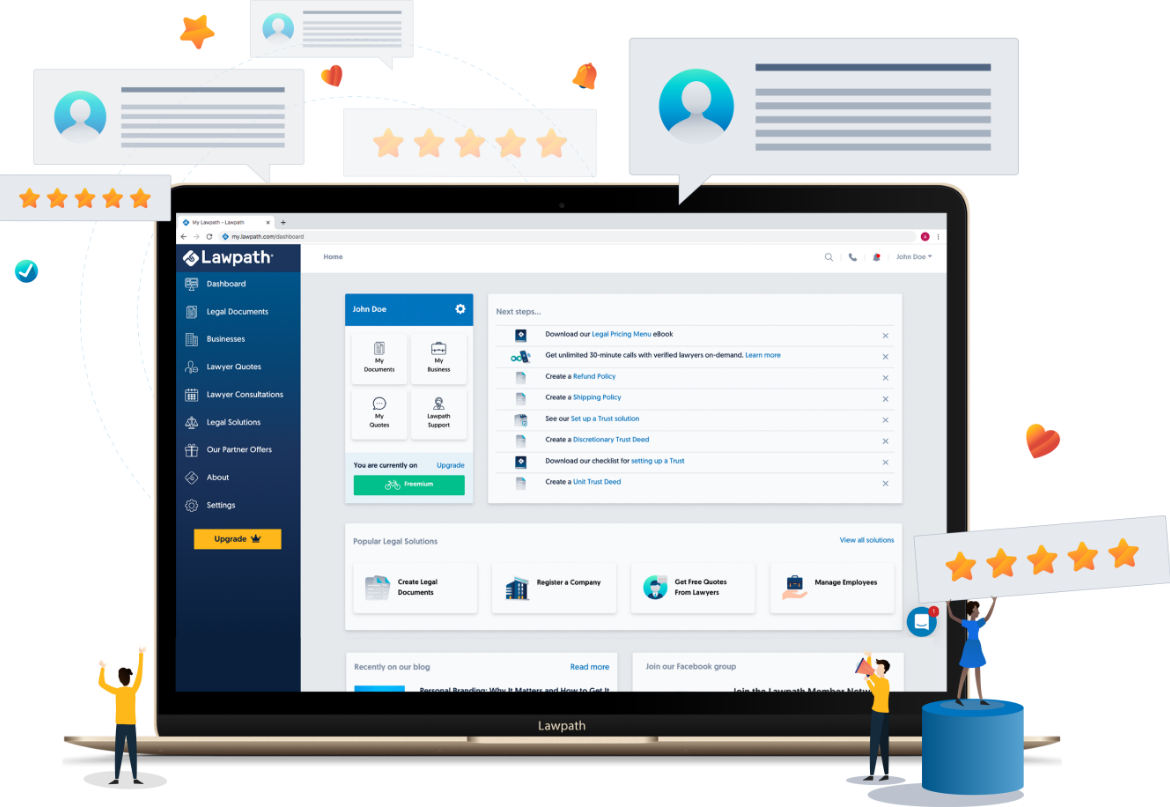 Our average rating is
4.6

(9783 Reviews)
Our latest reviews
1-25 of 2412 Reviews (7371 Ratings-Only Reviews)
Nda
Doc was easy to use & great the first one was free
Simply brilliant - mind blown.
Ryan is a wealth of information. He's exceptional, sharp, very knowledgeable and articulate when it comes to matters of the law, and has strong commercial acumen with an entrepreneurial mindset (very uncommon traits among lawyers). He's also extremely service oriented. I wish he could have a firm with multiple clones of himself... Wouldn't need to go anywhere else!
Quality advice
Damin provided high quality, simple-to-follow advice on a heads of agreement document.
Quick, simple & hassle-free!
The ability to customised pre-written legal documents within a matter of minutes made this task a dream!
Great experience
Damin was super friendly and knowledgeable in all things contract. Thank you!
Highly commercial & strategic lawyer - a rarity!
Ryan was extremely responsive and provided outstanding legal services. Not only that, he was able to provide very strategic and operational advice beyond his legal help - definitely rare to come across someone with such a breadth of expertise... An asset for startups! Highly recommend!
Fantastic!
Claire was fantastic, attentive and supportive in her approach. Enjoyed working with her and happy with how quickly things happened.
Great document but unusable in its free form
This is a great document, however it is completely unusable in its free form as the document has a watermark that can only be removed by payment. This should be disclosed before people waste time completing the document.
Easy, great layout. Perfect for our small business
Easy, great layout. Perfect for our small business
Responsive and sharp. Great to have on your side.
I've used ryan several times for legal work for my business and personally and i will keep doing so. He's what you want in a lawyer and he'll tell you how it is. Honest and reasonable with pricing. Only criticism is that he sometimes takes on too much which can lead to minor delay. Never been an issue for me personally, but he can be late in delivering on his own timing if he's juggling a few too many. Let him know clear deadlines in advance and he'll forego sleep to ensure he meets them though. Top bloke and lawyer.
Cease and desist document
This is a good service i've found it very helpful.
Excellent services
My lawyer was very responsible for all my questions and delivered all elements of my proposal, strong recommended
Friendly and professional
Extremely friendly and professional. Victor explained everything in an easy to understand format. Highly recommended!
Bare minimum
The quality of text content was bare minimum. The user interface was easy to understand and use.
Excellent service
Ryan was prompt, thorough & highly professional in reviewing, clarifying, discussing and redrafting a critical indemnity waiver for my business. I recommend his expertise and services highly.
Quick and on point
Really happy with the advice damin provided and the promptness of the call. As a busy business owner it's great to know i can get quick, on point advice without interrupting the flow of my day.
Freemium trial
What a great service, i was able to formulate a document very easily
Efficient and professional
Ryan was a pleasure to work with, prompt and professional.
Exactly what i asked for
Amanda did a great job guiding me through the purchase of a business, reviewing drafts and preparing documents. Her advice that accompanied the contract review made it very easy to explain to the other party why certain changes were being made, which made the process a lot easier.
Hassle free creation of a loan document
We needed to create a loan contract to document the short term loan of money to a friend. This was so much easier than i had thought and now i feel much more secure lending the money.
Quick and simple
Great option for starting out, to have piece of mind before i can afford to engage a legal service
Excellent
Very easy to create, will be using this every time
Very responsive
My lawyer has been excellent throughout the trademark process. They explained everything as we went along and they were very responsive to all of my additional questions. I highly recommend their service
Franchise document review
They delivered what was required my lawyer was easy to deal with with a pleasant phone manner. They pointed out most things that i had already interpreted correctly but was good to get an experts opinion, they did also point out a few things that i didn't comprehend ..All in all was good, i decided not proceed further with the franchise purchase.
Easy template for employer
Useful tool but does not seem to download once you have followed the completion path so i would be cautious about paying until you can be sure it will download