What our customers say
Read about how different businesses have used our platform to get their legals sorted.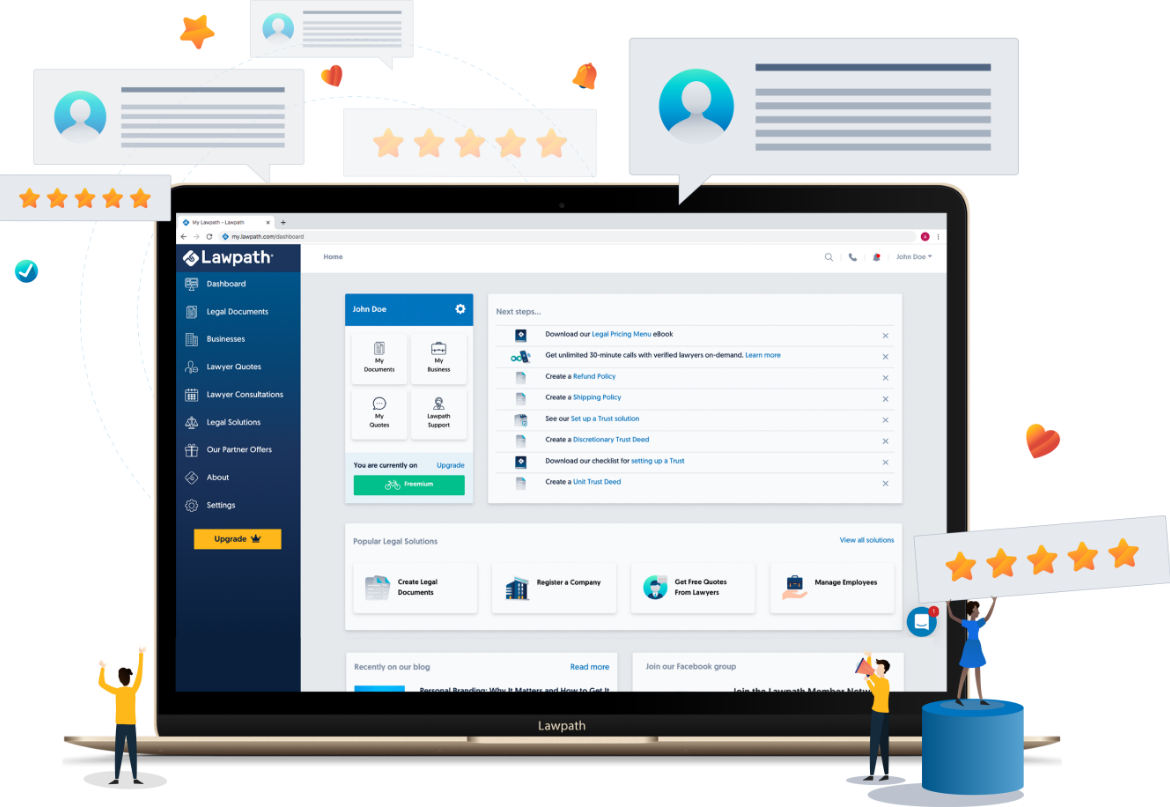 Our average rating is
4.6

(8942 Reviews)
Our latest reviews
1-25 of 2235 Reviews (6707 Ratings-Only Reviews)
Very happy with lawpath! Exceptional client service! Could not recommend more highly.
Great experience!
Damin explained everything in easy to understand language.
Great document template
Editing of document was easy to do + relevant information fully given + saving document upon creation.
Website easy to navigate & use
The website is easy to navigate & use with plenty of legal documents that are relevant and applicable to today's business requirements.
Website terms & conditions
This document was easy to create, edit and use. Very comprehensive.
Great
Easy. Footers did not work well. Easy to fix in word though.
Very professional and timely services given that fact that i required this competed mere days before christmas.
Prompt straightforward service
Claire's service was prompt and the documents requested and advice provided was what i was looking for.
The document was easy to create and great for my needs
What an awesome process
A great, straight forward document that is efficient to populate.
Phillip and his team are just incredible. They made the extremely confusing process of setting up a n4p association seem simple and effortless. I cannot thank him and his team enough for their support. Thank you.
Vey easy!
The document was very easy to use and perfectly suited to my needs.
Great experience
Extensive experience, prompt responses to all my questions
Excellent
The document was created in a couple of minutes with ease and perfect for my needs.
5 stars
Very professional and the requirements that i asked for where done.
Brilliant
By following the prompts (which i didn't do on the first occasion) it's simple to produce a suitable document.
Easy to follow/use
The document saved me a lot of time but i also have confidence that i have a proper legal document.
Easy to use and great experience
Law path is a great service! I have completed several legal documents and set up my company with ease.
Great support and advice from paul for our new contract
Good experience.
The meeting and communication of the next steps went well.
Intelligent, experienced commercial lawyer - we will likely engage damin as our legal counsel from here on
Quick and efficient
Damin murdock performed the review and corrections of a sales representative agreement for me. He demonstrated polite and professional behaviour. The project took place in november-december and i felt that damin was extremely busy, however, it did not affect the project significantly. His time management for my project was good. I would like to see slightly higher attention to the contract details and to hear more suggestions from him, but it would probably be over the standard service requested and indicated in the quote. I have a positive impression on this project.
I love this platform!
If you are a small business, lawpath is for you! Simple, easy and fast.
Easy to do.
As much as the legal stuff makes me shudder, its a necessity in today's world.
Clear and robust
The consultation from mr. Murdock is clear and robust. It's very helpful.