What our customers say
Read about how different businesses have used our platform to get their legals sorted.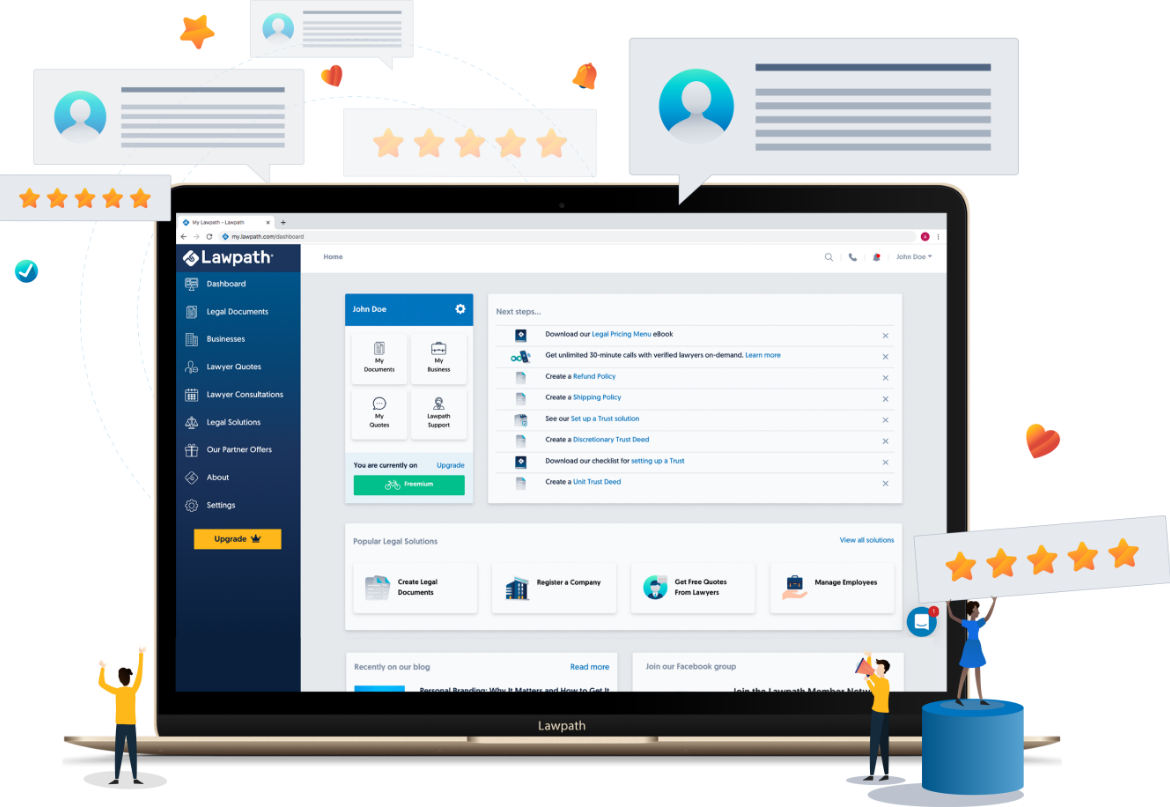 Our average rating is
4.6

(13976 Reviews)
Our latest reviews
1-25 of 2848 Reviews (11128 Ratings-Only Reviews)
Quick and easy
Great service that was easy to complete and very quick.
Legal documents
Really easy to use the tool and create professional legal documents.
Create a document
Easy to use and create a legal document. A small issue i had with the program was rectified quickly by the online operator. Excellent work!
Fitted the need we had for our company
Found this helpful for the situation we needed to resolve in our company.
Simple will
Very easy to use. Clearly steps through standard questions. Would have liked a section on whom to look after the children should both myself and wife die.
Cant download simply
Have to go through number of steps including this review just to download the filled agreement. Could be friendlier and simpler.
Easy document to fill out
The document wasn't relative to me in certain parts and was not how i charge etc. Not exactly what i needed and can't be changed.
Fantastic
Claire was very professional and drafted a concise agreement that covered the key issues. She was thoughtful, approachable and astute of the key issues.
Rent
Was put together perfectly an tips were very helpful. Thanks
Easy access to documents
I have really enjoyed this process, it was nice and simple.
Easy to use service
Will use this facility in the future should the need arise. Very easy to use.
Business sale contract
Couldn't change gst clause to not sell as a going concern
Great service
The service was very professional, informative, and friendly.
Easy as ..
I knew what i needed - simple yet with the legal definitions - this delivered.
Easy to use and quick
Very quick and easy to draft. Highly recomment it!
Really fantastic lawyer very qucik and proficient
Great lawyer got exactly what i needed at a very good price. Worked qucikly diligently would highly recommend
Amar is professional and knowledgeable
Really appreciated his advice and in addition amar has a pleasant communication style.
Quick and efficient service
Thank you for helping me with your service. You are really kind, caring and professional. I am so lucky to have your help.
Outstanding
Claire was super easy to deal with, flexible, discerning, and quick to make changes. Highly recommended.
Easy to fill out!
I recommend this site for anyone looking for legal documents
Super easy!
Using the document creation wizard was very easy. I would definitely recommend it to others.
You write review before seeing the document
They make you write review before seeing the document. Kind of strange
Highly detailed and excellent response timeframe
Youstina assisted with a new employment contract, and both her attention to detail and quick turnaround were exactly what i was hoping for from the service. Thank you.
Contract drafting
I found claire bibby most experienced in the area i required assistance in. 1 phone call and a number of emails , very seamless. Fixed price which was within my budget. Claire provided straight forward advice i found easy to understand . I would recommend claire to any business.
Simples!
Great resource for businesses and organisations regardless of size.