What our customers say
Read about how different businesses have used our platform to get their legals sorted.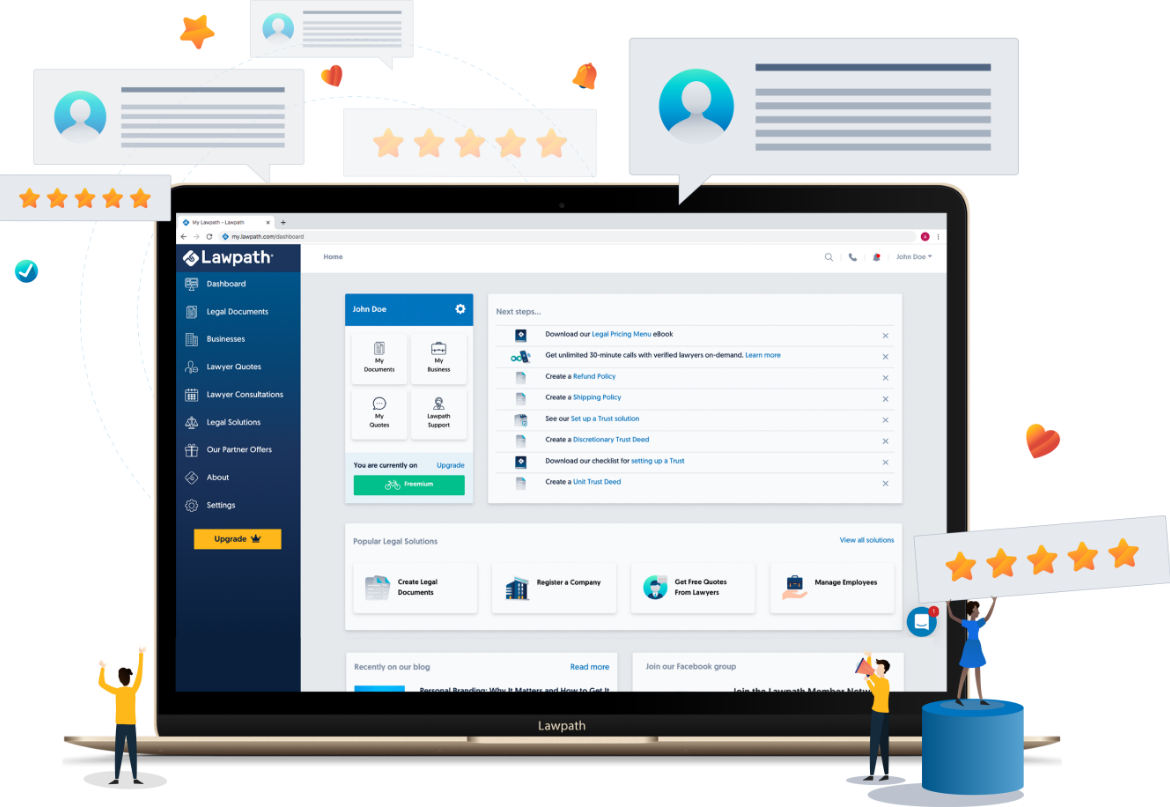 Our average rating is
4.6

(8687 Reviews)
Our latest reviews
1-25 of 2151 Reviews (6536 Ratings-Only Reviews)
Excellent!
Karla is quick, thorough and ensured i understood my options to get the best legal support from her. She was nice to deal with, patient and very professional.
Above and beyond
As a new hospitality business, co-operation with a great lawyer was crucial for us. Karla helps us with all aspects from preparing our lease offer, negotiation with the landlord to all other necessary documents. Always ready to give us the right advice with a great professional attitude.
Easy to use
The commercial lease document was easy to create and perfect for us for business purposes.
Great work in reading between the lines
Damin spent a good time reviewing the contract. Damin paid attention to detail to the wordings of the contract and has highlighted some really good facts that require amendment. I would definitely recommend damin to others!
The document was easy to create. Required very minimal modification for the purpose required.
There is good flexibility but more would also be appreciated.
Very simple to use. Seems to cover everything we need to start our marketplace.
Good process but could not edit
No ability to place additional terms into the agreement without a $79 per month fee.
Great
Easy to search and use thanks for 1 free document.
Great mentoring
Damin you addressed my question and provided me with a workable solution thank you.
Easy and straightforward
What a great interface to get a legal document together with minimum fuss.
Gary was a pleasure to deal with, he was promptly able to craft up a document that fully covered all our needs.
Very helpful
Paul was very helpful, easy to speak to and provided genuine advice. We definitely hope to work with him again on future matters
A smooth operation
Damin made the job very easy and he was great guidance to our legal requirements.
So easy
This document was really easy to understand and fill in
Super fast turnaround. Easy to understand and well annotated.
Excellent
Very good happy to help nothing was to much to ask makes you feel comfortable with sometimes having to ask simple questions
Great experience!
The advice was informative and accurate, left me feeling more confident and reassured.
As promised simple an true.
Well planned, and delivered in excellent order so i considered all options
Dolma nyeilza dutt and paul cenoz managed our trademark application in a very professional and timely manner. Made it very easy for us. Great experience with the lawpath team in connecting us with the right legal people.
Great experience
The document was easy to creat and suited me perfectly.
Always good
Ive used this service on numerous occasions and its great. Just a quick chat to get some clarity on a topic. Saves expensive and time consuming lawyer consultations.
Great experience !
Benjamin is a great lawyer, he is patient and organized. Has well rounded knowledge of law and is great with communication. I would recommended benjamin if you are looking for an efficient lawyer who will look after you.
Amazing experience
Michael and his team were amazing. Michael took the time to understand my needs and script a great client agreement custom to my very unique business idea.I highly recommend his service,
Perfect for my needs, and just in time
I needed this document immediately - i had no warning, so i was delighted to find exactly what i needed. It was super-easy to customise to my needs. A brilliant service!