What our customers say
Read about how different businesses have used our platform to get their legals sorted.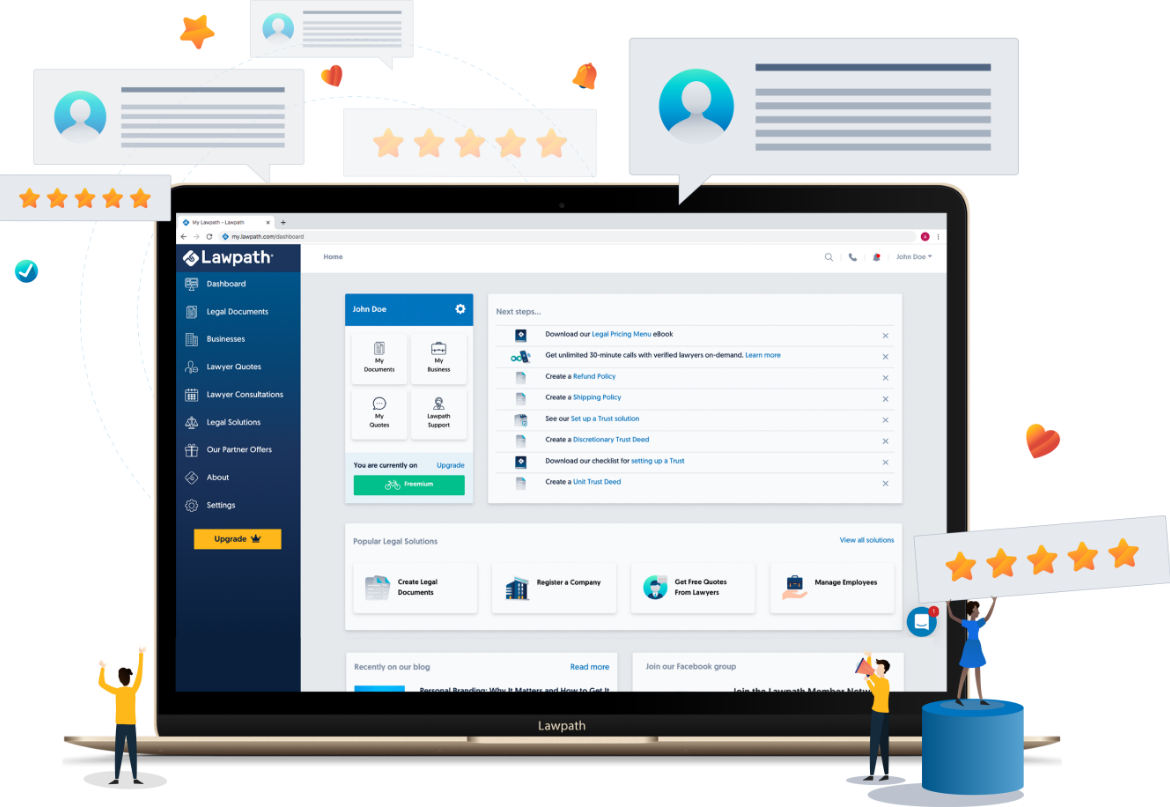 Our average rating is
4.6

(14848 Reviews)
Our latest reviews
1-25 of 2934 Reviews (11914 Ratings-Only Reviews)
Efficient, effective, and knowledgeable
Great experience, super fast and gave comprehensive commercially appropriate advice.
Very helping and smart
Thank you i will surely come back to work with you
Excellent
Sharon was great - really helped me to get a clear and protective agreement in place for my business moving forward - thank you sharon
Easy use and guidance through the document
This system easily guides you through the process of using their document. Unfortunately, you cannot edit the document other than the information fields until you purchase the subscription, but if you need something basic, then it is perfect!
Form is really easy to work with and very self explanatory.
Exceptional understanding and advice
Damin was outstanding. He got to the nub of my business quickly, asked brilliant questions and then made highly appropriate and relevant recommendations. I felt enormously comfortable with that advice by nature of how he probed through questions, and then landed on a pathway forward. I would not hesitate to use lawpath or his services again. Exceptional experience and personable service! Thank-you!
Fabulous
So easy to sign up, easy forms to fill to produce documents and very professional
Commercial lease agreement
Easy to use, easy to understand and it was free for the first one. Thanks larry
Easy to follow guide
Nice and easy to use. I will be recommending this to other small business owners
Great advice
Damin had good knowledge, answered questions over a range of topics, highly recommend damin, patient, precise and good advise.
Toooo complicated and misleading total time waster will cancel any correspondence
Prompt service
Claire saved me from a possibly unpleasant future employee situation. Will be turning to the again in the future for more advice
Great advise and follow up
Claire helped me with a new commercial lease and ensured all clauses and precations about the rental were addressed. I would highly recommend her!
Great
This is amazing make everything so much easier and making you look professional.
An exceptional experience
My time with youstina was exceptional - she provided me insights and perspectives on my current legal and contractual matters in an informed and effective way. I now have a clear path to move forward with that enables both myself and my clients to have the protections we need to work together effectively.
Easy docs
Process was seamless and defitnely sped up the process
Referral agreement
Once again damin murdock made this a seamless process with great suggestions and advice. My go to lawyer!
Editing options lacking
Unfortunately the editing and formatting options are lacking and vague at best. End product appears extremely amateur-ish.
Damin and the team are always good to deal with
Quick response; no fuss approach; good guidance. When you need something, the team can turn things around promptly with good accuracy.
Easyish …
Used the free will option, not entirely clear how it works technically but completing the form was very simple
Amazing!
So easy to use and got my template within minutes!!
Damin and vincent worked tirelessly to ensure my documents were drafted on time. They were very professional and maintained a high level of communication throughout the work. Will definitely recommend!
Made it seem so easy!
Damin delivered excellent documents and took the time to explain the complex aspects of the challenges we faced. It was an altogether positive experience working with him.
I would recommend the team of lawyers, they were supportive and informative. Very patient with me. Congratulations on the success.
It was excellent all the teams were very professional. They explained in great detail what the experience would be like.