What our customers say
Read about how different businesses have used our platform to get their legals sorted.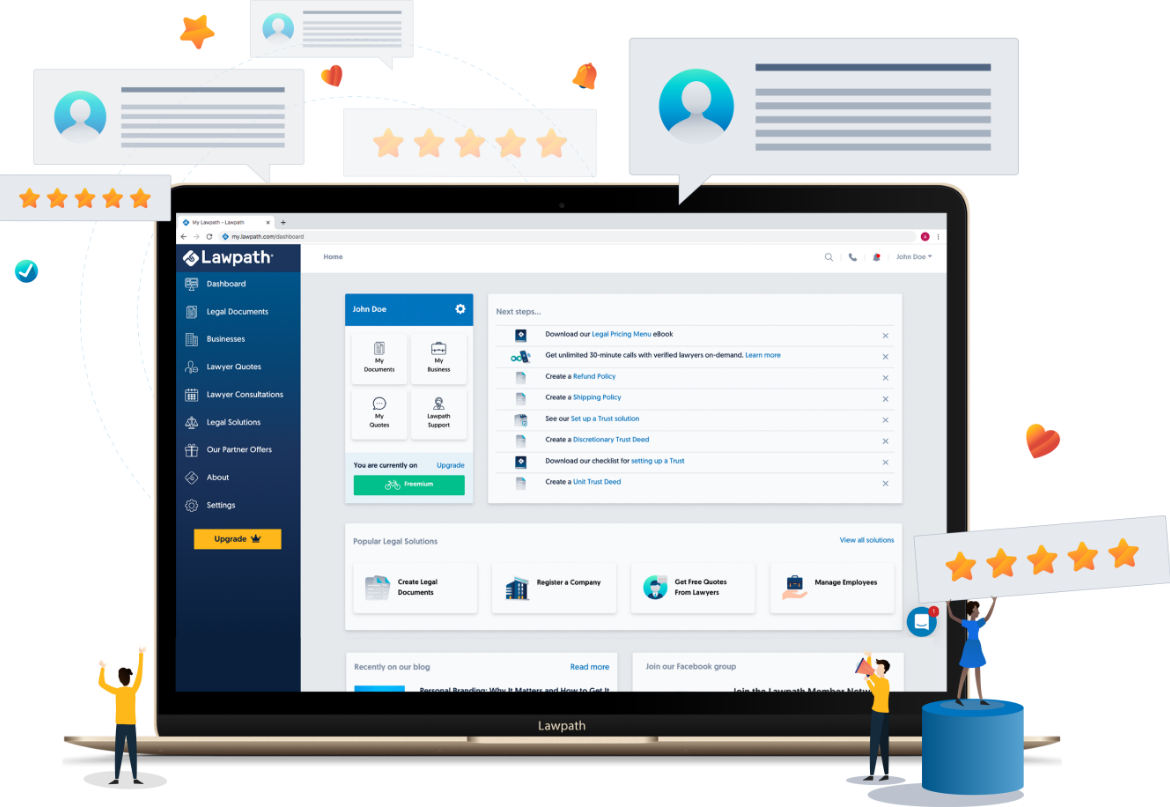 Our average rating is
4.6

(7914 Reviews)
Our latest reviews
1-25 of 1900 Reviews (6014 Ratings-Only Reviews)
Really good service for sole trader starting out.
The document builder is excellent. Easy to use and informative. Thoroughly recommend this service.
Very professional and helpful!! Very happy
The documents required were completed quickly and affordably. Very happy with amanda. Would definitely recommend.
Good
Easy to create and may need some further personalisation
Just perfectly what we needed
Damin very quickly understood our concerns and was very explicit in what we needed to do to to mitigate our risk moving forward. He couldn't have delivered a better service!
I like it
Its really handy but would be great if i could have it in simple text format so that i can directly upload it to my website
Great support
I have been with lawpath for a month now and its been such a big relief to have them at your back. There is a great system to talk to a lawyer directly and get a fast response.
Knowledgeable & quick to understand the request
Paul has been a delight to work with and provided valuable assistance across my legal queries.
Very informative
Paul answered my questions with certainty and in plain english that helped me make informed decisions. Very happy with my first consultation.
Claire provided a professional, prompt, pragmatic, informative and collaborative legal service, resulting in a privacy policy and website terms of use with which i am completely satisfied. Thank you so much claire.
Well done lawpath team. A well versed constitution for my client. Thank you
Great experience
The law path document builder is an easy way to construct a legal document
Very easy
It was super-easy to create the legal document i needed. I'm impressed so far.
Ok
Formatting of all the documents goes awry when downloading into a word format
Great experience
Happy with the work provided. Communication was good
Basic but great place to start
The document was easy to use, clear and perfect for what i need for now. I would upgrade to do more complex items but for basic peace of mind right now this was great
Great experience
The document was easy to create and perfect for my needs
Easy to use
Have used lawpath for many purposes. Have found them to be extremely good value.
Complex project | clarity received
Thanks for the clarity dion. Had some complex questions and you clarified - unblocked - some of the blocking points i had trouble manoeuvring around. Much appreciated and till next time. Thanks again.
Fantastic experience
Very easy to use, completed a whole range of documents within minutes, well worth the cost the the huge time saving
Brilliant!
Was what i asked for and the follow up exceeded my expectations. Will definitely request again.
Ugly ugly formatting
Impossible to edit due to weird formatting. Please use limited formatting so that users can edit easily.
Straight to the point!
Answered every point quickly and succinctly. No fuss, straight to the point. Also provided additional suggestions for further review. Brilliant service.
Great experience easy to navigate
The document was easy to create and website easy to navigate
Excellent counsel
Damin knows the law and draws on his experience. He was efficient in identifying the issues. I felt he covered all the bases and was sensitive to my situation.
Offered much needed reassurance
Damin immediately understood what i was asking and went through all the important considerations with good explanation even though he was not familiar with the award in question. He gave me the confidence i needed to deal with a tricky situation. Thank you damin!