What our customers say
Read about how different businesses have used our platform to get their legals sorted.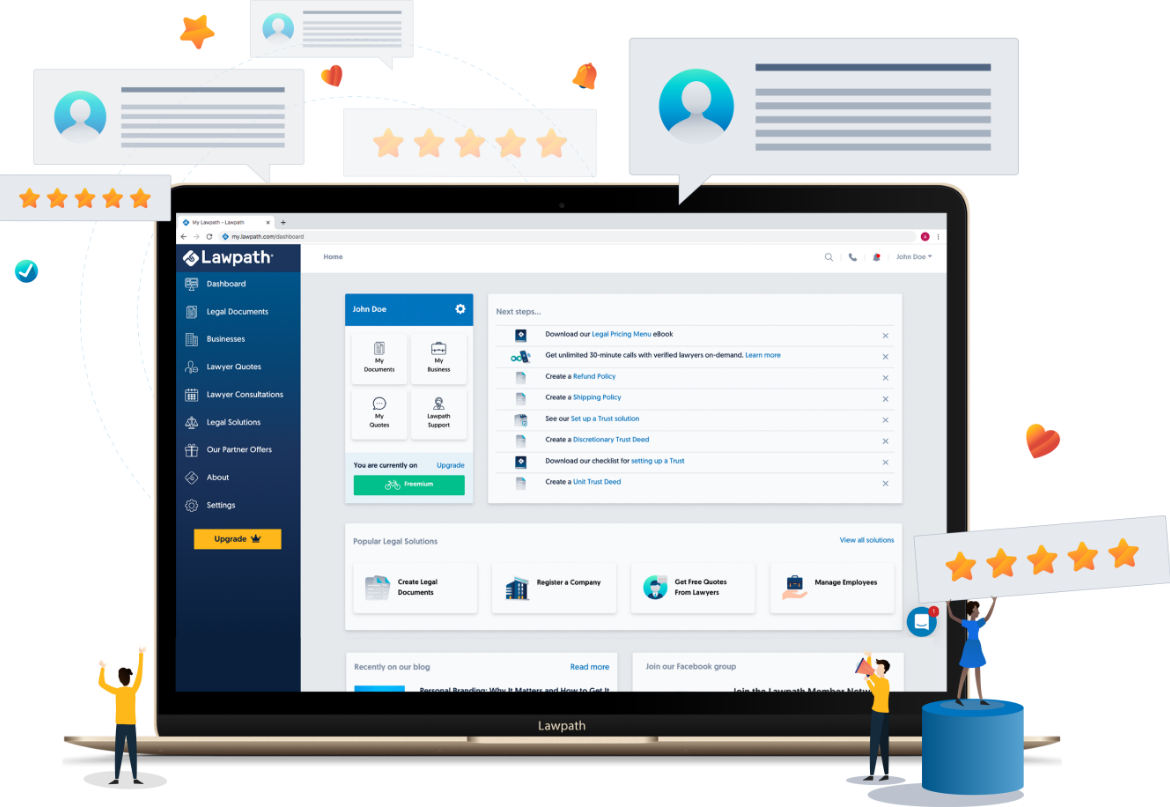 Our average rating is
4.6

(8447 Reviews)
Our latest reviews
1-25 of 2069 Reviews (6378 Ratings-Only Reviews)
Terrible
Would not allow me to edit two parties into agreement, only the one....
Very detailed and comprehensive.
Quick and easy way to generate a constitution. This document has nearly 20 thousand words and is very comprehensive. Thank you.
Highly recommended
Nick is able to communicate clearly and efficiently. Very knowledgeable and have your interest at heart. Work very quickly and accurately.
Great customer service
The sign up and document creation process is simple and makes me feel more confident launching my business knowing i'm protected.
Needs a lot of work
The document is not really suitable for online services. Needs a lot of work
Excellent user interface for legal documents
Great user interface design. So easy to use. Thanks.
Very quick and easy
Well written document that saves us time and money.
Ok, but..
Easy to create but let down with a non-editable document without paying extra.
Fantastic to work with, completed the job well above expectations and kept me up to date throughout the entire process. Can't wait to work with karla again in the future.
So easy
No thinking involved, super easy and super fast. Great for busy and evolving businesses needing any legal documents.
A good experience
Fast and easy to use. The ability to remove clauses on the go would be helpful, as i end up downloading as a docx and deleting them manually. I did not use the esign feature because of this reason.
Very easy
Very simple will template which was perfect for my needs.
Quick response and easy to work with
Claire did a great job reviewing my document and providing details that were easy to understand. Claire was also able to complete the job in less than 24hrs and was a pleasure to work with.
So easy!! Love it!!!
This has helped me so much i had no idea how to do this!!! Thank you!!
Great detail and prompt service
Nick was fantastic in getting together a service contract for my clients. His attention to detail was second to none. Great on the telephone explaining all the questions i had for him. Highly recommend his services.
Great service from start to finish
I was really impressed with michael's efforts to get to know my business and what i was looking for. His experience as a web developer and as a lawyer place him in a unique position to really provide a fantastic level of service. He went above and beyond to offer support and point me in the right direction for what i was looking for. His price was reasonable, and he was quick to respond to emails and to complete the project. I would highly recommed michael's services to others.
Megan was timely, meticulous and thorough with her feedback in relation to a review of an employment contract.Very satisfied with the advice that i received.
Fantastic experience
The document builder was very easy to use. I will continue to use it in future whenever possible.
Good service for startups
I appreciate this is available pending business growth for customised legal agreements.
Easy to select a template and create!
The document was easy to create and perfect for my new website
Excellent
Megan was really helpful and on the ball. I feel much more confident now about the modifications i made to my lawpath template. Thank you!
Quick & easy to use
This is a great tool to quickly and easily complete your required employee agreements.
Took the hard work out of using correct layout
Definitely helped with the building of the warning letter we required. Thanks and we will use this service again!
Highly recommended
Convenient and easy and met my needs - what else can you ask for!
We are very grateful to have found the lawpath website!