What our customers say
Read about how different businesses have used our platform to get their legals sorted.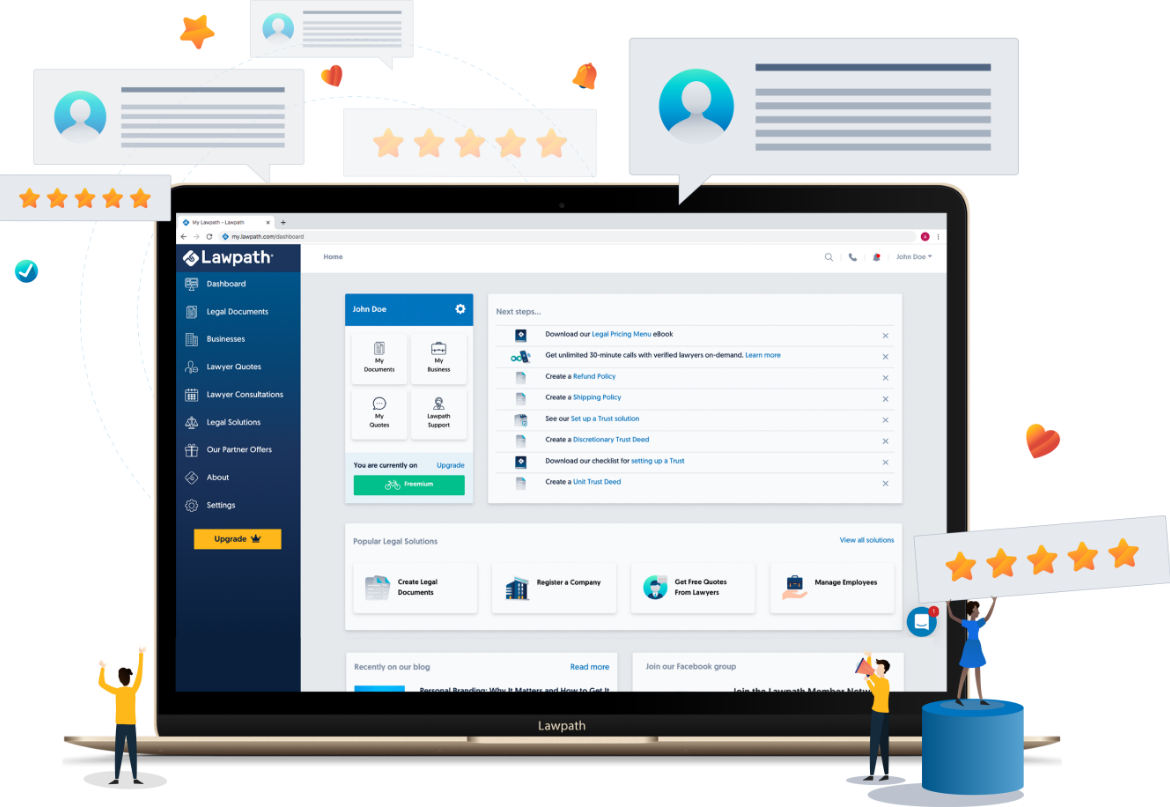 Our average rating is
4.6

(7746 Reviews)
Our latest reviews
26-50 of 1843 Reviews (5903 Ratings-Only Reviews)
Extremely helpful
Claire helped me out me a business share buy back. Explained everything clearly and was extremely fast her responses to me to make sure everything was smooth.
Great experience
The document was easy to create and perfect for my needs
Turned my planned set of seven documents required for the business into a coherent and sell structured three document package. Some complex and unusual requirements were extremely well executed, along with a fast turnaround and great communication. Thanks!
Excellent service
Damin provided company documentation to enable the registration of a security interest. The service was very professional and damin is very knowledgeable in this area of the law. Thank you for your excellent service.
Assertive & powerful lawyer
Salih,we truly appreciate all your legal advice and the big deed over our case. You are extremely powerful. Prompt follow up --> excellent
Wonderful
As a new business owner - its daunting trying to learn this and that just to get ahead. I cannot thank these people enough for making it this easy to create something so imperative to an online store or any business for that matter.
Agreement
Only took a few minutes for a very detailed agreement
Did the job
Needed a little help but it was easy and fast to get via chat.
Great experience
Claire was great to deal with and created a document perfect to the brief. Highly recommend her.
Super easy
The document was very quick to create and exactly what i needed saving me loads of time and money.
A fast & efficient online resource
Lawpath is a fast and efficient online resource. I created an account and prepared a privacy statement for my company website in a matter of minutes. I will definitely use lawpath again as my business grows.
Great experience
This was such an easy process i will definitely use your services in the future
Great template!
Really easy template for me to follow. Thanks so much!!! :)
Amazing property consultation
Damin has provided great consultation and he helped me to deal with my problem with the property step by step. I totally recommend him for his professional services.
Fast, detailed & efficient!
Thank you claire for the fast turnaround with my document. I'm very pleased to have worked with you and would love to work with you in the future for my legal matters.
Fast, thorough, helpful.
Damin helped us create our shareholders agreement and constitution. His team responded rapidly, and delivered solid documents alongside a guided explanation of the key clauses. We'd be more than happy to use him again!
Not a good first experience
Rushed through points, 30min consult ran for 6min max, followed by $2k quote for services
Great and thorough experience!
Megan really took the time to run through what needed to be discussed, and called out areas for optional customisation.
So easy to use!
What a fantastic program. Saving time and cost for legal documents.
Awesome! Fantastic service
Really happy with the result, quick turnaround and amendments done as required
Amazing product
The documents are explained and easy to understand for non-legals, and the creation of the document was so easy. An amazing service to provide for small business operators
Really nice, helpful, and stress free
I highly recommend nicole, she is a wonderful person and i appreciate the help she gave me. All legal questions and requestsshe responded to quickly and professionally. Thank you nicole
Super easy to work with
Claire reviewed two referral agreements for my company and even made some suggestions to improve them. Would definitely use claire again as she delivered everything promised (+ more) on time and professionally. Highly recommend.
T and c
Seems like a great start for what we need, for free!
Easy and simple!
Very useful for providing work to individual developers.