What our customers say
Read about how different businesses have used our platform to get their legals sorted.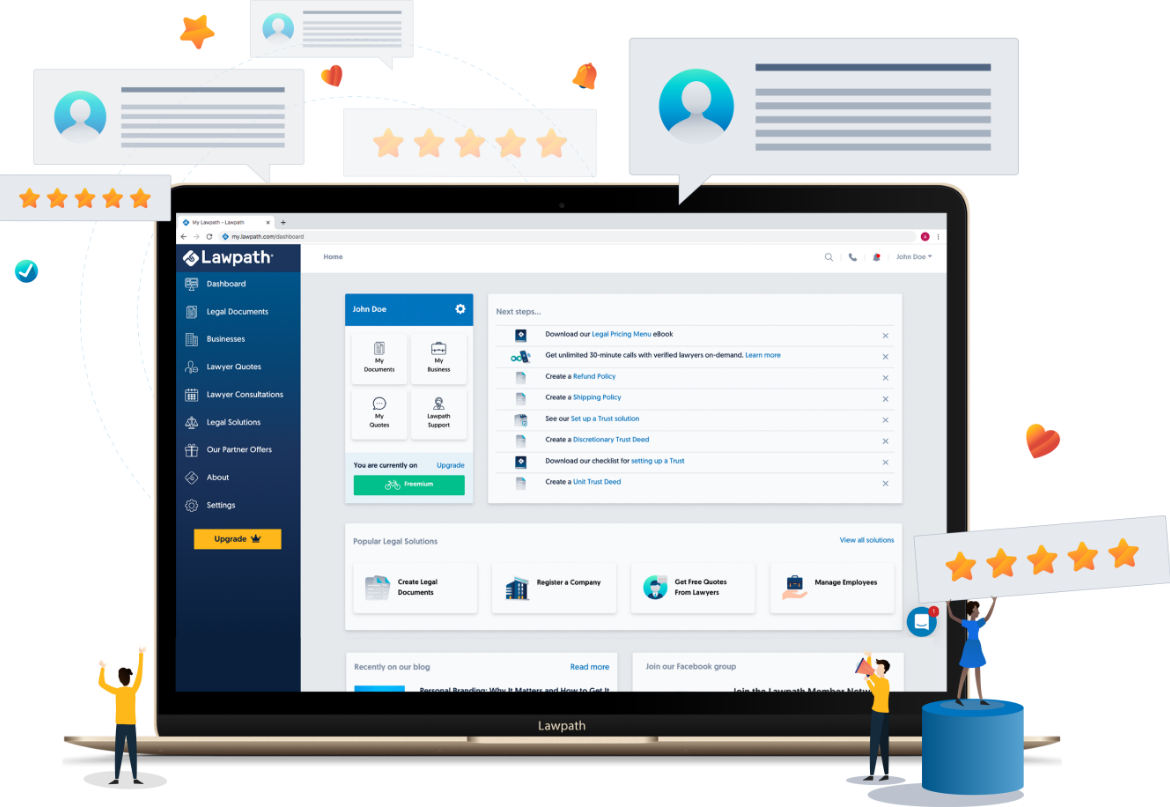 Our average rating is
4.6

(13976 Reviews)
Our latest reviews
26-50 of 2848 Reviews (11128 Ratings-Only Reviews)
Very good service, efficient, diligent, experienced, professional, highly recommend.
Easy & fast to use
I answered the questionnaire and my website privacy policy was ready in under 2 minutes. Excellent service!
Retail trade
We downloaded a free document which was fantastic!
I would have no hesitation in recommending amanda, thoroughly professional and very easy to deal with
Failed to load for esign.
Everything was seamless, except for the document failed to load for esignature
Terms of trade
Great resource but realised its not exactly the dock need so potentially using the marketplace function to create the right document
Easy document to complete
Easy prompted questions to answer, done efficiently
Easy peasy
Simple to create the document i was looking for. Only negative is the watermark.
Awesome! Very helpful
A great experience. Really appreciate your help with our contract set up. I feel confident to complete the contract now knowing what all of the terms relate to.
Terms and conditions
Terms and conditions document was extensive and professional. I highly recommend the us of this website.
Very simple
Thanks lawpath for making it quick and easy to get a start on my employee handbook.
I need to edit my doc
I need to edit my doc as the shareholder is not in aust but i cant delete the "select state"
Fatastic experience
Amar was very concise and detailed and extremely helpful
Information security policy
Really easy to use, providing a professional result that covers everything we required
So reassuring
Damin was incredibly giving in his time and knowledge to steer us in the right direction. His expertise in our industry really resonated and connected with us too - we really didnt feel like we were alone. Thank you so much.
Direct and sounds answers to questions
The lawyer provided responses from a well informed position
Its not working?
I filled out everything and its saying not available - please search the library for an alternative or updated document (if any)
Free document only as pdf
You don't get nothing for nothing, and while i appreciate access to a free document, it would be better if it was clearer you can only access it in pdf with a watermark
Great guidance
This was a great document that was easy to compile
Turned a simple request into a long complicated one that added additional costs for absolutely no reason.
So easy to do
What a relief to have my will done. Took 10 minutes and no pain.
Great
Super easy and helpful program - would 100% recommend.
Ealy simple and straight forward
Really helped set out template forms for new business
Commercial lease agreement (non-retail)
Very happy with the document - will be using the services again! Thank you
Partnership agreement
The free template did not allow me to include more than 2 partners where i needed a 3rd. It was just to show my partners how it might look before we engaged professional advise