What our customers say
Read about how different businesses have used our platform to get their legals sorted.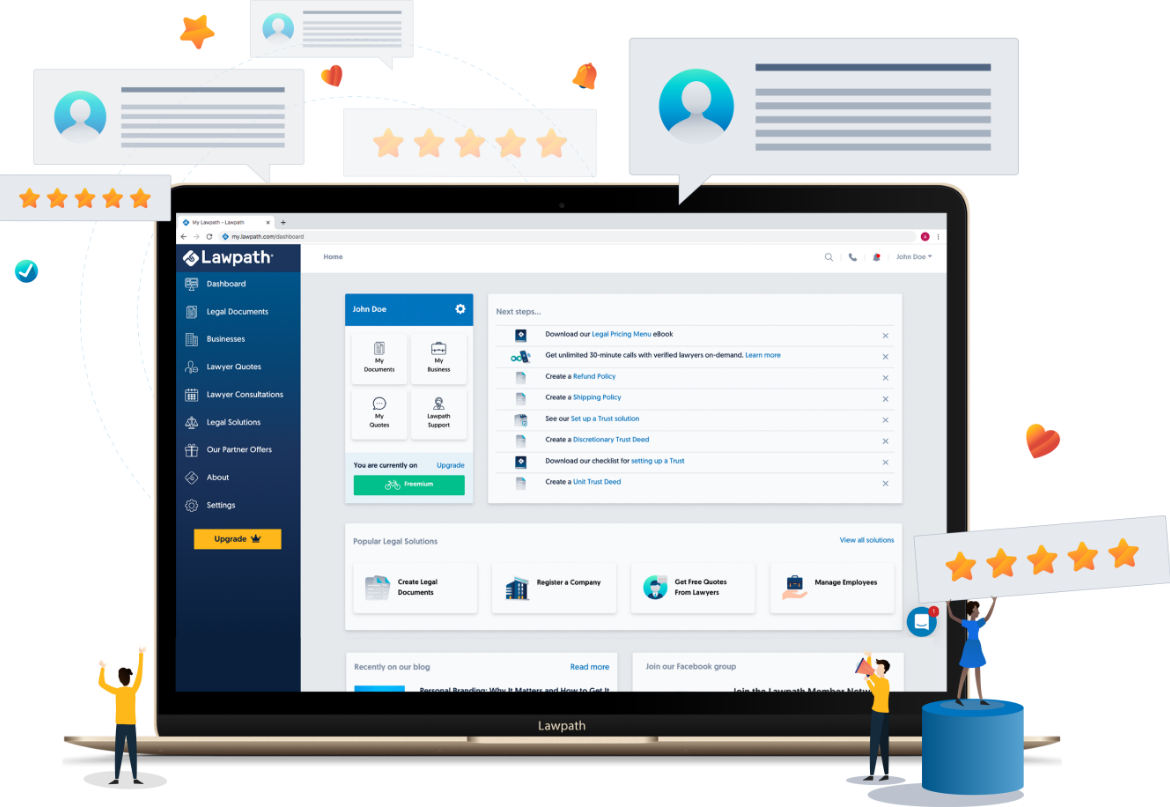 Our average rating is
4.6

(7710 Reviews)
Our latest reviews
1176-1200 of 1823 Reviews (5887 Ratings-Only Reviews)
Super simple
Fantastic site. All the legal docs you need to start a new business and these guys have made it super simple to create and use these documents. Thanks heaps guys
Legal advise with a personal touch
Having dealt with many lawyers over the years, was very impressed with my most recent experience in dealing with nicole. This was significantly different for the better, compared to all past instances. She was also very approachable, flexible with options and provided great advise for the area that i was looking for help. She also promptly responded to my queries / requests.
Extremely easy to use
A simple but concise document that suited my needs perfectly.
Very simple and quick
You made something daunting very simple to create. Thanks so much.
Easy to use
Smart design, great for those starting off businesses and don't have the $$ to pay substantial legal fees
Easy and rapid , fantastic!!
The document was easy to create. Very helpful site
Very easy
The document was simple and easy to create. Took 2 minutes!
Some very good information
Easy document to create, i will have to make adjustments but there is a lot of very solid legal help in here
Excellent experience
In just a few simple steps i had a document that precisely suits my needs
So easy
This form was so easy to create with helpful prompts. I will be referring my friends here
Great resource for legal needs
So glad i found this site! The process of sourcing fixed price quotes from quality lawyers is made easy, and we received excellent customer support as well. It's a great resource for the legal needs of our business.
Easy to use
The document was easy to create, but i can't make any changes to it without upgrading from the basic access.
Simple, easy, quick!
So simple to create a professional legal document! Very happy with the ease of use to generate typical legal documents without hassle. Will use again!
Can't edit without upgrading
Document was easy to draft, would like more options for phrases to insert
Worked really well- took a bit long to respond on a question - so i finalised the document
Great work
Jared provided a very quick turnaround time and excellent t&c documents for my website. Highly recommended.
Made it so simple
Excellent service - made it so simple and answered my questions ..
Awesome experience.
The document was super easy to create. Straight forward language throughout the document. Will definitely be recommending lawpath to others.
Great to work with
Great to work with. Reviewed lawpath templates that we had modified, and he commented and added content as required. A pleasure to work with.
Very good service
Addy was very responsive and delivered a really good job on time and on budget.
Very easy
In 5 minutes i had a better set of t&cs than i had from spending 3 hours of my own time
Fast and easy
An amazingly easy and fast set up.. The best online experience ive had , the option for continued support is a bonus..
Surpriskngly simple and efficient
Surprisingly easy procedure to create a privacy policy asking the right questions
Excellent
I had been searching the internet for a contract to help me get started in my new business, your site made it very easy and quick to draw up the contract and download it ready for use. I will definitely be using your services again. Thanks
Unfortunate that you can't edit the document without upgrading