What our customers say
Read about how different businesses have used our platform to get their legals sorted.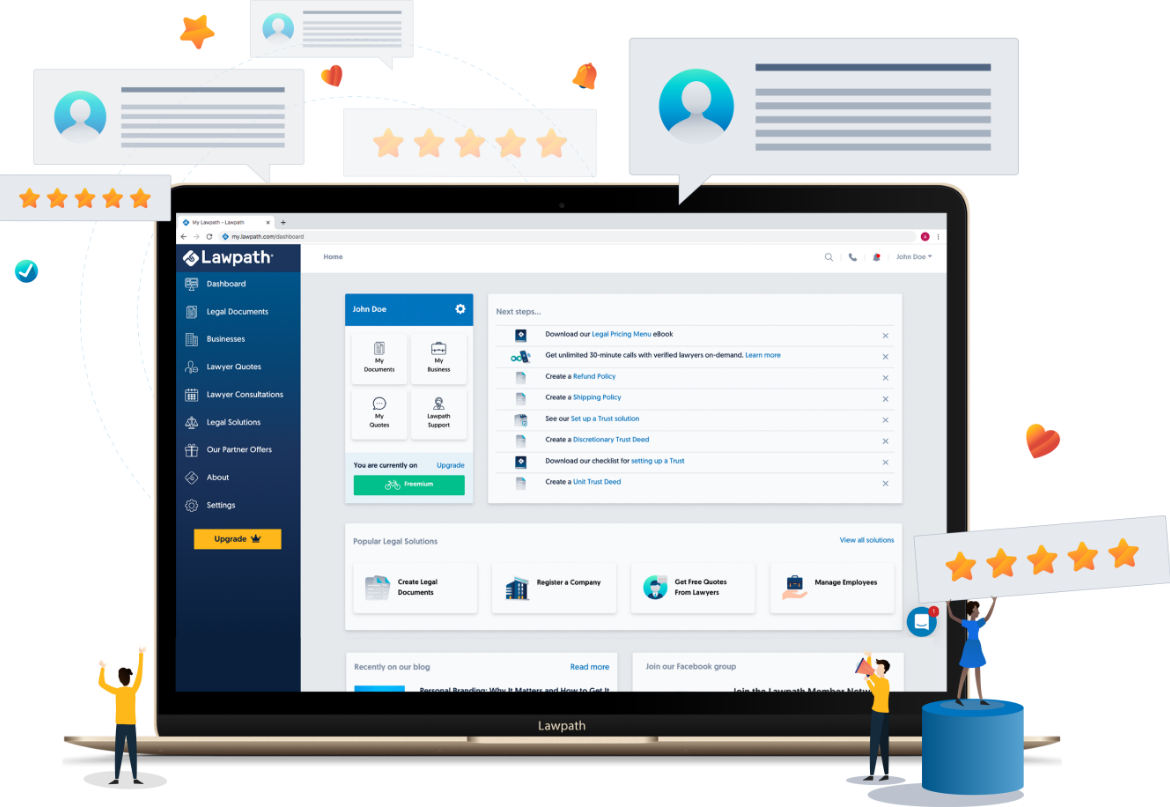 Our average rating is
4.6

(8206 Reviews)
Our latest reviews
1501-1525 of 1992 Reviews (6214 Ratings-Only Reviews)
Very good understanding and excellent service!
Nick and karla (from his office) assisted my new company with drafting 3 agreements in a short span of time. They understood my requirements very well and provided their advice and expertise which i was after. Thanks - i certainly look forward to keeping in touch.
The document was very fast and easy to create, and saved a significant amount of money
Excellent website!
The website makes so simple to create a legal document that would take hours to do yourself. It was easy too.
Excellent experience
The lawyers that were provided to me through lawpath were professional and knowledgeable. Timely and clear communication, extremely helpful and responsive and very reasonably priced. The whole transaction has gone smoothly and the backup service is 2nd to none. Highly recommended
Too easy!
Such a quick and easy way to create the document i needed. Thanks!
Fantastic!
Claire was great. Her response time was fantastic and she worked really well with us on narrowing the legal requirements for our software.
Example: great experience!
The document was easy to create and perfect for my needs
Great experience
The documents are easy to be used and create the best documents
Kim and the team provided help with a recent trademark application. Though we are still going through the application process, after an initial rejection, we seem to be on track with a revised logo. Kim's advice in how best to handle the application to save time in the long run has been helpful, all at a reasonable cost. Fingers crossed now. Thanks for the help w3ip.
Great service!
These guys provide a great service at a great price... Fast turnaround and very happy with the outcome... Would definitely use again
Very quick
It was easy to create and quick, it covered alot of ground.
Easy to use
I just wanted to try it out and it looks pretty easy to use
Very good.
The document was easy to create and once i read it, i will know just how good.
Good.
The document was easy to create, but will need to review and read it through to see if this will match our requirement.
Example: great experience!
The document was easy to create and perfect for my needs
Great experience
Shane and his team was very responsive as part of the engagement and did a great job.
Soooo easy
Thank goodness for law path, i totally forgot i needed a privacy ploicy and boom! Its done
So simple to use!
The document was really simple to create and perfect for just starting up and needing some guidance.
Really easy to use
A fantastic service and a great way to get us in the door for future legal work!
Easy to follow
The document was easy to create, but still yet to see the final result.
Great experience!!!
Jared was very nice, professional and very easy to work with. I got my website terms of use done really quick!!! Will certainly recommend him for your legal needs.
Very happy and impressed
We were very happy and impressed with damin. The quality of his advice, and his level of care and service, are outstanding. He also works very efficiently, and is easily accessible.
A very professional manner, with solid orientations and extremely attentive to details. She kindly assisted me to understand my rights and the proper way to proceed. For sure i recommend her services and, if needed, i will count on her again for the future.
A pleasure to deal with
She is such a pleasure to deal with as she is professional yet empathetic to where you are at in your business. I always felt comfortable to ask questions and felt that i was in good hands.
Strongly recommended
I recommend her because of her results-driven approach, her strong interpersonal skills, objectivity, commercial approach whilst pinpointing accurately to legal risk and solutions and her ability to deliver outcomes in a timely manner.