What our customers say
Read about how different businesses have used our platform to get their legals sorted.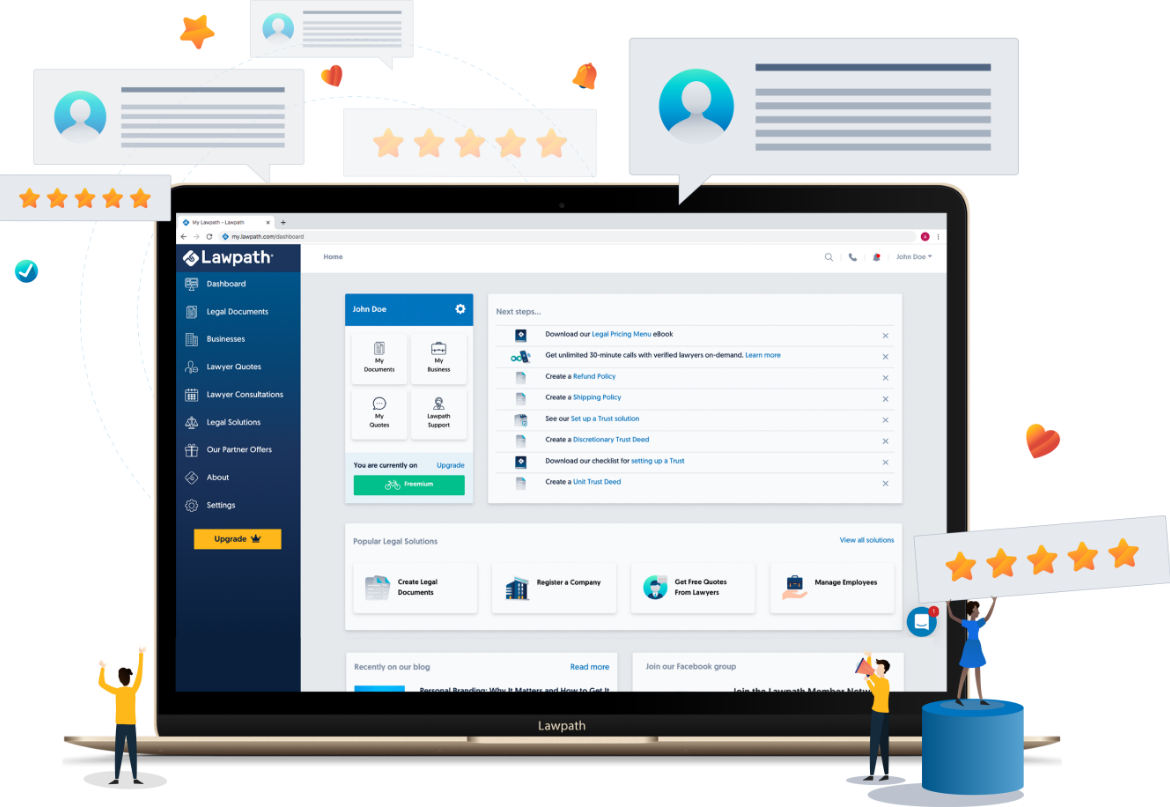 Our average rating is
4.6

(12068 Reviews)
Our latest reviews
201-225 of 2622 Reviews (9446 Ratings-Only Reviews)
Very simple and user friendly
Very happy with the simplicity and guide to complete the required form
Easy to use
Just did please for our business, easy to use quick and simple
Great experience, like always!
Damin is great – very knowledgeable and memory like an elephant. Highly recommend.
Advisory agreement sample
A very good resource to understand essential elements of a legal agreements
Review of consultant agreement
Ryan was fantastic in giving me the required advice and information, easy to talk to, easy explanations, and very resourceful. I would highly recommend ryan for your legal needs.
Reviewing of consultancy agreement
Ryan gave me great advice, took the time to explain the various terms and implications and was available to discuss everything from start to finish. I would highly recommend ryan for any legal work!
Excellent service
Working with simon was a pleasure. He clearly has an abundance of legal experience. He identified and communicated a number of legal points and made them easy to understand and was detailed and considered in his responses to my questions. In addition to this, he provided a wealth of business experience regarding how these matters usually work and what to expect. Thanks very much, simon!
Wfh policy headstart
I committed to doing a wfh policy today. You guys just saved me an hour or two of research. Google pays off! Thanks team!
Excellent experience
Ryan is first and foremost a professional. He listens, and focusses on our needs while offering clear and insightful advice. We have no hesitation in recommending his services. Thank you ryan
Easy system
Quick and easy fill out, made my day less stressful
It was so fun!
Unexpectedly fun and helped me to think of the things i needed to make clear. It was low effort to do what would otherwise have taken me hours and several jobs to test in real life!
Very positive experience
Easy to talk to, appreciated his understanding of the situation. The feedback and guidance given alleviated some of the uncertainties that i felt. Big thanks!!!
Clear and simple
There are limitations to the free offered document. I have been burned by these type of services so be careful what you sign up for. I decided not to continue at this point.
Nda
Doc was easy to use & great the first one was free
Quality advice
Damin provided high quality, simple-to-follow advice on a heads of agreement document.
Quick, simple & hassle-free!
The ability to customised pre-written legal documents within a matter of minutes made this task a dream!
Great experience
Damin was super friendly and knowledgeable in all things contract. Thank you!
Highly commercial & strategic lawyer - a rarity!
Ryan was extremely responsive and provided outstanding legal services. Not only that, he was able to provide very strategic and operational advice beyond his legal help - definitely rare to come across someone with such a breadth of expertise... An asset for startups! Highly recommend!
Fantastic!
Claire was fantastic, attentive and supportive in her approach. Enjoyed working with her and happy with how quickly things happened.
Great document but unusable in its free form
This is a great document, however it is completely unusable in its free form as the document has a watermark that can only be removed by payment. This should be disclosed before people waste time completing the document.
Easy, great layout. Perfect for our small business
Easy, great layout. Perfect for our small business
Responsive and sharp. Great to have on your side.
I've used ryan several times for legal work for my business and personally and i will keep doing so. He's what you want in a lawyer and he'll tell you how it is. Honest and reasonable with pricing. Only criticism is that he sometimes takes on too much which can lead to minor delay. Never been an issue for me personally, but he can be late in delivering on his own timing if he's juggling a few too many. Let him know clear deadlines in advance and he'll forego sleep to ensure he meets them though. Top bloke and lawyer.
Cease and desist document
This is a good service i've found it very helpful.
Excellent services
My lawyer was very responsible for all my questions and delivered all elements of my proposal, strong recommended
Friendly and professional
Extremely friendly and professional. Victor explained everything in an easy to understand format. Highly recommended!