What our customers say
Read about how different businesses have used our platform to get their legals sorted.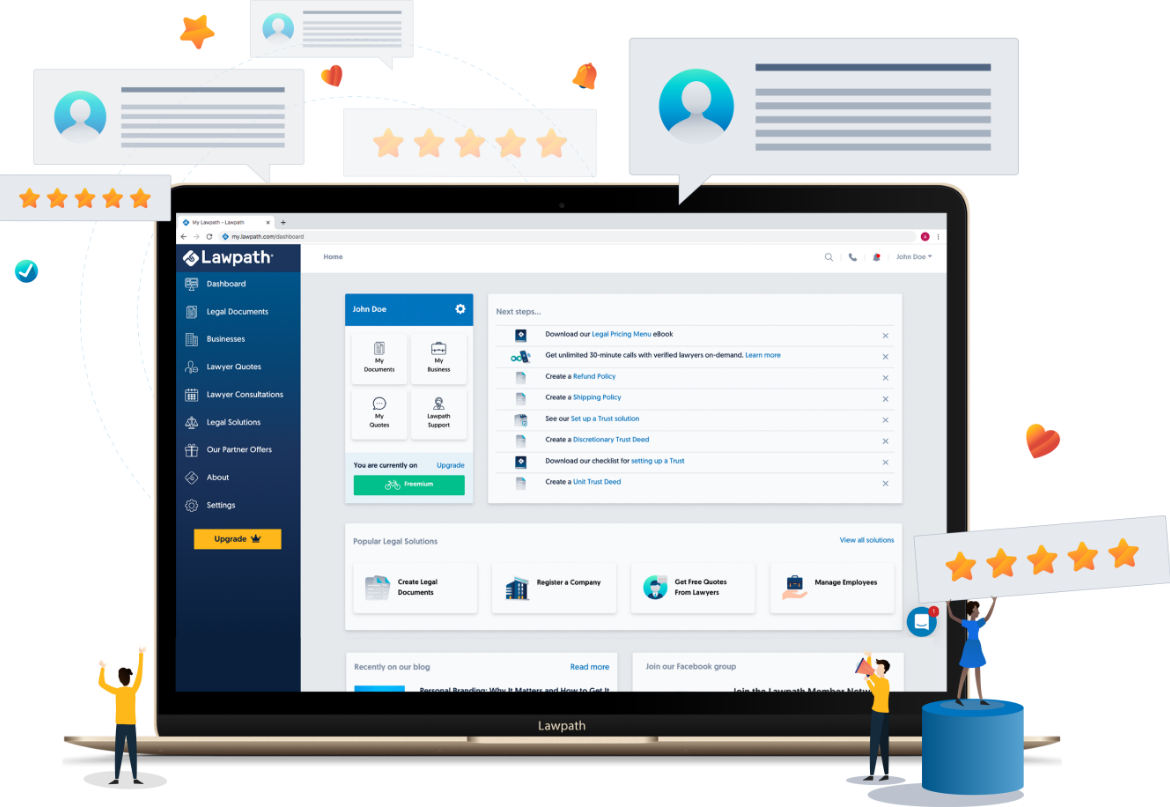 Our average rating is
4.6

(8000 Reviews)
Our latest reviews
201-225 of 1919 Reviews (6081 Ratings-Only Reviews)
Easy to do
The document was easy to do and create as a starting place
User friendly templates
The document was easy to create and perfect for my needs. Providing options to pull out relevant terms and policies from a repository could save time instead of having to work through several documents simultaneously.
How easy was that!
Thanks, this is a fantastic service! My business is just me, and i
Great!
Very easy to use and exactly the words i was expecting.
Best decision ever
Best decision ever going with steveright from the moment i spoke with steve he was open, honest, clear in explaining things & most importantly had a genuine care to help me. I had spoken with a heap of lawyers prior to steve & i just felt they were out to take money from me, with no real desire to help. Steve is definitely not that lawyer & i highly recommend using him for your jobs. Steve was super efficient & dumbed down the legal lingo do i could understand what was needed & being written. I will be recommending him to everyone & using him for all of my future work.
Megan is awesome and covered all my questions and had helpful advice as well :) thanks megan!
Wills
It took a little longer than anticipated this time but again amanda gave us exactly what we required at a very fair price. I am confident she would have turned this around faster if we had insisted or there was an urgency. Good value
Great service and experience
The process was simple and documents created to my needs.
Fantastic service & very efficient
I needed to review and refine my client agreement, terms & conditions, indemnity waiver and privacy policy due to the impact covid-19 had on my business. Damin and his team where very helpful in initially finding out exactly what i needed and within a very short space of time, i had documents which where refined and completed with quality. I would not hesitate to recommend him or his team. Efficiency and quality without the issues. 5 stars.
Very helpful and knowledgeable
Very helpful and knowledgeable on the subject at hand. Provided some useful technical and practical ideas successfully resolving the query
Hire as an independent contractor
Megan wasn't as confident as i expected her on the said topic. She was polite but taking her own time doing research before she could guide. I would have really appreciated her if she did her homework first before calling me to guide. Good luck :)
Great experience
Damin was able to provide great advice and guidance on our matter.
Awesome!
Absolute pleasure working with dion. Made everything crystal clear and easy to understand. Very friendly and knowledgeable, would definitely recommend dion to anyone seeking advice in the nfp sector. Thanks again
Great experience!
The document was exactly what i need and took less than 2mins to create. Very helpful
Great experience
The information provided was not overwhelming. Damin was calm and as detailed as he needed to be, which gave more sense of re-assurance that i can handle what is required.
Very efficient service
Megan was a pleasure to work with, after a brief conversation and review of provided documents, she knew exactly what i was looking for and how to incorporate the documents within my existing processes, specifically with the impact of covid-19 on my business.
Wow
Everything under the one roof makes things so much easier when running a small business/
Is good
Was easy but i needed to go back to edit as i did not read good enough the extra wording on document did not make sense
Very easy, thank you.
The document was very easy to create and was complete in a matter of minutes.
Fantastic!
Too easy, 10 minutes is really 10 minutes on this platform!
Very easy to create. My agreement is with international parties so this document is a little limited. I would like to see something that could be used internationally available.
Great understanding of issue
Thank you, megan for the time you took to understand our problem and help guide our decision-making with the legal advice we required. We really appreciate your time and this lawpath service.
Easy document to create. Would be good if it included logo in header and my company details in the footer
Would be great if my company logo and other details could be ao=uto inserted in the header and footer
Would have been helpful if the interactive element asked for my logo to go int eh header and also put my relevant company details i the footer