What our customers say
Read about how different businesses have used our platform to get their legals sorted.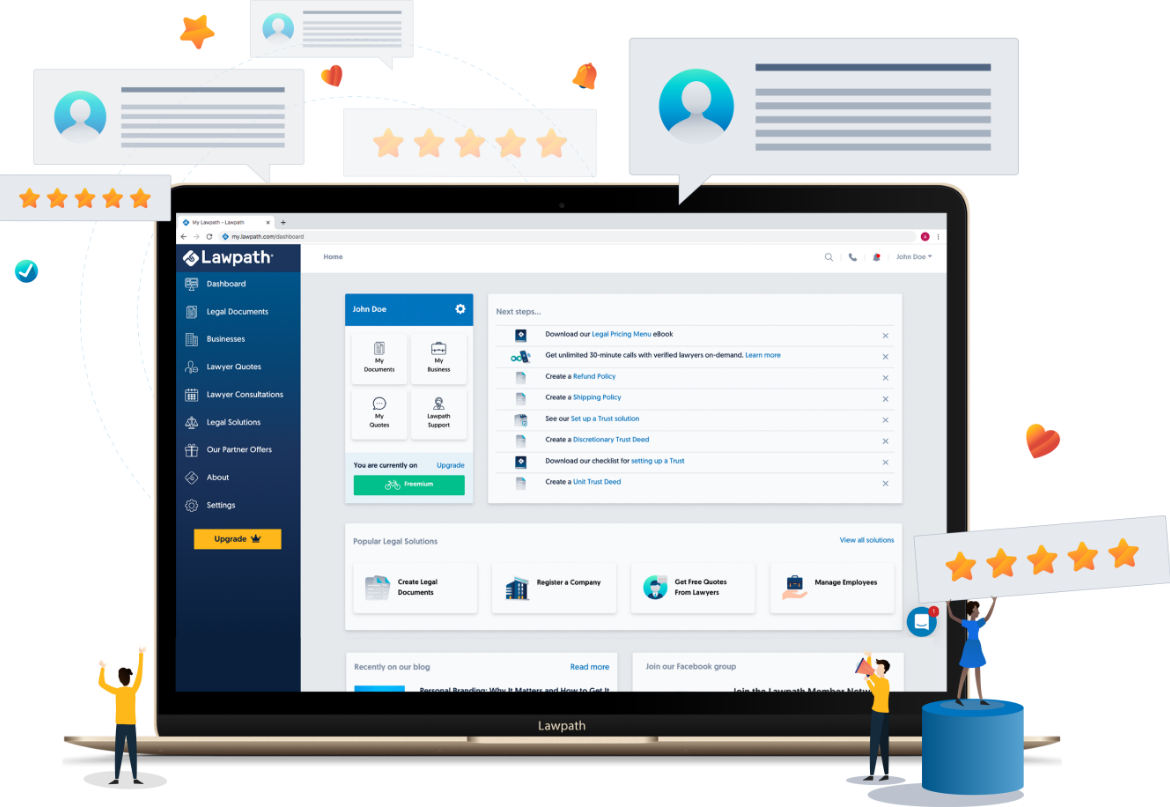 Our average rating is
4.6

(13976 Reviews)
Our latest reviews
201-225 of 2848 Reviews (11128 Ratings-Only Reviews)
Easy to use, fast and simple
I was able to create a privacy policy super quick. It was easy to follow and understand.
Not too bad
An essential app to use if your not good at writing up your terms and conditions. Nice work!
Quick and efficient
Havent seen doc yet, but the process of generating the doc is easy.
Easy & efficient
A super fast process that still checks all the right boxes for what i need.
Great advice
He explained my questions about confidentiality agreement and in details ad offered me options. I am glad that i dicussed with him before making any decision. I initially though that consult would finish in 10-15 min but it last 30 min which was really needed to cover everything.
Clear and useful advice.
Amar provided clear and useful advice about my commercial lease. He was very to the point which i like.
Wow, great service
Quickly and easily made accurate terms of service for my website. User face is simple and intuitive, fast and efficient. Well done, 5 stars
Helpful and valuable experince!
It was a legal advice for a document. Whole experience was as expected and upto the point. He gone through the document in detail and we are satisfied with the service.
Employee awards
Damin helped me determine the correct award for my employees and guided me through all the relevant clauses. It was great to have the expert advice and reassurance that i'm on track.
Discovery call
It was great to speak with a real, live person and be guided by youstina through all of the superb features of lawpath. Thank you!
Thank you for your help preparing the legal document.
Thorough and reiterated in plain language
Amar has been amazing to work with. Very knowledgeable but also takes the time to explain in lamens terms. 10 stars if i could!
Fast process
I was able to complete the document with just a few answers which were easy to do.
Efficient advice
Efficient general advice regarding a young company's operations.
Thanks ryan
He was very diligent and affordable and really knows his stuff, also worked late to meet deadline. Highly recommended.
Appeared to be relatively simple and the document itself appears concise and well written
Thank you
I've just used law path to arrange a commercial tenancy agreement, this is an excellent service, making complex matters plain to the everyday business person.
Trial of a free document
The overall process was quite simple and easy to follow.
Put my mind at ease
I was nervous about making my call as this is all new to me but i can't speak highly enough of amar. He was calm, talked me through things in a way that i could understand and i left feeling like i had clear guidance and a plan moving forward. If you are like i was and hesitant to pick up the phone, i say do it. Regardless of the feedback you receive, you will leave with peace of mind and a clear picture of what you're dealing with and how to move through it. I can't speaking highly enough of amar. Thank you so much.
Amar helped me with t&c document for my website. He has a wealth of knowledge when it comes to website documents and the patient to explain in a way i could understand without any legal background or understanding. Thank you amar !!!
Great chat
The discussion was very productive and amar was very helpful and resourceful.
Got my first document!
This was an incredibly easy process for me. When i think of getting some documents ready i always get a little anxious because i don't know where to start... So this process was relieving! I'll be back ;)
A breeze to deal with
Ian delivered exactly what was requested and with a minimum of fuss. Great service. Thanks ian!
Excellent resource and one i expect to come back to from time to time.. Thank you!
Easy and simple to use
Easy and simple to use, abides by all my local regulations and is overall a very handy tool