What our customers say
Read about how different businesses have used our platform to get their legals sorted.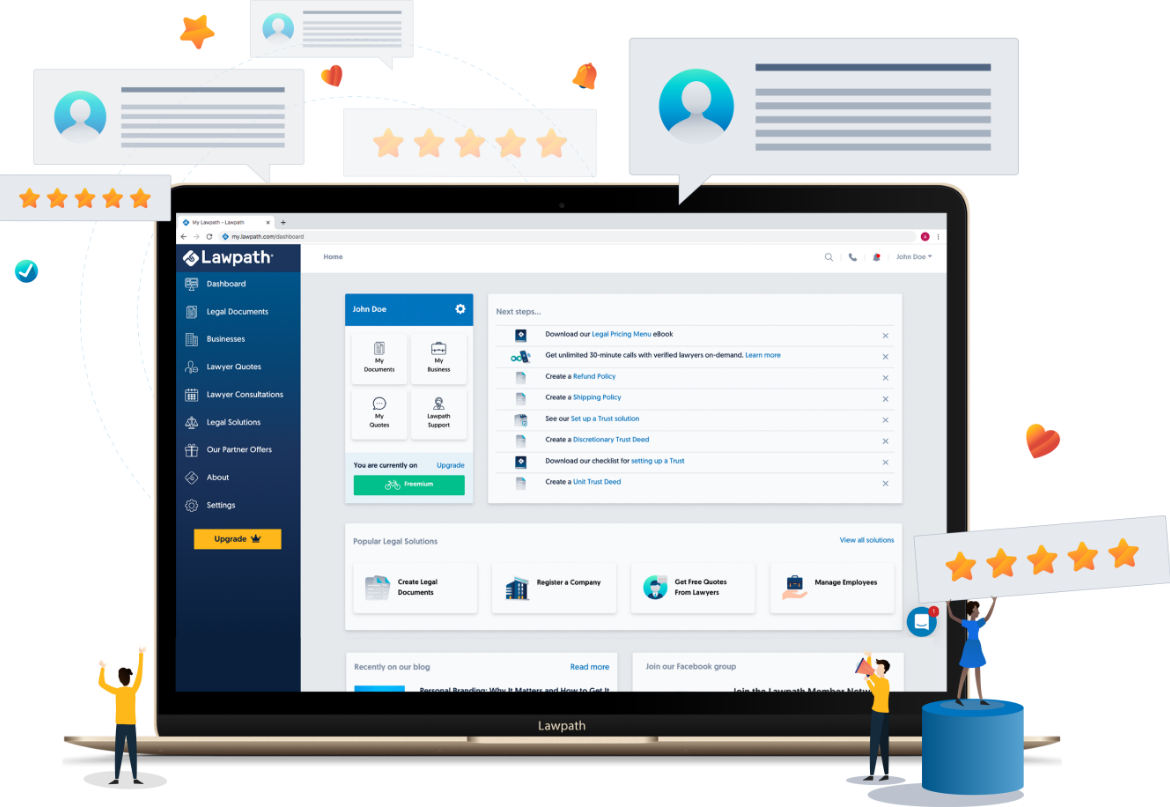 Our average rating is
4.6

(12068 Reviews)
Our latest reviews
176-200 of 2622 Reviews (9446 Ratings-Only Reviews)
Easy as
Very fast simple and easy. Just need to see it it can then stand up in the court of law.
Easy document creator
Simply by answering a few simple questions, i was able to quickly produce a privacy policy for our business
Efficient and professional
This was a painless experience that ran smoothly and achieved the desired outcome.
Too complex sample would be easier one that suits small business.
Easy to use
This was simple and easy to use and completed what i needed
Direct, to the point and no messing around. Exactly what i needed.
A pleasure to work with
I am really thankful that lawpath connected me with simon from quirk legal. Legal work is usually an extremely daunting task for most of us, but simon was calm, clear and extremely helpful in guiding me to the solution i needed. Highly recommended.
Superb. Trustworthy. Simple.
I barely completed my free trial, and sent an email asking for further assistance, such is the excellent, straightforward nature of this service. Well done.
Excellent and so easy
Great peace of mind knowing legal minds have provided this great privacy document. Written in easy to read terms, program is so easy to use.
Simple and easy
Very impressed with simplicity of program to generate required document.
Quick and easy to follow
For a free service this will is perfect until such time as more detailed document can be prepared.
Very fast and easy
Whilst i'm sure it's not the most involved will, it's more than enough for a simple will that ensures my possessions go to the right people.
Quick, easy
Shame it's only 1 free doc but the process is easy. We'll see how much spammy follow up mail i get in the following weeks!
Easy documents at your fingertips
I really enjoyed using this easy system and will be coming back for all other docs!
Intuitive and super easy
Couldn't have been an easiest way to do this. Very streamlined and straightforward.
Very responsive. Precise care and assurance that you have the correct legal documents in place for your company to remain protected. Highly recommended
Impressed
Very easy to fill out legal documents that would otherwise take many hours to research. I wish i could edit slightly, however as a free document how can i complain. Thank you!
Employment contract
Very easy and the language used in the document was very user friendly for employees.
Easy peasy!
This was very straight forward and simple to complete.
Docuemtn not displayed
It would be good to have an editable version o fthe document
Well efficient
The website is very efficient, love how simple questions can create a document as effective as a company resolution, love it
Perfect, easy to use.
I love the ease and convivence of the website and the questionnaire is great! Thanks
Where have you been all my life?!
User friendly, fast and provides solid guidance to ensure a legal numpty like myself can create a professional document that protects the best interests of me and my customers.
Fast quick and exactly what i was after
I will be looking at a subscription after discovering what the site has to offer
Great documents
This information and service was very helpful yes would recommend