How to Start a Charity
Starting a charity can help you live out your passions and dreams. Find out about the 4 basic steps you should know to start your own charity.
Reading Time:
2
minutes
Starting a charity can be beneficial in so many ways. From strengthening your personal passions and beliefs to giving back to the community and gaining public recognition. Not only that but there are financial benefits of starting a charity. You can actually deduct charitable donations from your taxable income.
So let's dive into the question you're really here for. How do you start a charity? Let me take you through some basics.
Step 1: Know the type of charity you want to start
There are already so many different charities: animal charities, health charities, education charities, religious charities, environmental charities and so much more. Really think about which charity you feel most passionate about to give back. You can use Search the ACNC Charity Register to find already registered charities. Who knows? You may think you want to register one on your own or actually, support the already existing charities.
Step 2: Decide on your charity's purpose and mission
This is the most important step because without a mission statement, charities cannot exist. So, grab a piece of pen and paper and answer the following questions:
What do you want to achieve with your charity? How will you achieve this?
What are your top 3 core values? How will you ensure adherence to these values?
Why is there a need for this charity?
Who will benefit from this charity?
How long will this charity last for?
These are just the basics. You should have a detailed answer to these questions to form the purpose and mission of your chosen charity. The Charities Act 2013 (Cth) lists 12 charitable purposes that you can also consider:
Advancing health
Advancing education
Promoting social/public welfare
Advancing religion
Advancing culture
Promoting reconciliation, mutual respect and tolerance between groups of individuals in Australia
Promoting/protecting human rights
Advancing the security/safety of Australia
Preventing/relieving the suffering of animals
Advancing the natural environment
Promoting/opposing a change to any matter established by law, policy or practice in the Commonwealth, a state, a territory or another country
Other similar purposes 'beneficial to the general public'
These 12 purposes could also help you in Step 1) to decide what type of charity you want to operate. Read more about how to choose an appropriate structure here.
Step 3: How and where will you gather resources?
Understandably, you may be responsible to cover some start-up costs. Some resources you should consider are: volunteers/staff members to be hired, equipments and any ongoing costs such as rent, insurance and supplier costs. Have a clear idea of how you will cover both start-up and ongoing costs and plan your charity according to your budget.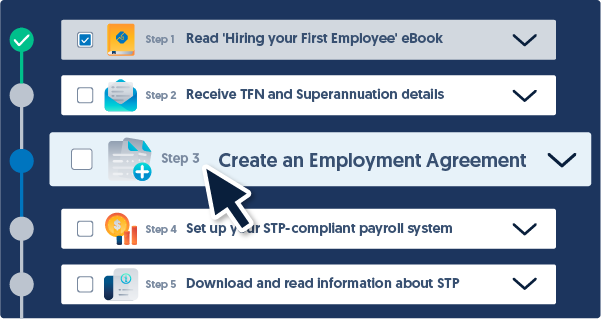 Are you looking to hire an employee?
Use our 'Hire an employee' workflow to complete and check off all your legal requirements.
Start now
Step 4: Understand legal obligations to start a charity
Choosing an appropriate legal structure for your charity is so important. This will affect the legal identity, governance structure and liabilities of your chosen charity. You can choose either an incorporated structure or unincorporated structure. Now do a thorough research and understand the pros and cons of each structure. For this step, it may be helpful to get Professional Advice.
Key Takeaways
Starting a charity can be so beneficial in various ways. You can pursue your personal passions that you have always dreamt of achieving and benefit the society as a result! But without careful planning and research, it'll be hard for your charity to be longstanding. Consider getting professional advice, understand your legal obligations and ensure you understand your charity's mission and purpose.
Don't know where to start?
Contact a Lawpath consultant on 1800 529 728 to learn more about customising legal documents and obtaining a fixed-fee quote from Australia's largest legal marketplace.
Author
Julie Hwang
Julie is a Legal Technology Intern at Lawpath. She is currently studying Bachelor of Laws and Commerce at the University of Sydney. She's interested in how technology can shape the future legal industry.