How to Start a Car Part Business
How to Start a Car Part Business
Starting a car part business can be a perfect way to pursue your passion for cars. Find out how to start a car part business.
Reading Time:
3
minutes
If you have a strong passion for cars, starting a car part business can be a perfect way to pursue your interest. Just like with any business, you need a clear plan and strong structure to make your business successful and longstanding. First let's break it down, what is a car part business?
Car Part Business
A car part business mainly consists of sourcing car parts and accessories to make them accessible for sale. It can be both an in-store and online business, serving as a platform for consumers to easily replace parts of their car. The business may be a purely retail store, retail store with workshop or even a franchise. This all depends on the objective, size and profitability of your business. So, how do you start a car part business?
Step 1) Create a business plan
Creating a business plan is a crucial step to ensure you have clear objectives and structure for your car part business. Grab a piece and pen and start answering the following questions:
What is the name of your business?
What is your business logo?
Who is your target market? How will you reach them?
Where will you operate your business? In-store? Online? Or both?
Who are your suppliers?
What is the goal/purpose of your business?
What will be your business' major competitive advantage?
How much will your charge customers for each product/service?
You should have a detailed answer to the above questions. These are just the basics that will help you establish the structure of your car part business. Now you should decide on the type of business. In Australia there are 3 main types of businesses:
Sole trader/proprietorship
Partnership
Company
Understand the advantages and disadvantages of each type of business and choose accordingly.
Step 2) Understand the industry
Studying the car parts industry is crucial in order for you to succeed in starting a car part business. You should have deep knowledge and insights into how the current industry is running. You may want to reach out to existing car part businesses or conduct your own research. Spend a good amount of time getting to know your direct competitors and examining which products are the most in demand.
Step 3) Calculate the startup and ongoing costs in starting a car part business
Inevitably, you may have to cover the start-up costs of your car part businesses. You should consider hiring staff expenses, equipments, rent expenses, insurance expenses and supplier expenses. Having a good understanding of all the costs you incur in operating your business will help you plan your business according to your budget.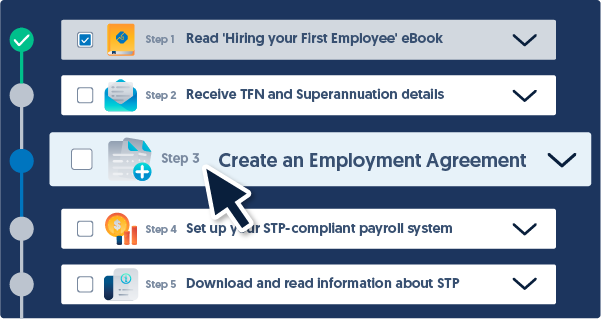 Are you looking to hire an employee?
Use our 'Hire an employee' workflow to complete and check off all your legal requirements.
Start now
Step 4) Register for an ABN
To secure your business name and unique Australian Business Number (ABN), you need to register your business. This is a unique 11 digit number that will identify your car part business to the government and community. Registering an ABN is essential in order to claim GST credits and avoid PAYG tax on your payments.
Step 5) Advertise to the right audience
Now you need to put your business name out there! Market on sites such as Google and popular social media platforms. You should consider the age, gender, personality and interests of your target audience and advertise accordingly. There's no point wasting your money on advertisements for people who wouldn't even give a second glance. So make your ads as specific and targeted as possible!
Key Takeaways in Starting a Car Part Business
Ensure you have a detailed business plan. If you don't know the specifics of your business, who will? Wrap your head around the industry and when you're ready, register your car part business for an ABN. Remember to advertise your newly registered business to the right community and work hard for your business goals. Now good luck!
Author
Julie Hwang
Julie is a Legal Technology Intern at Lawpath. She is currently studying Bachelor of Laws and Commerce at the University of Sydney. She's interested in how technology can shape the future legal industry.