Making a Will is more than just allocating your property and personal possessions. There are numerous factors you need to consider before you make a Will. However, setting up a Will shouldn't be a complicated process. It's only a matter of making careful and deliberate decisions with respect to your family, business and assets.
We can't make the hard decisions for you, however we are here to help make the process a little easier. Let's walk through the information you need before you make a Will.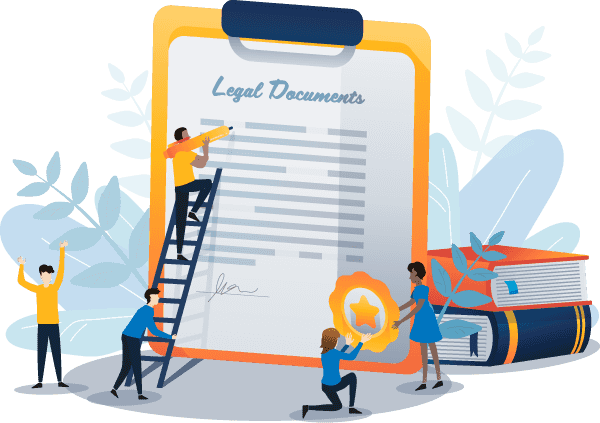 Make your wishes known in a matter of minutes.
Complete, customise and download your will for free.
Get started
1. List of assets
The first thing you need to do is list your assets. This includes cash, investments, vehicles, jewellery, artwork, furniture and any other personal possessions of value. It is also helpful to number the assets when you make a list.
You need to note that only the property in your name can be given away in your Will. If you own it with another person, such as your husband/wife, then the property is distributed differently. This is because it is jointly owned or governed by a contract. Examples of this type of property are life insurance policies, joint-ownership property, bank accounts, and some retirement benefits. If you own a property with someone else then we recommend you hire a lawyer for advice on distribution of jointly owned property.
2. Who will you appoint as your executor?
An executor is a person who will be in charge of administering your Will once you die. He or she will wrap up everything after your death: paying taxes and debts, closing accounts and distributing the property in your will.
Because your executor will have so much authority over your belongings, it is important you choose someone who is trustworthy and who will be mentally competent to carry out these responsibilities after your death. An executor does not necessarily need to be a financial genius but someone who is honest, trustworthy and organised. Most people choose a relative.
It is also important to name an alternate executor because the primary executor might not feel they can handle the task and refuse the responsibilities or just simply get sick or die before you do. An alternate executor only has responsibilities if the primary executor is unable or unwilling to act as an executor.
3. Who will you appoint as your beneficiaries?
A beneficiary is a person who receives something from your estate. Usually the beneficiaries are familiar faces: your family, extended family, close friends or favorite charities. In your Will you can specify if you want to leave all your property to one or more persons, or leave particular pieces of property or specific amounts of money to specific people.
4. Who will you appoint as a guardian to look after your children?
A Guardian is person you would like to be responsible for your children if you die before the children reach the age of 18. When one parent dies, the other parent generally gets custody of minor children. But if one parent is unfit, or both parents die, your family and the court will look to your will when deciding who becomes the guardian of your children.
Without your wishes in writing, you would have no control over the court's decision.
Ideally a guardian should be someone you trust, who shares your values, who is able to offer a stable family environment and can afford to take care of your kids. It is advisable to discuss your decision with potential guardians before naming them in your will.
5. How to distribute your assets?
Your assets are everything you own. While you may leave your assets to anyone you wish, you should be aware that, wherever possible, you should leave enough to your dependants for them to live on. Your dependants can be your partner, children or any elderly family member you care for.
6. Do you want to leave any gifts?
A gift can be a particular item or sum of money that you wish to give someone in your Will, for example, a house, a piece of jewellery or $10,000. It is important that you describe your gift precisely in your Will, so that the executors can understand your precise intentions. You can also give a general gift that does not refer to any particular item, such as 'all my personal possessions' or give 'residuary gifts' which means everything that is left in your estate after all debts, bills and taxes have been paid.
7. Do you have any specific funeral requirements?
When you make a Will, you can state any wishes you have for your funeral. For example whether you prefer to be buried or cremated, to have a funeral or memorial service, and if you want your Executor to publish an obituary. It's only a matter of sitting down and making careful and deliberate decisions with respect to your family, business and assets.
Finally
Making a Will isn't as complicated as it might seem. However, if you have assets, dependants or a spouse it is especially important to make sure your wishes are in writing should anything happen.