Bike riding is becoming an increasingly popular method of transport. Bike riding provides many benefits to commuters. Firstly, riding a bicycle provides health benefits because it is a form of incidental exercise which can be performed while traveling to and from work or school. Additionally, bike riding is an environmentally friendly travel option that produces fewer emissions than driving or catching public transport. This means that more people are riding bicycles and more people need their bikes repaired. Because of this, starting a bicycle repair business can be an attractive option for people who are good with their hands and looking to start their own business. In this article we'll explain what you need to do if you want to set up your own bicycle repair business.
Establish the Business
The first step is to set up your business. You'll need to decide on the type of business structure. This will impact how the business will be set up and run. If you want to operate the business on your own, a sole trader business is worth considering. A sole trader business consists of only one person that does the work for the business. This is one of the most common business structures for small trades businesses. However, this type of business can carry significant risks as the sole trader is personally liable for the business. Other business structure options including a partnership, company, or trust. If you're unsure which business structure is right for you, try using our online quiz "What Business Structure Is Right For You?"
Once you've decided on your business structure you'll need to apply for an Australian Business Number (ABN). If you decide to use a company structure, you'll also need to register the company with the Australian Securities and Investments Commission (ASIC).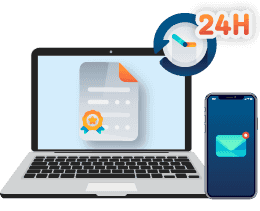 Launch your dream business now
Register for an Australian Business Number (ABN) in minutes.
Insurance
Before commencing any work you should consider what types of insurance you might need. The right insurance can help protect you and the company if anything goes wrong. There are a number of different types of insurance you should consider.
Public Liability Insurance
Public liability insurance helps to cover the costs of injuries and damage to property of other people. While public liability insurance is not compulsory, it is wise to take out this cover for your business. A bicycle repair business will generally operate a workshop and use various tools. If a member of the public is injured, or their property is damaged, at your business it could result in significant costs. Public liability insurance can help protect you from these costs.
Workers Compensation Insurance
If you plan to employ staff in your bicycle repair business you'll also need to take out workers compensation insurance. This type of insurance helps to protect you and your employees if they suffer a workplace injury or illness. Any business that employs staff or contractors and pays more than $7,500 per year in wages must have workers compensation insurance.
Other Types of Insurance

There are a number of other types of insurance that you might want to consider for your new bicycle repair business. Common insurance types taken out by bicycle repair businesses include:
tool insurance to cover the costs of tools that are lost, stolen or damaged;
income protection insurance to protect you in case you can't work for a period;
and content insurance to help cover the costs of any business assets which are lost, stolen or damaged.
Our article "What Insurance Policies Should my Company Have in Place?" provides more detailed information about what types of insurance you should consider for your new business. You should also consider consulting a business lawyer to get advice about what types of insurance your business will need.
Tools, Equipment and Premises
Once you've decided on a business structure, established your business and taken out the insurance that you'll need, you can get ready to start work. To start offering bicycle repair services, you'll need to buy or lease the tools and equipment you'll need and rent or buy a premises. You'll need to find a premises where you can set up a workshop to operate your business. Usually it is a good idea to lease your business premises, rather than buy them. This is because if your business expands you may need to move to larger premises in the future. Leasing premises is much more cost-effective than buying them outright, leaving you with more money to put into the business operations. Also, it is easier to end a lease and sign a new one at a different premises rather than having to sell property owned by your business.
Finally
Bicycle repair businesses can be very lucrative and succesful. As bicycling becomes increasingly popular as a mode of transport, demand for bicycle repair services are likely to grow. This can make starting a bicycle repair business a great idea if you are good with your hands and looking to be your own boss. If you follow the steps in this guide, you'll be on your way to owning your own successful bicycle repair business.

Don't know where to start? Contact us on 1800 529 728 to learn more about customising legal documents and obtaining a fixed-fee quote from Australia's largest lawyer marketplace.