What is Cybersquatting and is it Legal?
What is Cybersquatting and is it Legal?
Here is all you need to know about cybersquatting. Find out whether is it legal and what you can get do to prevent cybersquatters.
Reading Time:
3
minutes
Let's face it, when you're starting a new business, there are many things you must do, register or set up. One of those many things may be setting up a website. Usually, setting up a new business website involves registering an internet domain name. This allows your customers to easily identify you and interact with the products or services offered by your business. However, you must be aware of cybersquatting and the potential consequences it can have on your new businesses website. In this article we go through what is mean by the term cybersquatting, whether it is legal and what actions you can take to stop this behaviour.
What is Cybersquatting?
Cybersquatting is the act of registering a domain name that is extremely similar, or identical, to an existing business. So in essence, cybersquatters will register and own the domain name of an already existing business. Cybersquatters do this in order to secure the domain name before that business has the chance to register it themselves. Cybersquatters do this in the hopes that the existing business will buy the domain name from them, at an inflated price. Now, cybersquatting is an act that involves bad faith as:
The cybersquatter is aware that the business name already exists or is trademarked and,
They do this in order to make a profit from the existing business.
Commonly, these existing business owners feel pressured to buy the domain registered by the cybersquatter, in order to protect the reputation of their business.
Is Cybersquatting Legal?
In Australia, cybersquatting is illegal.
Cybersquatters capitalise on the reputation of existing businesses by pressuring them to buy their businesses domain name at extremely high prices. It is not uncommon to see cybersquatters make large profits from selling the domain name to the rightful business.
The act of cybersquatting breaches a range Australian laws, including:
Misleading and deceptive conduct laws under the Australian Consumer Law,
Trademark infringement laws and,
The common law offence of 'passing law'.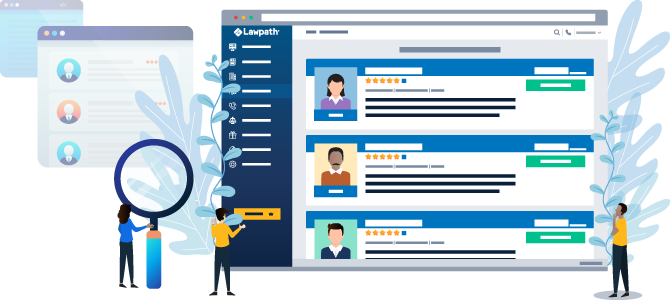 Find your perfect lawyer now
Get a fixed-fee quote from Australia's largest lawyer marketplace
What can I do about Cybersquatting?
If you suspect or know that a cybersquatter is using your businesses domain name, or a name strikingly similar, there are a few actions you can take.
Contact .au Domain Administration (auDA)
.au Domain Administration (auDA) is the authoritative and industrial body that regulates all registered domains in the .au domain. If you suspect that cybersquatting has taken place, the first step is usually to contact the auDA. This body has its own dispute resolution body. The auDA dispute resolution body will attempt to resolve the dispute between the registered .au domain holder, and the party with competing rights in the domain name. If your case is successful, the auDA may transfer the registration of the domain name from the 'cybersquatter' to the rightful business.
Bring an action for Passing Off
An action for passing off will prevent one business from representing themselves as another business, known as the 'passed off' business. Simply, this type of claim is similar to an 'identity theft' claim. However, to successfully bring a passing off claim, the business needs to show that:
The cybersquatter has made some misrepresentation, i.e. use of domain name identical or strikingly similar to that of the business,
Your business holds a good reputation that is notable in your market and,
The cybersquatters misrepresentation has, or is likely to cause, actual damage to your business.
Bring an action for Trademark Infringement
Now, if the cybersquatters domain name is identical to your businesses trademarked name, then you may have an action against the cybersquatter for trademark infringement. In order to prove that the cybersquatters have engaged in trademark infringement, the following elements must be satisfied:
Your business name is registered as a trademark,
That the cybersquatter's infringement is "substantially identical or deceptively similar" to your business name,
That the cybersquatter's infringement is being used for the purpose of gaining profits on identical or similar goods or services that you business supplies/produces.
Our Guide to Trademark Infringement provides an in-depth explanation about how to prove each of these elements.
Bring an action for Misleading and Deceptive Conduct
Bring an action for misleading and deceptive conduct is another option available to a business suffering the consequences of cybersquatting. Under section 18 of the Australian Consumer Law, your cybersquatter's actions must have caused your consumers to be mislead or deceived. The Court will look to the overall impression of the cybersquatters conduct. If the Court determines that their cybersquatting is causing a false or inaccurate representation, then they may be charged for breaching this provision.
Key Takeaways
Cybersquatting is the act of registering a domain name that is extremely similar, or identical, to an existing business. Unfortunately, individuals choose to engage in cybersquatting in the hopes of making a profit or financial gain from another business. The cybersquatter will offer the domain name to the rightful business, on the basis they pay some inflated price. Cybersquatting is an illegal act and there are a range of actions a business may take against cybersquatters. A business may choose to engage auDA, or make a private claim for passing off, trademark infringement or misleading and deceptive conduct.
Don't know where to start?
Contact a Lawpath consultant on 1800 529 728 to learn more about customising legal documents and obtaining a fixed-fee quote from Australia's largest legal marketplace.
Author
Mai Sarkissian
Mai is a Digital Marketing Coordinator at Lawpath, working as part of the Content Team. She is in her final year of a Bachelor of Laws degree at the University of Wollongong. She is interested in Business Law and Employment Law.