You've probably heard of shell companies and holding companies, but what about ultimate holding companies?
What is an Unlimited Holding Company?
There are a number of different company types you can choose from when starting your business. An ultimate holding company is one of these well-known company structures.
An ultimate holding company is a company that holds other subsidiary companies as assets i.e. owns them. The word 'ultimate' means in this sense that it is highest up in the hierarchical structure of companies. If a company is an 'ultimate' holding company, then there are no companies above it which own its shares.
An ultimate holding company does not usually participate in the daily operations of its subsidiaries. However, it does have a significant say in the larger decisions that affect the business. It is also legally distinct from the subsidiary. The shareholders of the ultimate holding company are therefore the owners of the subsidiary company.
Example
'Just Shoes' is a company which sells shoes and has 1000 shares. David and Maria each have 500 of these shares. They have established an ultimate holding company named 'D and M Enterprises' to own and control them. D and M enterprises ultimately owns Just Shoes, but each company is a separate legal entity.
Some well-known holding companies include Berkshire Hathaway (who own Coca Cola and American Express), WarnerMedia and Xerox. These companies 'hold' the stock of other companies and are not actively 'trading' entities in and of themselves. Despite not being 'trading' entities, they carry significant weight in decision-making.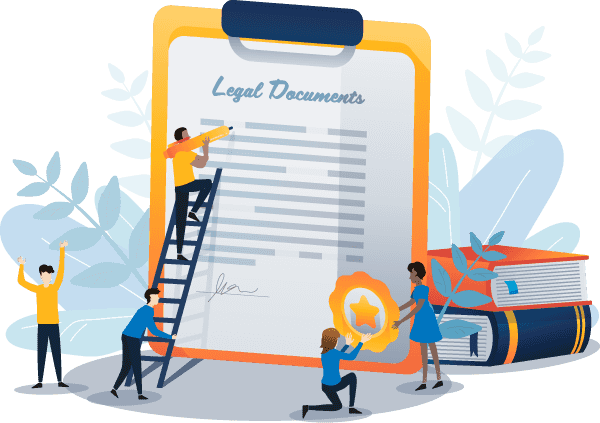 Customise and download your first document with us for free.
Create, eSign & download 300+ important legal & business documents on our platform.
Get started
Why establish an Ultimate Holding Company?
There are a number of reasons why you might want to establish a holding company. Some of these include minimising tax obligations and general liability. Similarly, it can be advantageous for companies to separate their ownership and day-to-day activities.
Often, holdings companies are multi-level. This means that there is a chain of holdings companies as opposed to just one company holding another. At the top, is the ultimate holding company.
For example:
Imagine you run a company, named 'Company A'. You and two friends own the shares. Due to this, you do not run a holding company.
However, if your company's shares are held by another Company named B, then B is a holding company.
If your company's shares are held by B, and B is owned by a larger company named C, then C is the ultimate holding company of A and B.
What is a Subsidiary?
A subsidiary is defined as a company which is controlled by a holding company. However, subsidiaries do not have to just be owned by the one company. If a holding company holds more than 50% of the stock, then they become the controlling company. The controlling company will be able to make decisions relating to the business of their own accord.
Section 117(mb) of the Corporations Act 2001 (Cth) requires that companies report their ultimate holdings company to ASIC if they have one. Note, you must make sure that you select the right company. Again, the ultimate holdings company is not necessarily the company that has direct ownership of your shares because they may themselves be subsidiaries. Company structures can be complex, so before doing so, you may want to get the advice of a commercial lawyer.
Many well-known (and loved) companies are subsidiaries. These include Coca Cola, American Express and even media companies such as CNN or HBO (both owned by WarnerMedia). Closer to home, the well-known soft drink brand Schweppes is a subsidiary of Cadbury.
Why is this important?
Clarifying your company's ultimate holding company is necessary for matters of public interest because it would inform an investor's understanding of where the source of control lies. Although you may manage the daily operations of your company, the holding company has the ultimate control when it comes to the big decisions. For investors, indicators of control are not just simply share ownership, but extends to more pragmatic indicators, such as voting powers, control of board composition, etc.
Next Steps
To conclude, holdings companies utilise a simple framework that allows for tax and liability minimisation. For subsidiaries, it is important that they get the company registration process right in reporting the right entity as their ultimate holdings company. Subsidiaries often have their own brand identities, despite their ownership being vested somewhere else.