As an employer, you are required to provide paid parental leave to your employees in accordance with the National Employment Standards.
Paid parental leave exists despite the award, agreement or employment contract you have set up for your employees.
Although the general requirements of parental leave are easy to understand, new legislative rules and regulations are always being introduced, which can make it tricky for employers to know their obligations. 
This post will make it easy for you to understand paid parental leave requirements and how you can best respond to your employee's request for parental leave.
Read along!
What is parental leave and why do we have it?
Paid parental leave is for the primary carer of a child and can be either government or employer-funded. Paid parental leave isn't just for mothers. It also applies to fathers, spouses, de facto partners and adoptive parents. 
The birth or adoption of a child is a huge commitment emotionally and financially and for this reason, as an employer, you must offer certain rights to parents to support them during this time. 
This includes paid parental leave – protected under the Fair Work Act 2009 (Cth) and National Employment Standards. 
'Parental leave' is a broad term, encompassing many different forms of entitlement. These include:
Both employer and government-funded leave

Unpaid leave

Adoption leave and the right to return to work
As an employer, it is up to you to work out the paid parental arrangements with your employees who apply for paid parental leave.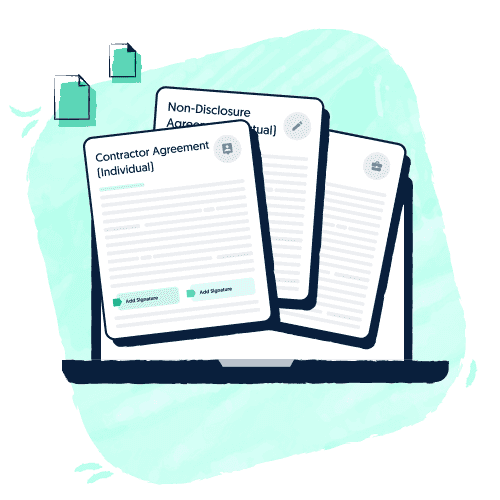 Get access to one free document online!
Create, share and access your document link with anyone
Eligibility requirements for paid parental leave
As an employer, you must offer paid parental leave to an eligible employee only if they meet the following requirements. 
Let's go through the steps:
1. Eligible claimants
Your employee must meet the eligibility criteria to be eligible:
The employee needs to be the

birth mother

of a newborn child, the

primary carer

of the newborn child, or the initial

primary carer

of an

adopted child.

 

The employee has worked with you for at least 12 months from their

start date

before the

expected date of birth

or adoption (

work test

). Both

part-time

and

full-time

employees are eligible for paid parental leave.

They will need to be your employee until at least the end of their parental

leave period.

Your employee must live in

Australia.

 

Your employee should expect to get at least 8 weeks of

parental leave pay.
If your employee doesn't meet the requirements above, you don't need to offer them paid leave.
2. Notice and evidence requirements
There are certain notice and evidence requirements that your employee must provide you before you grant them paid leave. Here they are:
Your employee must notify you in advance of their intention to take

maternity leave

Your employee should specify the length of their parental leave

This notice should be sent to you at least 10 weeks in advance

You should ask your employee to confirm the period of parental leave they intend to take at least four weeks before the leave begins
As an employer, you can ask for proof that confirms the expected birth date. Examples include:
medical certificate

letter from an adoption agency
Your employee must provide you with further written notice if they request an additional 12 months of maternity leave. 
Can you refuse your employee's request? The short answer is yes only if there are reasonable grounds to do so. 
For example, the request for additional leave cannot be accommodated by your business if 
It is impractical to adjust the working conditions of others to accommodate the request

There is a good chance that the request will negatively impact your business.
3. Returning to work
When your employee returns from maternity leave, you must make sure they can continue to perform their usual duties. For example:
Upon returning from

maternity leave

, they will resume their previous role; or

They have another position that is similar in status and pay to their pre-

maternity leave

job
Many small businesses offer additional support for parents returning to work to make their transition easier. For example:
Providing an on-site

child care

facility for the exclusive use of parents
Flexible working arrangements in exceptional circumstances e.g. Unable to return physically to work due to parenting requirements
What are the different types of paid parental leave?
Paid leave is for the primary carer of a child. It is either government or employer-funded. 
Let's break it down. 
1. Employer-funded leave
Your workplace can have different policies, contracts or enterprise agreements in place that provide for leave requirements for your employees. 
These are separate from the Australian Government Parental Leave Pay Scheme.  
As a result, you are unable to impact your employee's access to government-funded leave. This means that you can't withdraw the entitlements given by your business to your employees just because your employee has access to the government scheme. 
Similarly, the benefits that you provide your employees will not impact your employee's eligibility for the government scheme.
2. Government-funded leave
Working parents have greater support with the Australian Government Parental Leave Pay Scheme 2011.
Simply put, the scheme provides new parents (of children born or adopted after 1 Jan 2011), with an income and financial support while away from work and is separate from the adoption and parental leave provisions.
The pay is at the national minimum wage for a maximum period of 18 weeks. 
When it begins is up to your employee – it can be from the time of birth or at a later date and the pay can be at the same time as unpaid or paid leave. 
The 18 weeks of pay can be at the same time as unpaid or paid leave. In 2020, the flexibility of the time period for which the employee can be paid was extended. Here were the changes:
Initial changes
From 1 July 2020,

eligible employees

can claim

 leave pay

for 1 set period and 1 flexible period. Both periods (together) cannot exceed a total of 18 weeks. 

The first (set) period is continuous leave for 12 weeks, which must be taken within 12 months of birth/adoption.

The second, flexible period is for up to 6 weeks/30 working days of leave. This can be split up into any periods the employee prefers (days/weeks/whole 30 days etc). Your employee can utilise this leave even when they return to work. However, they cannot be working on the days the leave is taken. Importantly, the leave must be taken within 24 months of birth/adoption.
*Notably: once an employee returns to work after unpaid leave, this pay ends, even if the employee is a part-time worker. After returning to work, your employee must actively negotiate with you for time off. Only with approved time off can they claim/receive the flexible pay.
New changes
Changes to the paid parental leave will be altered by the Enhanced Paid Parental Leave, which will be introduced by March 2023. 
Although the changes are not yet in place, here is everything you need to know to be prepared: 
The paid parental leave and the

Dad and Partner Scheme

will be combined into a single scheme providing for up to 20 weeks. 

Either eligible parent may take the 20 weeks at any time within 2 years of the birth or

adoption of the child

 

The

income test

is broadened to allow for high-income households earning up to a maximum of 

$350,000 annually

to remain eligible for the enhanced

paid parental leave scheme.

 

The changes will allow fathers and partners to receive payments under the scheme at the same time they receive their employer-funded leave
If your employee wants to apply for paid parental leave, they need to apply directly to Centrelink within 34 weeks of the birth of a child or adoption of the child.
Dad or
Partner Pay
Dad or partner pay, also known as paternity leave, was introduced in 2013 for the working partners of the primary carer. 
This includes de facto and same-sex couples.
Under this scheme, partners can receive 2 weeks of government-funded pay (minimum wage) to care for their child.
Let's break it down: 
If the partner is on leave to care for the child, the pay can be received at any time in the first year of the

child's birth

or adoption. The

Fair Work commission

states that this means the pay must start within

50 weeks

of birth/adoption. In doing so payments are made in time.

The child must have been born or adopted after 1 January 2013.

Dad and

Partner Pay

is available before, after, or concurrently with other

family assistance

, such as the Baby Bonus and Family Tax Benefit.
For information about eligibility, making a claim and sorting out payments, go to Services Australia or get information through the Paid Parental Leave Act 2010 (Cth).
Why must you grant paid parental leave?
If you don't provide your employees paid leave or refuse the request without reasonable grounds, you could get into trouble on grounds of discrimination. 
The relevant laws and commonwealth bodies that you need to be aware of when assessing leave are:
Anti-discrimination laws –

Federal, state and territory anti-discrimination requires all employers not to discriminate against employees on grounds of sex, pregnancy, breastfeeding and family responsibilities

Fair Work Act –

The

Fair Work Act

sets standards for employers to follow in regards to pregnant employees,

unpaid parental leave

, right to flexible

working arrangements

Work, Health and Safety Laws –

You are required to offer a safe workplace for your employees and contractors under these laws. If you want to promote a practice of safe work in your business, you can use Lawpaths

WHS Policy  

Fair Work Ombudsman —

The

Fair Work Ombudsman

provides details for employers when they are required to provide paid parental leave.
Frequently asked questions (FAQs)
Is paid parental leave the same as
annual leave
?
Paid parental leave isn't the same as annual leave and is regarded as a separate employee leave entitlement.
Am I required to pay my employees
superannuation
when they're on parental leave?
Employers are not required to pay their employees superannuation when they take paid parental leave. However, you may choose to do so but it's not a compulsory requirement.
Is paid maternity leave mandatory in Australia?
Paid maternity leave is mandatory in Australia if your employee meets the following requirements
Has a newborn or recently

adopted child

Has worked at your company for 12 months before the expected due date or adoption

Must live in

Australia
What do parental leave entitlements include?
Parental leave entitlements include:
Maternity leave

Paternity and partner leave

Adoption leave

Special

maternity leave

A safe job and no safe job leave

12

months of unpaid parental leave

–

Full-time

,

part-time

, casual, seasonal, contract and

self-employed

may be eligible
What is the law on parental leave for single mothers (parents)?
Single parents do have paid parental leave and as part of the Paid Parental Leave boost will be provided with an extra 2 weeks of paid parental leave funded by the Australian Government.
Is long service leave the same as parental leave?
No, it's not. Long service leave is a period of paid leave that your employee can take after they have been employed with you for a continuous period of 10 years.
The big picture
It's clear that Australia provides entitlements for working parents to take time off to care for their new child. These entitlements allow for employees to enjoy both parenthood and job security – both big facets of modern life.
This includes both the government-funded schemes and your requirement as an employer to provide 12 months of unpaid leave from work to your employees.
The legislative requirements regarding paid parental leave are constantly changing and can be challenging to understand. If you want to stay on top of new changes that impact policies at your business, subscribe to our newsletter.
Want more?
Sign up for our newsletter and be the first to find hand-picked articles on topics that we believe are crucial to successfully scale your unique small business.