Almost every new building project and renovation requires carpenters. This means that carpentry businesses can be highly lucrative. Whether you're good with your hands and looking for a career change, or you're a carpenter looking to branch out on your own, this guide can help you set up your own carpentry business.
The requirements for starting a carpentry business may differ between states and territories. Particularly, the qualification, licensing and insurance requirements will often depend on where your business is located. This article will focus on the requirements in NSW. To understand the requirements in other states and territories you should consult the relevant regulatory authority.
1. Qualification and License
The first thing you'll need before launching your carpentry business is the right license and insurance. In NSW, you'll need a contractor license to contract and advertise to do carpentry work. Also, if you plan to supervise other carpenters, you'll need an endorsed contractor license. To get your license, you'll need to have the right qualifications. There are a range of qualifications that will allow you to apply for your license. For more information about qualifications and licensing, see the NSW Fair Trading website or equivalent in your state or territory.
2. Establish Your Business
After obtaining the relevant qualification and license, then next step is to establish your business. Firstly, you'll need to decide which business structure is appropriate. If you plan to operate the business on your own a sole trader business might be most appropriate for you. This is one of the most common business structures used for small trades businesses. However, other options including a partnership, company, or trust are also available. The type of business structure you choose will impact how you run your business and how much you might be liable if things go wrong, so this is an important decision. If you're unsure which business structure is right for you, try using our online quiz "What Business Structure Is Right For You?"
Once you've decided on your business structure you'll need to apply for an Australian Business Number (ABN). If you decide to use a company structure, you'll also need to register the company with the Australian Securities and Investments Commission (ASIC).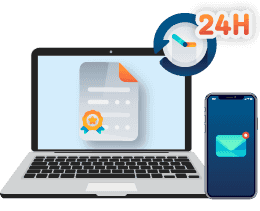 Launch your dream business now
Register for an Australian Business Number (ABN) in minutes.
3. Insurance
Insurance is an important part of starting any new business. It helps protect you if something goes wrong so that you aren't left with large financial liabilities. There are a number of different types of insurance you should consider.
Public Liability
Public liability insurance helps to cover the costs for any property damage or personal injury that might be caused by your works. Generally, carpentry businesses are not legally required to hold public liability insurance. However public liability insurance is highly advisable because of the significant costs that can be associated with property damage or personal injury claims. Additionally, contracts for trade work often require contractors to hold public liability insurance. Because of this, if you don't get public liability insurance you might limit the amount of work you can take on.
Home Building Compensation
If you take on home building projects that are worth $20,000 or more, you need to have Home Building Compensation (HBC). HBC protects home owners if you aren't able to complete the works or fix any defects. HBC needs to be taken out for each individual home building project worth $20,000 or more. Home building projects include new homes, new multi-unit buildings of three storeys or less, and home renovation projects. This cover is required whether you are working for the home-owner directly or for a developer. However, sub-contractors do not need HBC.
Workers Compensation Insurance
If you plan to employ staff in your carpentry business you'll also need to take out workers compensation insurance. This type of insurance helps to protect you and your employees if they suffer a workplace injury or illness. For more information about workers compensation insurance, see the NSW WorkCover website.
Other Insurance
There are a number of other types of insurance that you might want to consider for your carpentry business. Common insurance types taken out by carpentry businesses include tool insurance to protect you if your tools are lost, stolen or damaged, income protection insurance to protect you in case you can't work for a period, and contract works insurance to protect you from any loss or damage caused to your projects by unforseen events. For more information about what types of insurance you might need, check out our article "What Insurance Policies Should my Company Have in Place?". You might also want to speak with a business lawyer to get advice about what types of insurance you need.
Conclusion
Whether you're a carpenter looking to branch out on their own, or just looking for a career change, starting your own carpentry business can be an exciting prospect. Owning your own business can be very rewarding. If you follow the steps in this guide, you can ensure that your new business complies with all relevant regulatory requirements and get on your way to becoming the owner of your own successful carpentry business.

Don't know where to start? Contact us on 1800 529 728 to learn more about customising legal documents and obtaining a fixed-fee quote from Australia's largest lawyer marketplace.